Dealmaking Begins as London Triathlete Bankers Bike for Charity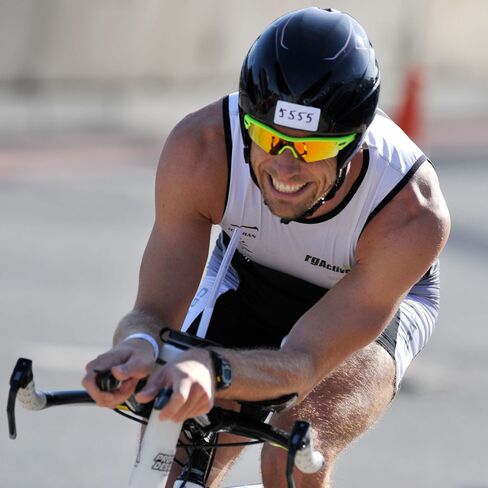 John Jenkins, head of General Electric Co.'s finance arm in the U.K., says he prefers swimming, cycling and running to drives, chips and putts for doing business.
He will be one of 35 chief executive officers competing in this year's London Triathlon, cycling 20 kilometers (12.4 miles) in the bike leg of the team relay.
Bankers, consultants, lawyers and CEOs account for 45 percent of the 14,000 participants in this year's event, which takes place in east London on Aug. 7 and 8, according to organizer IMG Challenger World, which puts together mass participation events such as marathons and triathlons all over the world. More than half those taking the plunge into the dark waters of the Royal Victoria Dock close to London City airport are novices in the triathlon.
"People talk of it as the new golf," 36-year-old Nick Rusling, managing director of IMG Challenger World, said in a telephone interview. "Lots of senior businessmen and women will network while training together, go for bike rides together."
The triathlon is a different way to spend time with colleagues and customers, Jenkins of GE Capital said in an interview at his London office. The company has entered 30 relay teams, mostly made up of staff and customers. Sixty GE Capital workers are taking part, more than 10 percent of its U.K. workforce.
"If you find there is a common interest there, then why wouldn't you all go for a bike ride or go for a run rather than just sitting there hitting a golf ball or watching a game of football or something?" asked Jenkins, 45. "Why not do something a bit more active?"
Biggest Triathlon
Now in its 14th year, the London Triathlon has grown into the biggest in the world, according to the organizer. More than 55,000 spectators will watch competitors -- including 2009 Formula One world champion Jenson Button -- race around London landmarks including Big Ben, Tower Bridge and the London Eye. More than 3 million pounds ($4.8 million) will be raised for charity.
Competitors can choose to race the Olympic distance, which consists of a 1,500-meter swim, a 40-kilometer bike ride and a 10-kilometer run. There are also entries for team relays and shorter races of up to half or a quarter of the Olympic distance. Competitors pay an entry fee of close to 80 pounds ($127) on average to try to make it to the finish line inside the Excel London convention center next to the swimming course in east London.
One-Hour Run
Tanya Veingard, senior manager of the London 2012 partnership at Lloyds Banking Group, will run 10 kilometers in the team relay. The bank's 22 teams are raising money for SportsAid, a charity that supports young British athletes.
"I would like to do it in about an hour," said Veingard, 37, in an interview in London's Regent's Park shortly before going on a 10-kilometer practice run. "But I haven't necessarily done as much training as I'd like, so if I finish in an hour and 10 minutes then I'll be happy with that," added Veingard, who has completed five marathons and trains every Saturday and up to three times during the work week at 6 a.m.
Thirty-five percent of all race entrants work in the financial services industry; 10 percent in the legal sector; and 12 percent work in information technology, according to IMG Challenger World. Alastair Campbell, the former communications chief of U.K. Prime Minister Tony Blair, and chef Gordon Ramsay have participated in the past.
"The mentality of those working in the City, they just like to set themselves big, hard targets," Veingard said. "Doing a triathlon is one of those targets. You are setting yourself a goal that might not just be swimming or running, but you are doing all three."
Broken Collarbone
Alex Phillips, a consultant at Accenture Plc, gets up at 5:30 a.m. three days a week to swim or run before work and cycles 60 miles on the weekend. He has trained 10 hours a week for the Olympic distance.
"I broke my collarbone on the bike leg last year," said Phillips, 30. "So my biggest thing this year is to stay on my bike and improve my time."
The race has created a lot of talk around GE Capital and some of its customers, said Jenkins, who has trained three hours a week for his first triathlon.
"I saw one of my customers at dinner recently, and he was equally excited," Jenkins said. "He said it's put a bit of a buzz through their office, which has in turn strengthened their relationship with us because it's something else they're talking about in relation to GE."