AIG 'On the Mend' Repays $3.5 Billion of Fed Debt Since April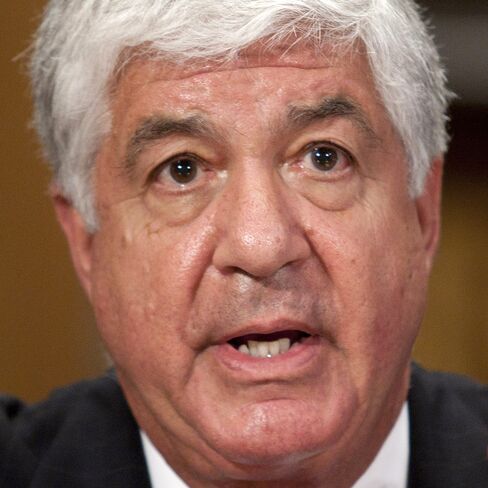 Aug. 5 (Bloomberg) -- American International Group Inc. reduced the debt it owes on a Federal Reserve credit line by about $3.5 billion in the last three months, signaling an improvement in liquidity at the bailed-out insurer.
AIG owed $23.4 billion as of July 28, down from about $27 billion at the end of April, according to Fed data. The draw has declined for 10 of the past 12 weeks, the first time that has happened since the facility was established in 2008 as part of New York-based AIG's first rescue.
"The fact that this number is coming down is a positive indication that the solvency of the insurance entities is on the mend," said David Havens, managing director at Nomura Securities International Inc. in New York. "Assuming the funds repaying the Fed line are coming from the insurers, that's a strong signal that their balance sheets have been repaired."
Chief Executive Officer Robert Benmosche must increase insurance profits and divest assets to repay AIG's $182.3 billion rescue. The firm was saved in September 2008 after housing-market losses and was forced to use bailout funds to bolster capital at property-casualty and life-insurance units.
One AIG unit that has reported partial results for the second quarter, American Life Insurance Co., has posted a profit gain. Net income tripled in the six months ended May 31 to $694 million from $208 million in the year-earlier period, according to a filing this week from MetLife Inc., which is buying Alico to expand in nations including Japan and Poland.
"In order for the government to fully exit, there has to be a company that is generating earnings," said Julie Burke, a managing director at Fitch Ratings in Chicago. She said the decline in Fed borrowing was a "good trend."
Stock Rebound
AIG is scheduled to release second-quarter results tomorrow. The firm may report a 99-cent-a-share profit, according to the average estimate of 2 analysts surveyed by Bloomberg. The company posted a $10.9 billion net loss last year and a loss of almost $100 billion in 2008.
The insurer has gained about 33 percent in New York Stock Exchange composite trading this year through yesterday. The firm declined 4.5 percent in 2009 and plunged 97 percent in 2008.
AIG also benefited from the stabilization in mortgage assets held in Maiden Lane II and Maiden Lane III, entities created in 2008 as part of the U.S. effort to remove toxic securities from the firm. AIG, which contributed $6 billion to the vehicles, retains a stake in the Maiden Lane funds and is weighing a proposal to hand over the holdings to help repay bailout debts after the securities rebounded from their 2009 lows, three people with knowledge of the plan said last month.
Mortgage-Linked Securities
The Maiden Lane assets were valued at about $9.3 billion as of July 28, after subtracting the principal and interest on Fed loans, an improvement of $1.7 billion since the end of April.
AIG intends to pay down the Fed credit line with proceeds from divesting Alico and AIA Group Ltd., two non-U.S. life divisions, and then will turn to the Treasury portion of the rescue package, Benmosche, 66, has said. The company owes more than $49 billion to the Treasury.
Treasury is considering a plan to convert AIG preferred shares into common stock and sell the holdings over two years, a person with knowledge of talks with the insurer said in April. If AIG's core insurance operations can earn about $8 billion a year, the company will have enough value repay the U.S., Jim Millstein, Treasury's chief restructuring officer, said in a May 26 hearing.
The insurer "remains committed to repaying the taxpayers and has been doing that," said Mark Herr, a spokesman for AIG.
Two Businesses
AIG said last month it will hold a public offering of AIA, the insurer's main Asia unit, after a $35.5 billion agreement to sell it to Prudential Plc collapsed in May. AIG agreed in March to sell Alico to MetLife for about $15.5 billion.
AIG, once the world's largest insurer, was first rescued in September 2008 by the Fed. After three revisions, the firm's lifeline includes a $60 billion Fed credit line and a Treasury Department investment of as much as $69.8 billion. Also as part of the rescue, the Fed agreed to pay up to $52.5 billion to buy mortgage-linked assets owned or backed by AIG and shunt them into Maiden Lane vehicles.
AIG may have higher costs from catastrophe claims at property-casualty units. Rivals Chubb Corp. and Travelers Cos. reported profit declines on rising costs from natural disasters. Warren, New Jersey-based Chubb said second-quarter profit dropped 6 percent to $518 million, and New York-based Travelers said earnings slipped to $670 million from $740 million.
To contact the reporter on this story: Hugh Son in New York at hson1@bloomberg.net
To contact the editor responsible for this story: Dan Kraut at dkraut2@bloomberg.net