Aeropostale, TJX Sales Trail Estimates on Spending Slowdown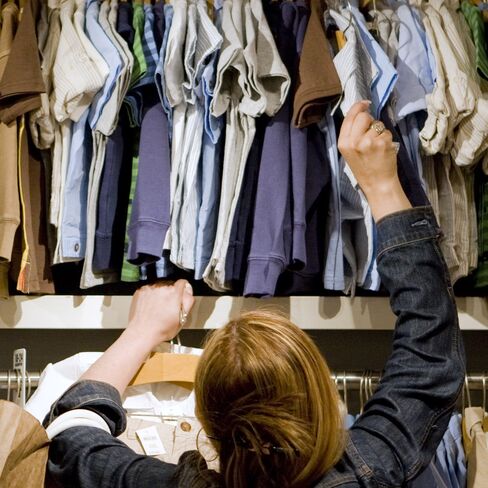 Aeropostale Inc., American Eagle Outfitters Inc. and TJX Cos. reported July sales that missed analysts' estimates as consumers cut spending ahead of the back-to-school season.
Sales at Aeropostale, the U.S. teen clothing retailer with more than 900 outlets, rose 1 percent at stores open at least a year, short of the 7.4 percent average of analysts' estimates compiled by Retail Metrics Inc. Sales at American Eagle were unchanged and those at TJX rose 2 percent.
Changing consumer behavior and a "challenging" retail environment hampered sales, Aeropostale said. American consumers lost confidence last month, shaken by concern over jobs and wages. Today's results suggest the consumer may remain cautious about discretionary spending, said Ken Perkins, president of Retail Metrics in Swampscott, Massachusetts.
"It's clearly not the kind of momentum that retailers want to be building heading into peak back-to-school selling," Perkins said today in an interview. Analysts on average predicted a 0.4 percent sales gain for American Eagle and a 2.8 percent increase for TJX, owner of the T.J. Maxx and Marshalls clothing chains, according to estimates compiled by his research firm.
Aeropostale lowered its forecast for second-quarter earnings per share to a high end of 46 cents. The teen retailer earlier predicted profit of as much as 48 cents. American Eagle said second-quarter profit will be as much as 13 cents, in line with its previous forecast for profit to be on the "low end" of 12 cents to 16 cents.
New York-based Aeropostale dropped $2.48, or 9 percent, to $24.96 in New York Stock Exchange composite trading at 9:32 a.m. American Eagle, based in Pittsburgh, fell as much as 2 percent, while TJX, based in Framingham, Massachusetts, declined as much as 1.3 percent. The Standard & Poor's 500 Retailing Index slumped as much as 1.5 percent.
Slower Sales
July is typically the slowest month of the third quarter for retailers as they clear out summer merchandise for the back-to-school season, the second-largest sales period after the year-end holidays. Retailers are already offering discounts, with bigger promotions likely coming in August, said Howard Tubin, an analyst at RBC Capital Markets in New York.
"Business will improve in August and September as we enter the thick of the back-to-school shopping season," Tubin said before the results came out. "Teen retailers are already battling over denim."
American Eagle was giving away a smartphone to each shopper who tries on a pair of jeans, while Aeropostale is selling all jeans for $20. Gap Inc. is offering $20 off on those items.
"High inventory levels from key players, continued weak economic trends and the consumer shopping later and later in the season have combined to create what will probably be one of the most aggressive discounting seasons in recent memory," said Eric Beder, an analyst at Brean Murray Carret & Co. in New York.
Squeezing Margins
Unplanned promotions in August probably will affect retailers' profit margins, Retail Metrics' Perkins said. Hot temperatures, expected to continue this month, also don't bode well for fall shopping, he said.
Some retailers, such as Abercrombie & Fitch Co. and Limited Brands Inc., benefited as consumers flocked to air-conditioned malls to snap up summer clearance items. Abercrombie's July sales rose 7 percent, twice the pace of analysts' average projection. Limited Brands sales jumped 12 percent.
July sales at 30 chains probably rose 3.2 percent after a 3.1 percent gain in June, Retail Metrics said yesterday, based on analysts' estimates. That would mark the 11th consecutive increase in monthly sales. Same-store sales are a key indicator of a retailer's growth because they exclude results from new and closed locations.