Wheat Heads for Biggest Gain in Half a Century on Export Bans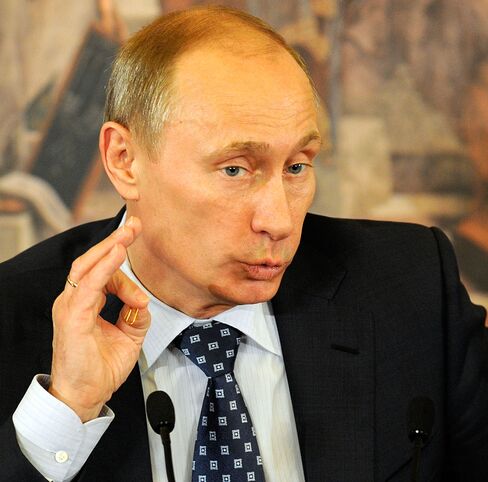 Wheat headed for the biggest weekly gain in half a century on concern other countries may follow an export ban by Russia, and may reach $10 a bushel, a price not seen since the global food crisis in 2008.
Russian Prime Minister Vladimir Putin said Kazakhstan and Belarus should also suspend shipments as Russia announced a ban on grain exports from Aug. 15 to yearend. "It's got $10 written all over it," said Peter McGuire, managing director at CWA Global Markets Pty, who on Aug. 3 correctly forecast the surge to $8.50. Wheat was last at $10 in March 2008, and a gain to that price would be up 23 percent from yesterday's close.
Russia's ban may benefit rival producers, including the U.S., the largest exporter, Australia and Argentina, according to Rabobank. Wheat prices have doubled in less than two months as drought slashed the harvest in Russia, the third-largest grower, and rains cut Canadian output. The surge may herald a new food crisis as corn and other staples jump, said a trade group from Indonesia, Asia's top wheat buyer.
"This situation is reminiscent of the irrational moves already seen in the past, for example at the start of 2008," Bourges, France-based farm adviser Offre et Demande Agricole said in a comment today. "It's always very hard to say where prices can end up in such conditions."
Best Performer
Wheat for December delivery rose 1.2 percent to $8.25 a bushel on the Chicago Board of Trade at 2:14 p.m. Paris time, taking gains for that contract to 25 percent this week. That's the most since at least 1959. Wheat is the best-performing commodity this year on the UBS Bloomberg CMCI Index, ahead of coffee and nickel.
"We believe that the rally in wheat prices is overdone, but would not short wheat," Morgan Stanley analysts including Hussein Allidina said in a note to investors, referring to making bets that prices may drop. Other wheat-growing countries may opt to limit exports, potentially boosting prices, even though global wheat stockpiles are ample, they wrote.
Milling wheat for November delivery traded on NYSE Liffe in Paris rose 1 euro, or 0.5 percent, to 224.50 euros ($295.91) a metric ton. Investors bought and sold a record 74,729 contracts yesterday, the exchange said today.
Wheat has rallied as a heat wave in Russia, dry weather in Kazakhstan, Ukraine and the European Union, and flooding in Canada hurt crops. Some Russian farmers are reluctant to sow winter grains after soil became too dry because of the drought, the government said today.
Food Riots
Wheat reached a record $13.495 in February 2008, part of a surge in prices that sparked food riots from Haiti to Egypt. Still, concern that lower-than-expected wheat output may contribute to a food crisis is "unwarranted at this stage," the UN's Food and Agriculture Organization said on Aug. 4.
There should be sufficient global supplies of wheat, "barring no more production setbacks," said Doug Whitehead, an analyst at Rabobank in London. "The market will pay very close attention to crop prospects in Australia and Argentina."
Halting Russia's wheat shipments would be "appropriate" to contain domestic prices that jumped 19 percent last week, Putin said. The country exported 17.4 million tons of wheat in the year through June, the Federal Customs Service of Russia said today.
The Russian ban will "rattle the markets for the next several months" and boost demand for stockpiles from the U.S., Bob Young, the chief economist at the American Farm Bureau Federation, said yesterday from Washington.
'Driving Lamborghinis'
"When Putin speaks, the world listens," said McGuire at CWA, referring to the possibility other nations may curb shipments. U.S. farmers would benefit because they have the supply to meet demand in the global market, he said. "They'll all be driving Lamborghinis."
Kazakhstan, Russia's partner in a customs union, exported 7.5 million tons in the year ended June 30, while Belarus, also a partner, shipped 400,000 tons, according to the U.S. Department of Agriculture. Ukraine accounted for 9.2 million tons in the same year, it said.
World wheat stockpiles may fall 2.5 percent to 192 million tons by June as the dry weather hurts the outlook for crops in Russia, Kazakhstan, Ukraine and the EU, the International Grains Council said on July 29, reversing a forecast for higher inventories.
Corn for December delivery fell 0.7 percent in Chicago to $4.1525 a bushel while soybeans for delivery in November were unchanged at $10.29 a bushel.