Service Industries in U.S. Probably Expanded at Slower Pace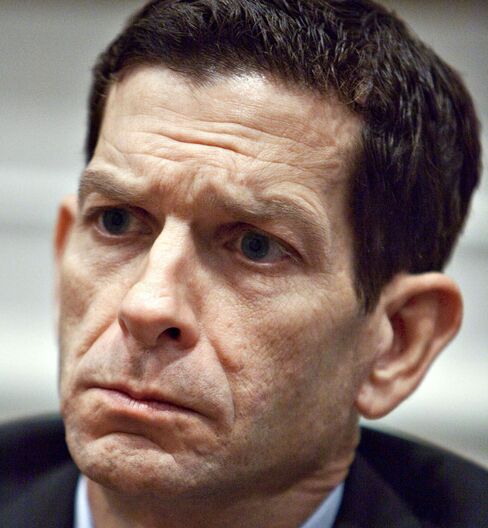 Service industries grew in July at the slowest pace in five months as a lack of jobs hemmed in U.S. consumers, economists said before reports today.
The Institute for Supply Management's non-manufacturing index, which covers about 90 percent of the economy, fell to 53 from 53.8 in June, according to the median forecast of 76 economists surveyed by Bloomberg News. Readings above 50 signal expansion. Another report may show companies took on less staff than in prior months.
Retailers like OfficeMax Inc. are predicting sales will suffer as an unemployment rate that is projected to hover near 10 percent forces companies to discount merchandise. Combined with an easing in manufacturing, the slowdown means the recovery from the worst recession since the 1930s will probably cool in the second half of the year.
"Things are moderating somewhat," said Jay Feldman, an economist at Credit Suisse in New York. "It's a very slow recovery by prior standards."
The Tempe, Arizona-based ISM's report is due at 10 a.m. in New York. Survey estimates ranged from 51.5 to 54.7.
A report from ADP Employer Services at 8:15 a.m. may show private payrolls rose by 30,000 in July after increasing by 13,000 in June and by an average 61,000 in the prior two months, according to the survey median.
Employment Forecast
The Labor Department in two days may report private payrolls grew by 90,000 last month while total employment fell by 60,000, reflecting the dismissal of temporary government workers as the decennial census wound down, according to the median estimate of economists surveyed. Unemployment rose to 9.6 percent from 9.5 percent, the survey showed.
OfficeMax, the third-largest U.S. office-supply chain, yesterday forecast sales will decline this quarter.
Chief Financial Officer Bruce Besanko said sales of back-to-school materials will be "extremely tough" as families limit spending. "Customers will be budget-conscious and retailers will be competitive and promotional" Besanko said in a telephone interview yesterday.
The Standard & Poor's Supercomposite Retailing Index has fallen 18 percent since a 19-month peak on April 26, compared with an 8 percent decline in the broader S&P 500 gauge from its 19-month peak on April 23.
Federal Reserve Chairman Ben S. Bernanke this week gave an upbeat assessment on the outlook for consumers, projecting spending would climb as wages rose.
Bernanke's View
While the U.S. has "a considerable way to go" for a full recovery, "the economy seems to have stabilized and is expanding again," Bernanke said in a speech in Charleston, South Carolina.
The ISM services survey covers industries that range from utilities and retailing to health care, housing and finance. The group's factory survey earlier this week showed manufacturing grew last month at the slowest pace of the year.
Data from the Commerce Department yesterday showed consumer spending and personal income were unchanged in June, further evidence the weak jobs recovery is hurting spending. Household purchases grew at a 1.6 percent rate in the second quarter, while the economy expanded at a less-than-forecast 2.4 percent pace, the government reported last week.
The outlook for jobs is one reason consumer confidence sank more than forecast in July, according to a Conference Board report last week.
              Bloomberg Survey

=============================================
                               ADP  ISM Non-
                           Payroll     Manu
                            ,000's    Index
=============================================

Date of Release              08/04    08/04
Observation Period            July     July
---------------------------------------------
Median                          30     53.0
Average                         33     53.1
High Forecast                   85     54.7
Low Forecast                   -15     51.5
Number of Participants          37       76
Previous                        13     53.8
---------------------------------------------
4CAST Ltd.                     -15     52.0
Action Economics                40     54.0
Aletti Gestielle SGR          ---      53.0
Ameriprise Financial Inc        20     53.0
Banesto                         30     53.0
Bank of Tokyo- Mitsubishi     ---      52.4
Bantleon Bank AG              ---      53.5
Barclays Capital              ---      53.5
Bayerische Landesbank         ---      53.0
BBVA                            28     54.0
BMO Capital Markets             70     53.5
BNP Paribas                     85     53.0
BofA Merrill Lynch Resear       40     54.0
Briefing.com                    25     52.0
Capital Economics             ---      52.0
CIBC World Markets            ---      53.5
Citi                          ---      52.0
ClearView Economics           ---      53.0
Commerzbank AG                  50     53.0
Credit Suisse                 ---      53.0
Daiwa Securities America      ---      53.0
DekaBank                      ---      52.5
Desjardins Group              ---      53.5
Deutsche Bank Securities      ---      53.5
Deutsche Postbank AG          ---      53.2
DZ Bank                         55     53.0
Exane                         ---      54.0
First Trust Advisors          ---      53.5
FTN Financial                 ---      53.0
Goldman, Sachs & Co.          ---      53.0
Helaba                        ---      53.0
High Frequency Economics         0     52.0
HSBC Markets                    60     52.5
Hugh Johnson Advisors         ---      54.0
IDEAglobal                      40     53.0
IHS Global Insight            ---      54.2
Informa Global Markets          30     53.0
ING Financial Markets           40     53.4
Insight Economics               50     53.0
Intesa-SanPaulo                 35     52.0
J.P. Morgan Chase             ---      53.5
Janney Montgomery Scott L     ---      51.5
Jefferies & Co.                 50     54.7
Landesbank Berlin             ---      52.5
Landesbank BW                   50     53.1
Maria Fiorini Ramirez Inc     ---      54.0
MF Global                     ---      53.0
MFC Global Investment Man       15     53.0
Mizuho Securities               10     53.0
Moody's Economy.com             40     54.3
National Bank Financial       ---      54.0
Natixis                         30     53.0
Nomura Securities Intl.         20     54.0
Pierpont Securities LLC       ---      53.4
PineBridge Investments        ---      52.0
PNC Bank                      ---      53.2
Raymond James                 ---      52.7
RBC Capital Markets           ---      53.0
RBS Securities Inc.           ---      53.8
Ried, Thunberg & Co.            15     53.5
Scotia Capital                ---      53.0
Societe Generale              ---      52.8
Standard Chartered              25     52.5
State Street Global Marke       56     53.4
Stone & McCarthy Research     ---      53.0
TD Securities                   20     53.0
Thomson Reuters/IFR             60     53.3
Tullett Prebon                  40     53.5
UBS                           ---      53.5
UniCredit Research            ---      53.5
Union Investment                15     ---
University of Maryland          35     53.0
Wells Fargo & Co.             ---      53.1
WestLB AG                       25     53.5
Westpac Banking Co.             20     53.0
Woodley Park Research           13     52.7
Wrightson Associates            15     53.5
=============================================