RBS Sells Outlets to Santander for 1.7 Billion Pounds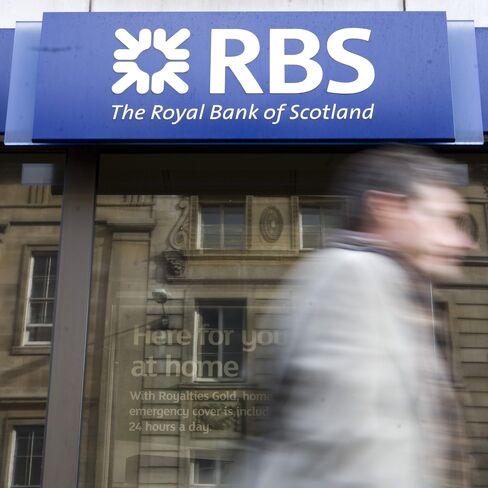 Royal Bank of Scotland Group Plc, Britain's biggest government-owned bank, agreed to sell 318 branches to Spain's Banco Santander SA, a disposal forced on the lender following its taxpayer-funded bailout.
Santander will pay 350 million pounds ($558 million) more than the branches' net asset value when the purchase is completed by December 2011, the Edinburgh-based lender said in a statement today. That values the branches at about 1.7 billion pounds.
"This is an important milestone in our restructuring work and complements the significant momentum behind our recovery plan," RBS Chief Executive Officer Stephen Hester said.
RBS is selling the branches to comply with a European Union ruling after it received 45.5 billion pounds in government bailout funds during the credit crisis. The purchase will increase the number of Santander's outlets in the U.K. to about 1,600, making it the country's fourth-biggest bank by branches after Lloyds Banking Group Plc, Barclays Plc and Edinburgh-based RBS.
RBS fell 0.1 percent to 52 pence as of 9:29 a.m. in London trading. Santander slipped 1 percent to 10.275 euros in Madrid.
Santander, Spain's biggest bank, beat off interest from other lenders including National Australia Bank Ltd., Banco Bilbao Vizcaya Argentaria SA, Richard Branson's Virgin Money Ltd. and a joint approach from the medical research charity Wellcome Trust and Blackstone Group LP, the private equity firm.
Abbey National
Since acquiring Abbey National in 2004, Santander has boosted its presence in the U.K. with the purchase of Alliance & Leicester Plc and parts of Bradford & Bingley Plc. The lender may sell a stake in its U.K. unit in an initial public offering in London, Chief Executive Officer Alfredo Saenz said in July.
Santander's purchase won't address EU regulators' concern about competition between banks, according to labor union Unite.
"There is a danger that British customers will have a dwindling number of providers to choose from," Stuart Davies, Unite officer for RBS said in a statement. "How does this consolidation in the sector leave the EU's ambitions for a diverse financial services industry?"
Santander will probably sell a 20 percent stake in its U.K. unit in an IPO before the end of the year, according to Arturo de Frias, a London-based analyst at Evolution Securities who has a "buy" rating on the bank. He values Santander's U.K. unit at about 24 billion pounds, and said an IPO would raise 3.3 billion pounds for the bank.
WorldPay
RBS may also announce this week the sale of its Global Merchant Services unit to private equity firms Advent International Corp. and Bain Capital LLC, according to people familiar with the matter. The lender may retain 20 percent of the unit, which is also known as WorldPay, the people said.
The bank will report half-year results on Aug. 6. It may report a net profit for the first time since 2007, according to four analysts surveyed by Bloomberg.