Pakistan Floods May Hit Sindh After Millions Stranded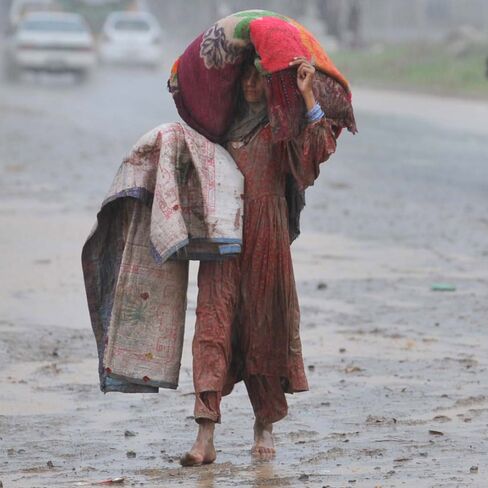 Aug. 4 (Bloomberg) -- Pakistan's deadliest floods in eight decades may spread to the one province as yet unaffected, the southern region of Sindh, after devastating the three remaining regions and leaving more than three million people stranded.
"We're expecting the floods may enter Sindh from Punjab by Aug. 6 or 7, affecting one million people in 2,000 villages," Khair Mohammed Kalwar, director of operations at the Provincial Disaster Management Authority, said by telephone from Karachi. The area at risk between the towns of Sukkur and Thatta covers about 339.7 kilometers (211 miles).
The floods, which swept through villages and farmland in northwestern Khyber Pakhtunkhwa last week, and then inundated Punjab, are the worst to hit Pakistan in 80 years, UNICEF said in a statement yesterday. More than 1,500 people died in the northwest, the provincial government said.
Water flow in the Indus River is expected to reach 1 million cubic feet per second, 10 times the norm, and the army has been deployed in Sindh to help evacuate people, Kalwar said. Fifty navy boats and three helicopters are on standby.
Floodwaters demolished homes and bridges and swept away major roads across Khyber Pakhtunkhwa and Punjab and crops across the nation were damaged. The floods first struck the western province of Baluchistan on July 22.
Crops Damaged
More than 1,000 villages in Punjab were flooded and crops planted on over 1 million acres of land were damaged, Rizwan Ullah, director general of the Crisis Management Cell, said by telephone from Lahore. Communication networks have been disrupted and ground access is limited in the northwest because highways and roads have been destroyed, according to UNICEF.
More rains are forecast in the Malakand division and Swat Valley in the northwest today, Tahir Kamran Khan, a spokesman for the Provincial Disaster Management Agency, said by telephone from Peshawar.
"In nearly all the flood-affected areas, water supplies have been contaminated" Save the Children said in a statement yesterday. "There are confirmed reports of diarrhea and cholera that may spread rapidly among the hundreds of thousands who have lost their homes."
Pakistani television networks showed survivors clinging to trees or debris in muddy, raging mountain rivers. Opposition leader Nawaz Sharif, a two-time prime minister, criticized President Asif Ali Zardari for pursuing a trip to France and the U.K. this week.
To contact the reporters on this story: Khurrum Anis in Karachi, Pakistan at Kkhan14@bloomberg.net. Anwar Shakir in Peshawar, Pakistan at ashakir@bloomberg.net.
To contact the editor responsible for this story: Stephen Foxwell at sfoxwell@bloomberg.net.