Harkin Seeks Data on For-Profit Schools After Hearing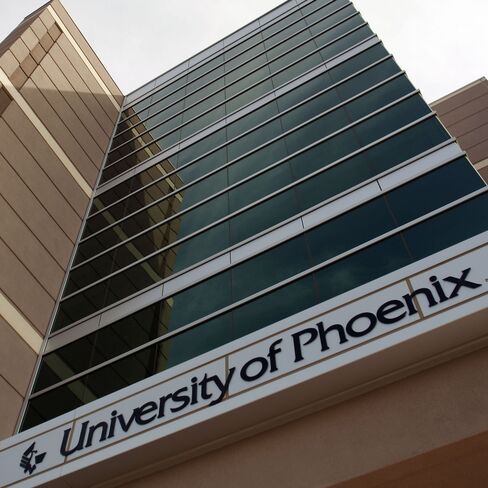 Senator Tom Harkin will request information from 30 U.S. for-profit colleges and consider new legislation for the sector after a government investigator described fraud, lying and high-pressure sales tactics used by education-industry recruiters, the Iowa Democrat said today.
Harkin, chairman of the U.S. Senate Health, Education, Labor and Pensions committee, said he will ask publicly traded and closely held companies to disclose graduation rates, loan defaults among former students and recruitment practices. He called for more hearings as early as September, and said a legislative package may be possible by the end of the year.
President Barack Obama proposed rules that would limit eligibility for financial aid and crack down on enrollment practices at for-profit colleges, which received $26.5 billion in U.S. loans and grants in 2009. A Government Accountability Office investigation released today detailed practices at Phoenix-based Apollo Group Inc.'s University of Phoenix; the Washington Post Co.'s Kaplan College; Santa Ana, California-based Corinthian Colleges Inc.'s Everest College; and Pittsburgh-based Education Management Corp.'s Argosy University among 15 colleges observed by undercover agents posing as students. The report showed that more stringent measures than those proposed by the administration may be necessary to clean up the industry, Harkin said at the hearing in Washington.
'Bad Apples'
"Are we talking about a few bad apples or are we talking about the entire orchard being contaminated by a business model that churns students, that provokes the kind of recruitment and unethical conduct we saw in the GAO, because of a need to increase profits?" Harkin said.
Democratic Senators Richard Durbin of Illinois and Jim Webb of Virginia said they have asked for information from the Departments of Defense and Veterans Affairs about how military tuition assistance program money is being spent to pay for education expenses at for-profit colleges. Durbin and Webb said in an e-mail they want to ensure that "veterans, service members and their families are given the best possible options for higher education and that taxpayer funding is being well-spent."
The undercover investigators were told by recruiters from for-profit colleges that students had to sign up for courses before they could get financial-aid information, and recruiters themselves were misled about the quality and cost of education companies' programs, according to the testimony at the hearing.
Fraudulent Statements
The study released at the hearing said enrollment counselors at all 15 for-profit colleges had lied or misrepresented the nature of their programs to investigators posing as applicants.
"We take any alleged shortcomings seriously and have already begun examining those included in the report," Jacquelyn P. Muller, a spokeswoman for Education Management Corp., said in an e-mail.
Employees at four of the colleges encouraged the investigators to make fraudulent statements on financial-aid applications to get government funds, according to the report.
Recruiters at WesTech College, based in Ontario, California; Educational Affiliates Inc., the Baltimore-based closely held owner of MedVance Institute; TCI Education Inc., the Phoenix-based owner of Anthem College; and closely held, Denver-based Alta Colleges Inc.'s Westwood College engaged in fraudulent activity, the GAO said. WesTech, Educational Affiliates, and TCI Education didn't respond to requests for comment.
'Appalled'
Westwood College takes the report "very seriously," the company said in a statement. The college said it would "intensify" its efforts at employee training and would fire employees who violate the company's code of conduct.
"We are appalled by the actions of our employees included in the GAO investigation," the statement said. "These actions go against everything we stand for as an institution."
Joshua Pruyn, a former recruiter for Westwood College Online, said the company offered him trips to Cancun, Mexico, paid time-off and gift cards as incentives to sign up students. Recruiters who didn't get results were "harassed and threatened" by supervisors, he said in written testimony released before the hearing.
Company officials also perpetuated false impressions about the educational programs and their costs, said Pruyn, who worked at the college for five months in 2007 and 2008. Recruiters were told that many graduates of a video-game design program were working in the industry, when none were, he said.
"We said it was the Harvard of gaming schools," Pruyn said at the hearing. "And in the end there was nothing behind it. That was something that every representative was taught and every representative said."
Stiffer Accreditation
Data collected by the Accrediting Commission of Career Schools & Colleges, also based in Arlington, suggest that most for-profit colleges comply with recruitment guidelines that prohibit lying to applicants, said Michale McComis, executive of the group, which primarily accredits for-profit career colleges.
Accreditation of for-profit schools must become stiffer to protect students, Senator Al Franken, a Democrat from Minnesota, said. He questioned McComis about the rigor of his standards for reviewing schools. Three of the schools in the GAO report were accredited by McComis's agency, including Westwood. All were found to mislead students in the GAO report, Franken said.
"You're saying you have rigorous standards to make sure the schools you accredit recruit honestly," Franken said. "You said you're satisfied with that. I don't see how you can be."
Incentive Compensation
Changing the rules that allow colleges to pay recruiters on the basis of the number of students enrolled, a practice called incentive compensation, won't protect students and will lead to higher legal costs for companies, the Career College Association, a Washington-based industry group, said yesterday in a statement. The current rules give schools guidance as to what kind of compensation they can provide, the group said.
"Removing eighteen years of departmental guidance and regulations in one fell swoop will only benefit lawyers who thrive on uncertainty," the association said in the statement.
An index of 12 education stocks fell less than 1 percent at 4 p.m. New York time. Apollo, the biggest U.S. education company, declined 5 cents to $44.76 in Nasdaq Stock Market composite trading. Education Management Corp., based in Pittsburgh, decreased 51 cents, or 3.4 percent, to $14.31, and Corinthian fell 30 cents, or 3.4 percent, to $8.44.
Multiple Violations
Representatives at a for-profit college in Florida committed multiple violations during the recruitment process, said Gregory Kutz, the GAO's managing director for forensic audits and special investigations, who conducted the study. Representatives scolded the agency's investigators posing as applicants for hesitating to enroll and encouraged an investigator to sign an enrollment agreement, saying it wasn't binding.
Driving recruiters to enroll as many applicants as possible encourages misrepresentation and fraud, and does a disservice to the students who enrollment counselors are intended to help, said David Hawkins, director of policy and research for the National Association of College Admissions Counseling, based in Arlington, Virginia. Hawkins's group, a nonprofit association of more than 12,000 college admissions counselors and high school advisers, recommends that all such employees should be paid a fixed salary, Hawkins said in his testimony.
"In an unregulated environment, the potential for misrepresentation and outright fraud is a clear and present threat, which can result in harm to students and, in the case of federal aid and loans, to the taxpayer," Hawkins said.
Before it's here, it's on the Bloomberg Terminal.
LEARN MORE