Acer Says It Will Become No. 2 Asia PC Maker With Founder Deal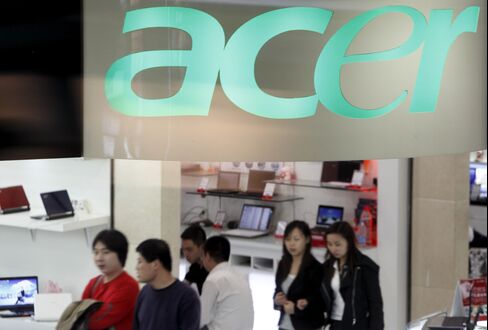 Acer Inc., the world's second-largest computer maker, will climb to No. 2 in Asia after taking over management of Founder Technology Group Corp.'s branded computer business, the Taipei-based company said.
Acer will operate Founder's planning, marketing and supply chain management, with the Shanghai-based PC maker operating Acer's after-sales service, it said in a statement on its website late yesterday. The companies will jointly develop products aimed at the China market, it said.
Acquisitions in the U.S. and Europe failed to boost Acer's share in Asia where it trails Lenovo Group Ltd. and Hewlett- Packard Co. Joining with Founder will also help achieve Acer's goal to be No. 3 in China, Acer said.
"The Chinese market is very important especially as their share in other major markets has already reached a plateau," said Steven Tseng, who rates Acer "hold" at RBS Asia Ltd. in Taipei. "This deal will make it easier for them to jump-start their business in China."
The statement didn't specify financial terms for the deal. Acer spokesman Henry Wang said he's unaware of the financial details.
Acer was sixth in China with a 3.9 percent share in the first quarter, trailing Lenovo in the top spot, while Founder was fourth at 7.6 percent, according to data from IDC.
China Revenue
Combined China revenue will climb to $2.5 billion next year, Acer said in yesterday's statement. China accounted for 5 percent of revenue last year, Stella Chou, a public relations spokeswoman said yesterday. Acer's 2009 sales were $17.8 billion, according to Bloomberg data.
Acer had 13 percent of the global computer market in the second quarter, trailing Hewlett-Packard Co. on 17.4 percent, according to Gartner Inc. Acer's rank in Asia Pacific will climb to No. 2 with 12.3 percent as a result of the Founder cooperation, it said yesterday, citing second-quarter Gartner data.
The company ranked fourth in Asia-Pacific excluding Japan in the second-quarter, second in the Europe, Middle-East and Africa market, and third in the U.S., according to IDC.
Acer sells products under four brands after acquiring Gateway Inc., eMachines and Packard Bell BV over the past three years to boost share in the U.S. and Europe.
Former Founder Chief Executive Officer Lan Ye will soon join Acer as General Manager of Founder Business Operation, the Taipei-based company said.
Before it's here, it's on the Bloomberg Terminal.
LEARN MORE