U.S. Stocks Retreat as Home Sales, Spending Data Miss Estimates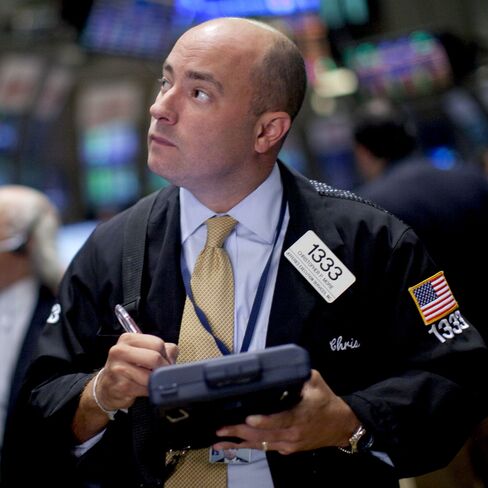 U.S. stocks fell, pulling the Standard & Poor's 500 Index down from a 10-week high, as weaker-than-estimated data on home sales, factory orders and consumer spending cast doubt on the economic recovery.
Procter & Gamble Co., the world's largest household- products maker, slid 3.4 percent and Dow Chemical Co., the biggest U.S. chemical maker, dropped 10 percent after earnings trailed estimates. Losses were limited as Pfizer Inc. rose 5.6 percent to lead a rally in health companies after earnings beat estimates, and energy shares gained as oil topped $82 a barrel.
The S&P 500 slipped 0.5 percent to 1,120.46 at the 4 p.m. close in New York, retreating after two days of gains. The Dow Jones Industrial Average dropped 38 points, or 0.4 percent, to 10,636.38. About two stocks fell for each that advanced on U.S. exchanges.
"There's a lot of uncertainty on the part of investors because they see economic reports coming in a bit weaker than earlier this year," said Robert Pavlik, chief market strategist at Banyan Partners LLC in New York, which manages $360 million. "We're still on a path to recovery, but it's going to be a very slow-growth recovery."
The S&P 500 gained 2.2 percent yesterday to close at the highest level since May 17 after better-than-estimated earnings at companies from Humana Inc. to Allergan Inc. and manufacturing data that topped forecasts. Earnings have beaten analysts' average estimates at 76 percent of S&P 500 companies that have released second-quarter results since July 12, according to Bloomberg data.
Economic Reports
Benchmark indexes opened lower after consumer spending and personal incomes in the U.S. were unexpectedly unchanged in June, Commerce Department data showed, signaling a lack of jobs is hurting the biggest part of the economy.
Stocks extended losses after the National Association of Realtors' index of pending home resales dropped 2.6 percent from the prior month. Economists projected a 4 percent gain, according to the median forecast in a Bloomberg News survey. The Commerce Department said orders placed with U.S. factories declined 1.2 percent in June, more than double the 0.5 percent drop projected by economists in a survey.
"A flat to sluggish economy is what we are seeing," said Barry James, president of James Investment Research in Xenia, Ohio, which manages $2 billion. "The consumer is pulling back." James expects "another wash-out in stock prices," probably before the end of the year.
Fed Watch
Federal Reserve policy makers signaled they probably won't provide more stimulus at their Aug. 10 meeting and wait to see if signs of weaker economic growth persist. Chairman Ben S. Bernanke told lawmakers in South Carolina yesterday that consumer spending is "likely to pick up" amid a "moderate" expansion.
Procter & Gamble dropped 3.4 percent to $59.94 after fiscal fourth-quarter net income of 71 cents a share trailed the average analyst estimate of 73 cents in a Bloomberg survey as some consumers limit spending on brand names. Profit excluding some items will be as much as $1.01 a share in the first quarter, the company forecast, compared with the $1.05 average analyst estimate.
Dow Chemical dropped 10 percent to $25.50, the most since March 2009. Second-quarter net income was $651 million, or 50 cents a share, compared with a net loss of $344 million, or 47 cents, a year earlier, Dow said. Profit excluding some items was 54 cents, less than the 57-cent average estimate of 11 analysts in a Bloomberg survey.
Home Depot Inc. retreated 2.3 percent to $28.45 and homebuilder Pulte Group Inc. fell 6.1 percent to $8.43 after the pending home-sale data. A gauge of homebuilders across S&P indexes tumbled 3.7 percent.
'Very Attractive'
"Today Dow is a disappointment, and Procter & Gamble, but on the whole you have to be very encouraged," said Henry Smith, chief investment officer at Haverford Trust Co. in Radnor, Pennsylvania, which manages $6.2 billion. "When you factor in valuations down in the 12- to 13-times range in a low-inflation, low interest-rate environment, it makes equities look very attractive."
Pfizer climbed 5.6 percent to $16.34. The world's largest drugmaker had second-quarter adjusted earnings of 62 cents a share. The average analyst estimate in a Bloomberg survey was 52 cents a share.
Cognizant Technology Solutions Corp. jumped 9.4 percent to $60.62 for the biggest advance in the S&P 500. The provider of information-technology services forecast third-quarter earnings excluding some items of 63 cents. That compares with the average analyst estimate in a Bloomberg survey of 56 cents.
DaVita, Baker Hughes
DaVita Inc. climbed 5.5 percent to $61.10 for the third- biggest gain in the S&P 500. The second-largest U.S. operator of kidney dialysis centers boosted the low end of its full-year forecast, saying it expects to earn at least $970 million in operating income.
Baker Hughes Inc. dropped the most in the S&P 500, sinking 13 percent to $43.66. The world's third-largest oilfield-services provider reported lower second-quarter earnings than analysts predicted.
Vulcan Materials Co. retreated 9.2 percent to $42.56. The maker of construction aggregates, asphalt mix and concrete reported second-quarter sales of $736.2 million, missing the average analyst estimate of $759.5 million in a Bloomberg survey.
J.C. Penney Co. fell 8.2 percent to $23.38. The department store operator may say later this week that sales at its stores open at least one year missed its forecast, according to JPMorgan Chase & Co.
Before it's here, it's on the Bloomberg Terminal.
LEARN MORE