Pending Sales of Existing U.S. Homes Probably Rose in June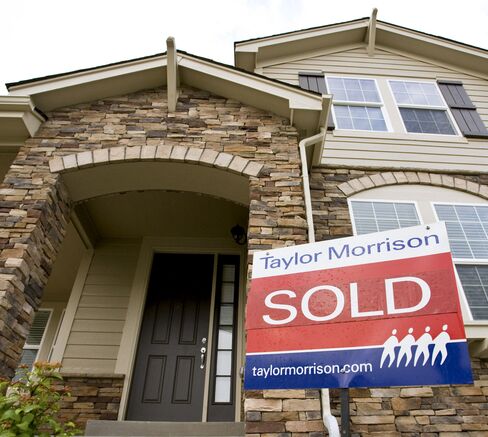 The number of contracts to purchase U.S. previously owned homes probably rose in June, a sign demand may be stabilizing after a record plunge the prior month, economists said before a private report today.
The index of pending home resales increased 4 percent last month, according to the median forecast in a Bloomberg News survey of 37 economists. The expiration of a government tax credit on April 30 caused the gauge to drop 30 percent in May, the most since data began in 2001.
The end of the government incentive worth as much as $8,000 means a sustained recovery in housing now depends on employment and wage gains, which are taking time to rebound. Personal income and spending probably cooled in June, a further sign the economy slowed entering the second half of the year, another report today is forecast to show.
"Until we get an improvement in job growth we're not going to see growth in housing," said Mark Vitner, a senior economist at Wells Fargo Securities LLC in Charlotte, North Carolina.
The National Association of Realtors in Washington is scheduled to release its pending sales report at 10 a.m. Estimates in the Bloomberg survey ranged from a drop of 8 percent to an increase of 15 percent.
Personal income rose 0.2 percent in June after a 0.4 percent gain a month earlier, Commerce Department data at 8:30 a.m. is forecast to show. The same report may indicate a 0.1 percent gain in spending after a 0.2 percent rise, according to the survey median.
Bernanke on Economy
Federal Reserve Chairman Ben S. Bernanke yesterday said rising wages will probably spur household spending in the next few quarters, even as "slow" job gains drag down consumer confidence. Bernanke also said in a speech to southern U.S. state lawmakers that "notable restraints on the recovery persist," including housing, commercial real estate and the labor market.
Another report from the Commerce Department may show factory orders decreased 0.5 percent in June, after a 1.4 percent drop in May, according to the survey.
Pending home resales are considered a leading indicator because they track contract signings. Closings, which typically occur a month or two later, are tallied in the Realtors' existing-home sales report.
The tax credit for homebuyers, which helped fuel a rebound in demand, required buyers to have signed contracts by the end of April. President Barack Obama and Congress extended the credit in early November and expanded it to include some current homeowners.
Existing Home Sales
Sales of existing homes, which account for about 90 percent of the housing market, fell 5.1 percent in June, the Realtors' group said July 22. The number of transactions will be "very low" in coming months, reflecting the end of the government incentive, Chief Economist Lawrence Yun said in a press conference that day.
New-home purchases, which make up the rest of the market and are tabulated when a contract is signed, totaled the second-lowest in history, Commerce Department figures showed on July 26.
Homebuilder stocks have fallen the last three months as the tax credit pulled sales forward. The Standard & Poor's Supercomposite Homebuilding Index, which includes Pulte Group Inc. and Toll Brothers Inc., has fallen 24 percent since the end of April. The broader S&P 500 has dropped 5.1 percent during that same period.
Recovery 'Uncertain'
"Last quarter, I noted that the pace of the housing recovery remained uncertain, and this continues to be true three months later," Dan Fulton, chief executive officer at Weyerhaeuser Co., a homebuilder and the second-largest owner of U.S. timberlands, said on a July 30 conference call. "This has been especially evident in the market retreat following the expiration of the federal homebuyer tax credit at the end of April."
Foreclosures remain a headwind for the housing industry even as homes become cheaper and borrowing costs fall. The 30-year fixed mortgage reached an all-time low of 4.54 percent in the week ended July 29, according to Freddie Mac.
Home seizures jumped 38 percent in the second quarter from a year earlier, RealtyTrac Inc. said last week, putting lenders on pace to claim more than 1 million properties this year.
NVR Inc., based in Reston, Virginia, said last month the original June 30 closing deadline to qualify for the tax incentive resulted in a "surge in settlement activity" in the second quarter, with closings jumping 63 percent from the same time a year earlier. By contrast, new orders fell 6 percent in the period.
                         Bloomberg Survey

================================================================
                              Pers     Pers  Factory  Pending
                               Inc    Spend   Orders    Homes
                              MOM%     MOM%     MOM%     MOM%
================================================================

Date of Release              08/03    08/03    08/03    08/03
Observation Period            June     June     June     June
----------------------------------------------------------------
Median                        0.2%     0.1%    -0.5%     4.0%
Average                       0.1%     0.1%    -0.4%     2.3%
High Forecast                 0.3%     0.3%     0.8%    15.0%
Low Forecast                 -0.2%    -0.3%    -1.2%    -8.0%
Number of Participants          71       76       59       37
Previous                      0.4%     0.2%    -1.4%   -30.0%
----------------------------------------------------------------
4CAST Ltd.                    0.0%     0.1%    -0.3%     4.0%
Action Economics              0.0%     0.0%    -0.7%     7.0%
Aletti Gestielle SGR          0.1%    -0.1%    -0.6%     ---
Ameriprise Financial Inc      0.2%     0.2%    -0.2%    -5.0%
Banesto                       0.3%     0.2%     ---      7.0%
Bank of Tokyo- Mitsubishi     0.2%     0.1%    -0.4%     ---
Bantleon Bank AG              0.2%     0.0%    -1.0%     ---
Barclays Capital              0.3%     0.1%    -0.6%    -4.0%
Bayerische Landesbank         0.2%     0.0%    -0.5%     ---
BBVA                          0.1%     0.2%    -0.2%     4.1%
BMO Capital Markets           0.2%     0.1%     0.0%     3.0%
BNP Paribas                   0.0%     0.2%    -0.2%     ---
BofA Merrill Lynch Research   0.2%     0.1%    -0.5%     ---
Briefing.com                  0.1%    -0.1%    -1.0%    -5.0%
Capital Economics            -0.2%    -0.2%    -0.6%    15.0%
CIBC World Markets            0.0%    -0.1%     0.1%     ---
Citi                          0.1%     0.1%     ---      ---
ClearView Economics           0.3%     0.1%    -0.6%     5.0%
Commerzbank AG                0.3%     0.0%     ---      ---
Credit Agricole CIB           0.1%     0.0%    -1.0%     ---
Credit Suisse                -0.1%     0.0%    -0.5%    -5.0%
Daiwa Securities America      0.3%     0.2%    -0.5%     ---
Danske Bank                   0.2%     0.2%     ---      ---
DekaBank                      0.2%     0.1%     0.0%     1.1%
Desjardins Group              0.2%     0.0%    -0.5%     ---
Deutsche Bank Securities      0.3%     0.2%     0.0%    10.0%
Deutsche Postbank AG          ---      0.0%    -0.6%     ---
DZ Bank                       0.1%     0.1%    -0.3%     ---
Exane                         ---      0.1%     ---      ---
First Trust Advisors          0.3%    -0.1%    -0.6%     ---
FTN Financial                 0.2%     0.1%     ---      ---
Goldman, Sachs & Co.          0.2%     0.1%    -0.5%     ---
Helaba                        0.2%     0.1%     0.1%     ---
High Frequency Economics      0.2%     0.1%    -1.0%     0.0%
HSBC Markets                  0.1%     0.0%     0.0%     0.0%
Hugh Johnson Advisors         0.2%     0.1%     0.5%     ---
IDEAglobal                    0.3%     0.1%     0.4%     8.0%
IHS Global Insight            0.1%     0.0%     ---      ---
Informa Global Markets        0.1%     0.1%    -0.5%     7.0%
ING Financial Markets         ---      ---     -0.5%     5.0%
Insight Economics             0.1%    -0.3%    -0.6%    -5.0%
Intesa-SanPaulo               0.1%     0.2%     ---      ---
J.P. Morgan Chase             0.2%     0.1%    -1.2%     4.0%
Janney Montgomery Scott      -0.1%     0.0%    -0.5%    -5.0%
Jefferies & Co.               0.2%     0.1%     0.8%     ---
Landesbank Berlin             0.3%     0.0%    -0.1%     ---
Landesbank BW                 0.1%     0.0%     0.3%     ---
Maria Fiorini Ramirez         ---      ---      0.0%     ---
MF Global                     0.2%     0.1%    -1.0%    10.0%
MFC Global Investment         0.1%     0.1%    -0.7%     ---
Mizuho Securities             0.1%     0.0%     0.3%     5.0%
Moody's Economy.com           0.1%     0.3%    -1.0%     4.0%
Morgan Keegan & Co.           0.2%     0.2%    -1.0%     ---
Morgan Stanley & Co.          0.1%     0.1%     ---      ---
Natixis                       0.2%     0.1%     ---      ---
Nomura Securities Intl.       ---      0.0%     ---      ---
Pierpont Securities LLC       0.1%     0.0%     ---      ---
PineBridge Investments        0.1%     0.2%    -0.8%    12.0%
PNC Bank                      0.0%    -0.1%    -1.0%     ---
Raymond James                 0.2%     0.0%    -0.7%     ---
RBC Capital Markets           0.0%     0.1%     ---     -5.5%
RBS Securities Inc.           0.0%    -0.2%    -0.4%     ---
Ried, Thunberg & Co.          ---      0.2%     ---     -5.0%
Scotia Capital                0.2%     0.1%    -0.5%    -4.0%
Societe Generale              0.1%     0.2%    -1.0%     8.0%
Standard Chartered            0.0%     0.1%     ---     -8.0%
State Street Global Markets   0.3%    -0.1%    -0.2%     3.8%
Stone & McCarthy Research     0.1%     0.3%     0.0%     ---
TD Securities                 0.2%     0.0%     ---      ---
Thomson Reuters/IFR          -0.1%    -0.1%    -1.2%    -1.5%
Tullett Prebon                0.2%     0.1%    -0.2%     1.5%
UBS                           0.2%     0.1%    -0.5%     5.0%
University of Maryland        0.2%     0.0%    -0.3%     ---
Wells Fargo & Co.             0.2%     0.2%    -0.5%     ---
WestLB AG                     0.2%     0.1%     0.5%     5.0%
Westpac Banking Co.           0.2%     0.1%     ---     10.0%
Woodley Park Research         0.2%     0.0%     ---      ---
Wrightson Associates          ---      0.2%     ---     -5.0%
================================================================