Nissan, Hyundai Extend Gains as U.S. Auto Sales Cool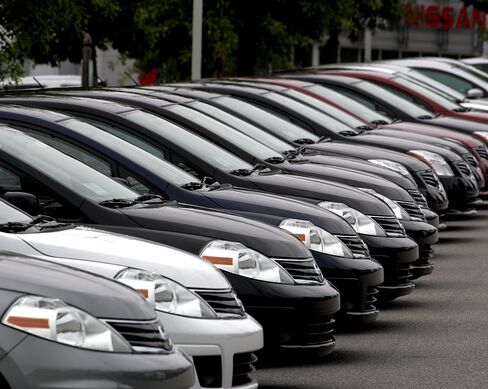 Aug. 4 (Bloomberg) -- Nissan Motor Co. and Hyundai Motor Co. led U.S. sales gains among major automakers in July as industrywide demand cooled amid consumer concerns that the economy may weaken.
Nissan, Japan's third-largest carmaker, said sales rose 15 percent while Seoul-based Hyundai reported a 19 percent increase. Deliveries fell 3.2 percent at Toyota Motor Corp., the world's biggest carmaker, and 2 percent at Honda Motor Co.
"It's companies that really focus on retail sales that are coming through this year," said James Bell, an industry analyst for Kelley Blue Book in Irvine, California. "Interest in all Hyundai vehicles has been buoyed by the introduction of Tucson and Sonata. Nissan's core products have all been shined up in the past year, and retail buyers are noticing."
Nissan and Hyundai gained even as many potential customers shunned showrooms amid signs that the economic recovery is slowing. A U.S. jobless rate that remains near a 27-year high helped push the New York-based Conference Board's measure of consumer sentiment to the lowest in five months.
Nissan fell 2.2 percent to 662 yen as of 10:09 a.m. in Tokyo trading, while Hyundai dropped 2.3 percent in Seoul. Toyota declined 1.1 percent and Honda fell 1.2 percent.
Industrywide Sales
Industrywide sales grew 5.2 percent, faster than the 4.2 percent increase for carmakers based in Japan and South Korea, according to data compiled by Bloomberg. The overall growth rate was the slowest this year, declining from 14 percent in June and 19 percent in May.
Sales rose 6.4 percent for General Motors Co., the largest U.S. automaker, 3.3 percent for Ford Motor Co. and 5 percent for Chrysler Group LLC.
The percentages aren't adjusted for one more sales day last month than in July 2009. Some automaker report adjusted figures.
"July had the opportunity to be such a great month. It started out strong, but definitely didn't finish strong," said Jessica Caldwell, a senior analyst at Edmunds.com, an automotive research website in Santa Monica, California.
U.S. market share for Asian companies fell to 48.2 percent in July from 48.7 percent a year earlier. The U.S.-based companies' share rose 0.1 percentage point to 43.7 percent.
Toyota sold 169,224 Toyota, Lexus and Scion-brand vehicles last month, down from 174,872 a year earlier. Bob Carter, head of Toyota-brand sales in the U.S., said the results were "very good" given the effect of the so-called cash-for-clunkers government incentives that began in the year-earlier month.
Toyota
"Last July was a particularly good month for us" as a result of the federal program, Carter said in a conference call yesterday. Toyota led the industry in July in retail sales, or deliveries to non-fleet customers, he said.
July showed a return to normal trade-in conditions for the first time this year, with more customers swapping vehicles from rival brands than repeat Toyota buyers, Carter said.
"Our trade-ins appear to be 43 percent Toyota, 57 percent competitive makes, which is where we were historically," he said.
Deliveries for Lexus were held back by a sales suspension of the HS hybrid sedan that lasted most of the month, said Mark Templin, head of the luxury brand in the U.S. The Toyota City, Japan-based company fixed a fuel-system problem that triggered the sales freeze on June 25, and Lexus dealers began repairing vehicles late last week, he said.
Toyota's U.S. market share in July fell to 16.1 percent from 17.5 percent a year earlier, according to research firm Autodata Corp., based in Woodcliff Lake, New Jersey.
Honda
Honda, Japan's second-largest automaker, sold 112,437 Honda and Acura vehicles, a drop from 114,690. The decline was led by its top-selling Accord and Civic cars and Fit hatchbacks, Tokyo-based Honda said in a statement.
Like Toyota, Honda cited the year-earlier effect of the cash-for-clunkers program. Honda's market share declined 0.8 percentage point to 10.7 percent, according to Autodata.
Nissan, growing at its fastest pace in the U.S. since 2004, reported sales of 82,337 Nissan and Infiniti models last month, an increase from 71,847 a year earlier. Light trucks led the growth, surging 52 percent. Car sales, dominated by the Altima sedan, fell 0.1 percent.
"It seems the news has turned more negative on the economy, but our floor traffic was really good in July," Al Castignetti, vice president of the Yokohama, Japan-based company's U.S. sales unit, said in an interview. "The people who were coming in to our dealerships were buyers."
Nissan's market share rose to 7.8 percent from 7.2 percent in July 2009. Its U.S. sales have gained 25 percent this year.
Hyundai, Kia
Hyundai, South Korea's largest automaker, sold 54,106 vehicles in July, a record for the month. Gains were led by the Sonata sedan, a competitor to Toyota's top-selling Camry, and Elantra compact cars.
"We remain very bullish about our prospects for the second half of this year as we substantially increase production to improve vehicle supply while launching four new products over the next five months," Dave Zuchowski, vice president of Hyundai's U.S. sales unit, said in a statement.
Kia Motors Corp., Hyundai's affiliate, said its sales rose 21 percent to 35,419.
Subaru, the auto brand of Toyota-affiliated Fuji Heavy Industries Ltd., increased sales 9.8 percent. Mazda Motor Corp., partly owned by Ford, reported an 8.9 percent increase, helped by the addition of the new Mazda2 hatchback.
U.S. sales for Asia-based auto brands

            Jul-10      Jul-09     Change %    DSR %
Toyota     169,224     174,872     -3.2%      -6.8%
Honda      112,437     114,690     -2.0%      -5.6%
Nissan      82,337      71,847     14.6%      10.4%
Hyundai     54,106      45,553     18.8%      14.4%
Kia         35,419      29,345     20.7%      16.2%
Mazda       20,732      19,032      8.9%       4.9%
Subaru      23,983      21,839      9.8%       5.7%
Mitsubishi   5,648       4,847     16.5%      12.2%
Suzuki       1,952       3,507    -44.3%     -46.4%
Total:     505,838     485,532      4.2%       0.3%

*DSR, or daily selling rate, adjusts for the number of selling days in a month. In July 2010 there were 27 selling days, compared with 26 in July 2009.
To contact the reporter on this story: Alan Ohnsman in Los Angeles at aohnsman@bloomberg.net
To contact the editor responsible for this story: Kae Inoue at kinoue@bloomberg.net