Kathmandu Falls by Record as Earnings Miss Forecast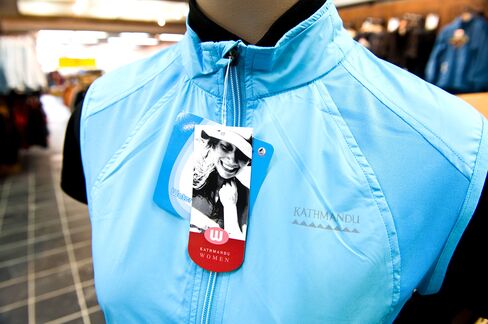 Kathmandu Holdings Ltd. fell by the most since the shares began trading in November after the retailer of outdoor equipment in New Zealand and Australia said full-year earnings missed forecasts.
Earnings before interest and tax in the year ended July 31 were at least 5 percent less than forecast in the Christchurch-based company's November prospectus, Kathmandu said in a preliminary earnings report today. The stock fell 11 percent to NZ$1.82 at the 5 p.m. close of trading in Wellington.
Same store revenue fell and gross profit margin on sales was less than the 64 percent forecast in the six months ended July 31, the company said. The environment for retailers was much more difficult and the company spent more on advertising in response to market conditions, it said.
"While not a complete shock given tough winter trading conditions for most apparel-based retailers," John Burgess, an analyst at Austock Group Ltd. in Melbourne, wrote in a note to clients. He cut his recommendation to "hold" from "buy." "We do not see relative outperformance for the stock until winter 2011."
'Right Response'
Earnings before interest and tax totaled NZ$47 million ($34 million) to NZ$48 million in the year ended July 31, the company said, citing provisional figures. The prospectus forecast was NZ$50.6 million, it said. Earnings excluded costs associated with last year's initial public offering.
"We believe the level of promotional activity and our pricing strategies have been the right response," Chief Executive Officer Peter Halkett said.
Gross profit margin slid to 63 percent in the year ended July 31, from 64.4 percent the year earlier, the company said.
Full-year sales rose 14 percent to NZ$245 million; same-store sales gained 1.3 percent. The company opened 14 stores in the period, two more than forecast in the prospectus.