GM's Escalade Is Most-Stolen Vehicle as Thieves Seek Leather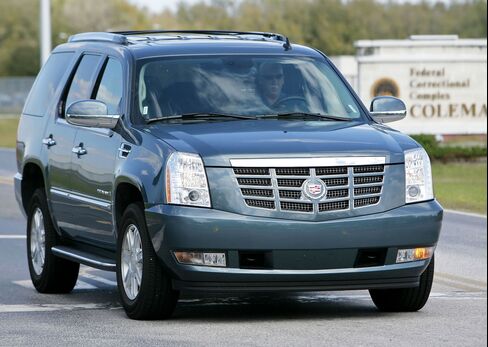 General Motors Co.'s Escalade is the most-stolen car of the past decade as thieves seek "chrome, horsepower, Hemis" and leather, according to the Highway Loss Data Institute.
The Escalade, a luxury sport utility vehicle priced between $60,000 and $190,000, again topped the list, as it has every year since 2000, the insurance industry study group said in a report released today.
For every 1,000 insured Cadillac Escalades, during the 2007 through 2009 model years, an average of 10.8 were reported stolen, said the study group, which is an affiliate of the Insurance Institute for Highway Safety. The next most stolen is the Ford F-250, a large pickup, followed by the Infiniti G37 two-door, a midsize luxury car, and the Dodge Charger with a hemi engine, a large family car.
"Sedate family cars and fuel sippers aren't on the hot list," said Kim Hazelbaker, the group's senior vice president. "Thieves are after chrome, horsepower and Hemis."
The average claim for an Escalade is seven times the average for all passenger vehicles -- $11,934, which is a fraction of its sticker price. That's because thieves often steal only parts of the SUV, such as the stereo system or the hubcaps.
The Chevrolet Corvette Z06 sports car has the highest average claim cost among the most stolen, at $41,229.
Most-stolen models aside, since 1998, the frequency of auto theft claims has declined while the cost per vehicle has risen.
Pickups' Theft Appeal
Pickup trucks are growing in theft popularity, according to the institute. The trucks are already the top stolen vehicles in Houston, said Jim Woods, who has been an auto theft officer at the Houston Police Department for 17 years.
Pickups prove useful tools for other crimes, Woods said. Storage space in the truck is helpful for transporting drugs and other illegal items. Its four-wheel drive also means the criminal can escape off-road, he said.
The least frequently stolen vehicles are Japanese makes such as the Toyota Prius and the Nissan Murano, and family cars like the Toyota Sienna 4WD and the Volvo S80, according to the institute's data.
Thieves are attracted by the Escalade's leather interior, which can be easily bolted into less luxurious SUVs such as the Chevrolet Suburban or Tahoe, said Houston's Officer Woods. "You wonder how many Chevrolet Tahoes are running around with Cadillac interiors," he said.
GM has added a steering lock to the vehicle and OnStar tracking, which allows the Escalade to be slowed down remotely by authorities, said Nick Twork, a spokesman for Cadillac. Customers aren't deterred from buying the car because it's the most-stolen, he said.
"If someone wants to steal any car, they can do it," Twork said. "It speaks to the desirability of certain aspects of the Escalade."