Bair Said to Rule Out Leading Consumer Agency After Dodd's Push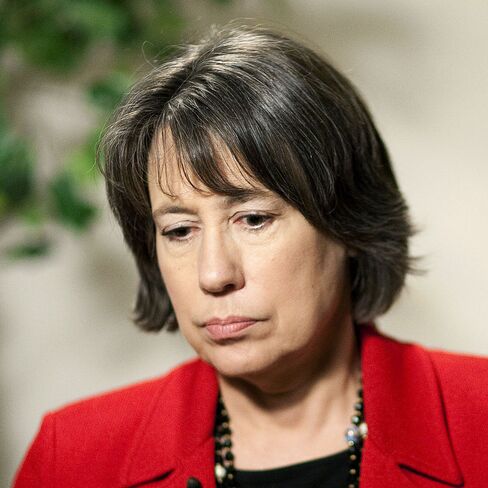 Federal Deposit Insurance Corp. Chairman Sheila Bair has taken herself out of the running to lead the new U.S. consumer-protection agency after her name was put forward by Senate Banking Committee Chairman Christopher Dodd, a person with direct knowledge of the matter said.
President Barack Obama probably will choose Harvard law professor Elizabeth Warren or Assistant Treasury Secretary Michael Barr to run the Bureau of Consumer Financial Protection, according to a person familiar with the matter who spoke on condition of anonymity because the talks are private. The decision is unlikely to come before Congress goes on recess next week, according to another person familiar with the matter.
"I'm certainly not surprised Bair was being courted," said John Douglas, a former FDIC general counsel and now a partner at law firm Davis Polk & Wardwell in New York. "She's proven to be a very effective leader in a time of crisis."
Dodd and others, including Senator Susan Collins, a Maine Republican, have urged the nomination of Bair, a Republican, citing her experience running a large regulatory agency and her bipartisan appeal, according to two people close to the discussions. Bair, 56, was among the first regulators to prod the mortgage industry to modify loans at risk of foreclosure to help borrowers keep their homes after the housing bubble burst.
Dodd, the Connecticut Democrat who helped write the legislation that creates the bureau, said last week that while Warren was qualified she might not be able to garner the 60 votes in the Senate needed for confirmation.
Independent Agency
The consumer bureau, which will be an independent agency housed within the Federal Reserve, is designed to police banks for credit-card and mortgage-lending abuses.
White House officials have said their short list for the job includes Warren, Barr and Gene Kimmelman, a former director of Consumers Union who is chief counsel for competition policy at the Justice Department.
Warren, chairman of the congressional panel overseeing the Troubled Asset Relief Program, has received public support for the consumer job from dozens of House Democrats, including Dodd's counterpart, Financial Services Committee Chairman Barney Frank of Massachusetts. She also is supported by the AFL-CIO labor union and consumer groups such as Public Citizen.
Senate Republicans and banking industry representatives have questioned whether Warren has the experience to run a large agency and said her consumer crusading would make it difficult for her to negotiate fairly with financial companies. "I would oppose her on philosophical grounds," Senator Richard Shelby, an Alabama Republican, said last week.
Vocal Advocate
Warren, 61, who is credited with coming up with the idea for the agency, has been a vocal advocate for strengthening consumer protections, which has alienated her from the financial-services industry.
Republicans may block her nomination with a filibuster. Obama may want to wage that fight to show he is tough on Wall Street ahead of the November elections.
If Barr or someone else is chosen instead of Warren, White House officials are discussing whether to still give Warren a role in designing, building and advising the agency, according to a person familiar with the matter. Consumer groups that support Warren might see Barr, 44, as too tied to Treasury and less independent from the administration. He worked closely with Treasury Secretary Timothy Geithner and White House economic adviser Larry Summers on the financial-regulatory bill, playing a lead role in shepherding the legislation through Congress.
Law Professor
A law professor and devotee of behavioral economics, Barr has championed policies disliked by Wall Street, including the consumer bureau and the so-called Volcker rule banning banks from trading for their own accounts. Advocates of tougher financial regulation credit Barr with helping to preserve the consumer agency's independence, which almost became a casualty during congressional negotiations.
Dodd has pressed the White House to appoint the FDIC chairman as an alternative and has urged Bair to consider it, according to two people close to the discussions. Bair has said repeatedly she plans to return to academia or work for a nonprofit organization when her FDIC term expires in June 2011. The person with knowledge of the matter said she reiterated her position after Dodd's approach.
FDIC spokesman Andrew Gray declined to comment.
Whoever gets the job will face a formidable task, analysts said.
"This new agency is just a monumental managerial challenge," said Cornelius Hurley, director of the Morin Center for Banking and Financial Law at Boston University. "You have to make a lot of structural decisions. You have to make a lot of personnel decisions out of the gate."