Angelo Mozilo Says SEC Admits Investors Knew Risks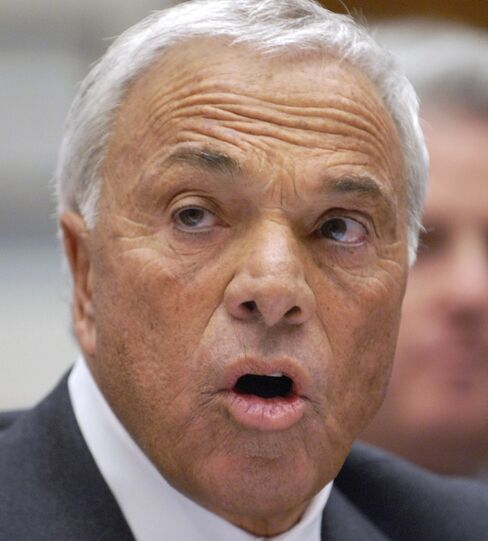 Countrywide Financial Corp.'s former chief executive officer, Angelo Mozilo, said the U.S. Securities and Exchange Commission now admits the home lender wasn't hiding from investors that it was originating risky mortgages.
Mozilo, 71, in a filing yesterday in federal court in Los Angeles, asked U.S. District Judge John F. Walter to rule on the SEC's fraud allegations, saying the "undisputed evidence" shows there was no wrongdoing. Former Countrywide Chief Operating Officer David Sambol and former Chief Financial Officer Eric Sieracki also asked Walter to decide the case in their favor without a trial.
"The undisputed evidence establishes, and the SEC now admits, that stockholders understood Countrywide's underwriting guidelines expanded over time," lawyers for Mozilo and the two other defendants said in the filing.
The SEC admitted in response to inquiries from the defendants' lawyers that information about its riskier loans was reflected in the company's stock price, according to Mozilo's filing. Countrywide provided information about those loans in prospectus supplements for mortgage-backed securities sold in the secondary market, Mozilo said in the filing.
John McCoy, a lawyer for the SEC, didn't immediately return a call seeking comment.
'Dire' Warnings
The SEC sued Mozilo in June 2009, saying he publicly reassured investors about the quality of Countrywide's loans while he issued "dire" internal warnings and sold about $140 million of his own Countrywide shares. Mozilo wrote in an e-mail that Countrywide was "flying blind" and had "no way" to determine the risks of some adjustable-rate mortgages, according to the SEC complaint.
Mozilo is the most prominent executive targeted by U.S. regulators examining the subprime mortgage crisis. He co-founded Countrywide in 1969 and built it into the nation's biggest mortgage lender, helping trigger the subprime bubble by offering loans to customers with below-average credit scores.
Mounting loan defaults slashed the company's stock price, prompting its sale to Bank of America Corp. in 2008.
Bank of America and Countrywide's former auditor, KPMG LLP, agreed to pay $624 million to settle shareholder claims that Mozilo and other Countrywide executives didn't disclose they were fueling growth with more lenient underwriting standards. The bank didn't admit wrongdoing as part of the settlement.
The case is SEC v. Mozilo, 09-03994, U.S. District Court, Central District of California (Los Angeles.)