U.S. Said to Probe BP Disclosures, Stock Trading After Spill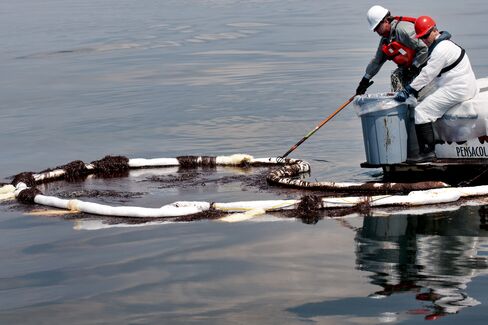 The U.S. is examining whether BP Plc made misleading statements after its Gulf of Mexico oil spill and if company executives traded stock based on insider information about the accident, according to a person familiar with the matter.
The Justice Department is investigating possible criminal wrongdoing and the Securities and Exchange Commission is probing potential civil violations, said the person, who wasn't authorized to speak publicly and asked not to be identified.
BP disclosed July 27 in a filing to U.S. regulators that the SEC and Justice Department "are conducting informal enquiries into securities matters" related to the oil spill triggered by an April 20 explosion. BP declined to elaborate at the time.
"We will cooperate with any investigations," Sheila Williams, a BP spokeswoman based in London, said in an e-mail today.
Investigators haven't yet determined whether insider trading occurred or the company intentionally made false statements to investors, the person said.
BP shares have dropped 34 percent in U.S. trading since the accident, wiping out $64.1 billion in market value. The American depositary receipts, each equal to six ordinary shares, rose 58 cents, or 1.5 percent, to $40 at 4 p.m. in New York Stock Exchange composite trading.
The Justice Department is investigating whether criminal or civil laws were broken, Attorney General Eric Holder said at a news conference on June 1.
The government has been reviewing whether there were violations of the Clean Water Act, which carries civil and criminal penalties, and the Oil Pollution Act of 1990, which can be used to hold companies liable for cleanup costs.
Also under review is whether there were violations of the Migratory Bird Treaty Act and Endangered Species Act, which provide penalties for injuries to wildlife, and other criminal laws.