Argentina's 2012 Bond Is BofA Choice Before Payment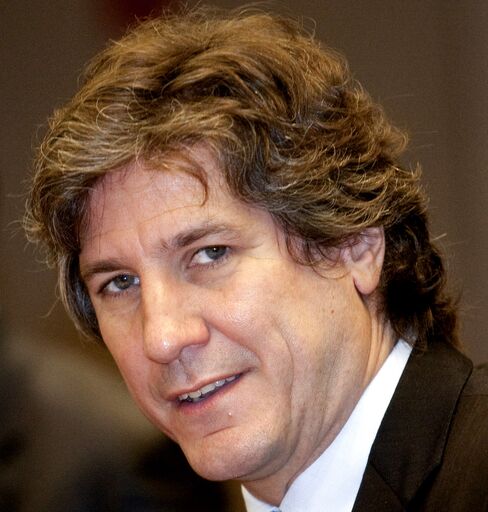 Argentine dollar-denominated bonds due in 2012 are being recommended by Bank of America Corp. as the government prepares to make a $2.2 billion payment today, leaving 25 percent of the total issue outstanding.
The bonds, which rallied 13 percent since the end of May, may climb 4.4 percent to 23.93 cents on the dollar, Bank of America analysts led by David Beker said in a July 30 report.
Prices for longer-term bonds may decline as the government issues more of the securities when it taps overseas debt markets for the first time since its default in 2001, according to the Charlotte, North Carolina-based bank. The supply of Argentine notes due in 2033 and 2035 will also increase as investors who participated in Argentina's $18.3 billion debt restructuring in June receive the securities in exchange for defaulted notes.
"I don't think Argentina is going to default or take the risk of defaulting in the near term -- this is a safe allocation of capital in terms of Argentine credit," said Laura Tribuno, an emerging markets trader who buys and sells Argentine debt with RBC Capital Markets, a unit of Canada's biggest bank, in New York.
Economy Minister Amado Boudou said in June the government aimed to sell as much as $1 billion of bonds due in 2017 on international markets once yields fell below 10 percent. Yields crossed that threshold yesterday.
'Cheap'
The 2012 bonds slid 0.23 cent today to 22.63 cents on the dollar at 5:01 p.m. New York time, up from 20.33 cents on May 28, according to data compiled by Bloomberg and Bank of America. Today's payment lowers the outstanding amount of the securities to $4.4 billion from $17.6 billion in 2002. The bonds were originally given as compensation to Argentines whose dollar bank accounts were frozen and converted into pesos following the country's record $95 billion debt default in late 2001.
"They're cheap for a one-and-a-half year credit," Tribuno said.
Bank of America said it has added Argentine bonds to its portfolios, while maintaining a "market weight" exposure, as concerns about a European debt crisis have waned in recent weeks. Beker, who didn't provide a time frame on the Boden 2012 gain, was unavailable for additional comment.
The extra yield investors demand to own Argentine government bonds instead of U.S. Treasuries slid 20 basis points, or 0.2 percentage point, today to 666.
'Reinvestment Flow'
The cost of protecting Argentine debt against non-payment for five years with credit-default swaps dropped 11 basis points to 781 yesterday, according to data compiled by CMA DataVision. Credit-default swaps pay the buyer face value in exchange for the underlying securities or the cash equivalent should a government or company fail to adhere to its debt agreements.
Argentine warrants linked to economic growth rose 0.14 cent to 10.10 U.S. cents. The peso strengthened 0.1 percent to 3.9333 per dollar.
Argentina may follow the payment with the sale of 2017 bonds in a bid to "capture the reinvestment flow," said Siobhan Morden, head of Latin America debt strategy with RBS Securities Inc., a unit of Royal Bank of Scotland Group Plc, Britain's biggest government-owned bank, in Stamford, Connecticut. The country shelved plans to sell the securities as part of its debt exchange offer that closed in June after the yield rose as high as 13.08 percent on June 8.
'Will Be Paid'
The government is unlikely to swap the 2012 bonds for debt with longer maturities, Morden said in a phone interview yesterday. President Cristina Fernandez de Kirchner ruled out that option in a July 26 speech in Buenos Aires.
"This bond will be paid and won't be exchanged," Fernandez said.
An Economy Ministry spokesman did not immediately return a call seeking further comment about debt management plans.
Argentina made an early payment of $33.7 million to holders of the 2012 bonds in June 2009 as slowing economic growth and a lack of access to international debt markets increased the chances of default.
The government has used $2.7 billion in central bank reserves, which are at an all-time high of $51.1 billion, to pay off debt due this year, Fernandez said in a July 28 speech.
The economy, which grew 0.9 percent last year according to government figures, will grow "at least" seven percent this year, the central bank forecast in a report last month. Growth will reach 8 percent, Goldman Sachs Group Inc. said in a July 12 report.
Before it's here, it's on the Bloomberg Terminal.
LEARN MORE