Ally 'Loves' GM Deal That Values Firm at $30 Billion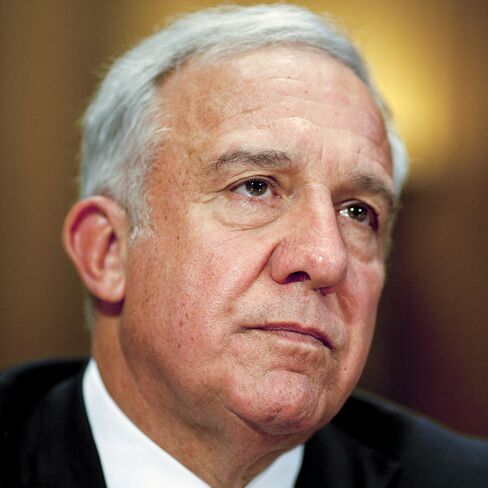 Ally Financial Inc., the lender that's 56 percent owned by the U.S., may stage an initial public offering next year and could be worth as much as $30 billion, according to Chief Executive Officer Michael Carpenter.
Ally's auto unit alone may be valued at $25 billion, based on the $3.5 billion General Motors Co. agreed to pay for subprime car lender AmeriCredit Corp., Carpenter said today during a conference call about second-quarter results. An IPO may be conducted next year if a bid for the entire company doesn't emerge first, Carpenter said.
"I love the AmeriCredit deal because it values our automotive segment alone at $25 billion," Carpenter said. "I don't have any doubt about our ability to repay the U.S. Treasury. So I think it's great."
Ally, formerly known as GMAC Inc., may offer shares to the public after benefiting from $17 billion of U.S. bailouts. Carpenter's estimate of the market value for Detroit-based Ally exceeds all but six of the biggest U.S. commercial banks, ranking after PNC Financial Services Group Inc. with $32 billion.
An IPO "is very clearly within our sights" in 2011, Carpenter said. "The obvious route to repay Treasury is an IPO, unless somebody comes along with a check for $30 billion, based on the AmeriCredit valuation."
IPO Prospects
GM and Cerberus Capital Management LP, the New York-based investment firm, also hold stakes. Ally posted its second straight quarterly profit today as the lender rebounded from more than $10 billion of losses last year, which were caused in part by the collapse of U.S. housing and credit markets.
"I'm not sanguine about an IPO for Ally," said Christopher Whalen, managing director of Institutional Risk Analytics, a Torrance, California, firm that evaluates banks for investors. "They still have too many questions to answer."
Carpenter, 63, is refashioning Ally into a lender that serves more companies than just GM, its former parent. GM is planning to buy AmeriCredit to help finance car sales to people with poor credit, and analysts at Gimme Credit LLC said in July that relations between the automaker and Ally have been "prickly" because Carpenter's firm wouldn't step up subprime lending.
Different Customers
"The one question Ally cannot answer right now is, 'Why does it make sense for GM to continue doing business with them now that they have created a new captive lender?" Whalen said in a telephone interview. "I want to hear about how they're going to fill out rest of the business model."
Ally said in a slide presentation today that it serves different kinds of subprime customers than AmeriCredit, and Carpenter said there are some risks that his firm isn't willing to take. Ally will still do all it can to make GM successful, he said.
Ally, which adopted the name of its banking unit in May, has expanded to serve Saab Automobile AB and Thor Industries Inc., the biggest maker of recreational vehicles.
Net income was $565 million in 2010's second quarter, compared with a loss of $3.9 billion in the same period a year earlier, Ally said in a statement. All of Ally's operating segments were profitable, the company said.
Before it's here, it's on the Bloomberg Terminal.
LEARN MORE