Toyota, Honda Lead Gains in Japan's Sales on Subsidy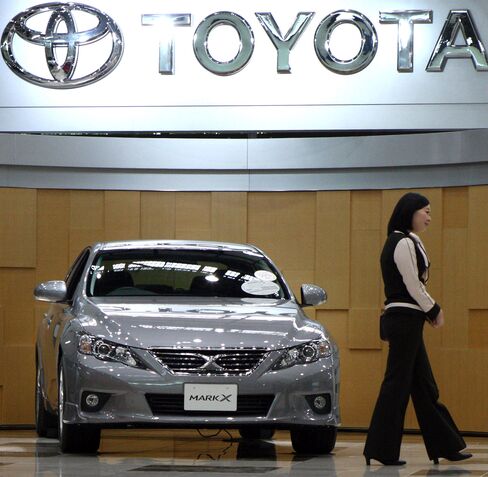 Toyota Motor Corp. and Honda Motor Co., Japan's two biggest automakers, led the 12th straight increase in the nation's monthly auto sales as government incentives boosted demand.
Sales of cars, trucks and buses, excluding minicars, rose 15 percent to 333,403 vehicles in July from a year earlier, the Tokyo-based Japan Automobile Dealers Association said in a statement today. Toyota, the world's largest carmaker, sold 161,444 units, excluding Lexus-brand cars, up 19 percent.
Japan's auto sales started recovering in August 2009 from a yearlong decline as government rebates and tax cuts for fuel-efficient vehicles revived demand. The incentives helped raise sales by about 600,000 vehicles last year and may increase them by about 900,000 this year, the Japan Automobile Manufacturers Association said in December.
"Sales in Japan and in Europe can't be expected to rise that much and Japan auto shares may be facing a difficult phase at the moment," said Kiyoshi Ishigane, a strategist in Tokyo at Mitsubishi UFJ Asset Management Co., which oversees about $65 billion.
July sales rose 15 percent at Honda to 50,448 units, while Nissan Motor Co., the nation's third-largest automaker, sold 50,719 vehicles, a rise of 2.3 percent.
Car sales may fall 300,000 units over two years after a government subsidy program expires at the end of September, the Japan Automobile Dealers Association said in its annual report today.
For the current fiscal year ending in March, in the worst case scenario, car sales including minicar models may fall to as low as 450,000 units from 488,000 units a year earlier, the dealers association said.
Toyota shares gained 1.8 percent to close at 3,105 yen on the Tokyo Stock Exchange. Honda increased 4 percent and Nissan fell 0.2 percent.
Before it's here, it's on the Bloomberg Terminal.
LEARN MORE