Huawei Said to Have Failed in U.S. Takeover Bids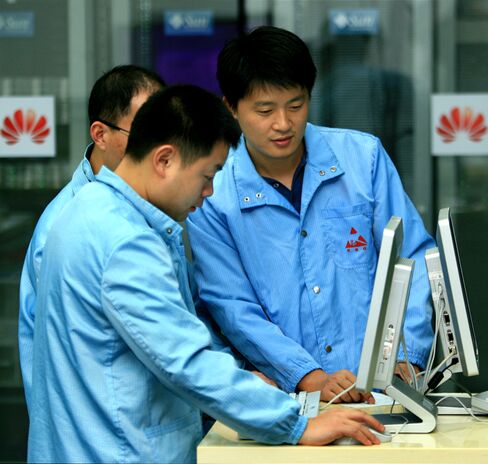 Huawei Technologies Co. failed to reach agreements to buy two U.S. assets last month, even though the Chinese phone-equipment maker offered at least $100 million more in each case, according to two people with knowledge of the matter.
The sellers doubted Huawei's ability to win U.S. government approval to purchase software supplier 2Wire Inc. and Motorola Inc.'s wireless-equipment unit, the people said. They declined to be identified because Huawei's offers weren't public.
Huawei, founded by former Chinese army official Ren Zhengfei, failed in its latest attempts to expand in the U.S. where the Shenzhen, southern China-based company had encountered opposition based on national security concerns. In 2008, Huawei dropped a bid for computer-equipment maker 3Com Corp. after the U.S. began investigating whether a deal would give China access to anti-hacking technology used by the Defense Department.
"There is still some skepticism in the U.S. about any potential sale of technology assets to a Chinese company," Wilson Chai, an analyst at Mirae Asset Securities in Hong Kong, said by phone today. "After years of trying in the U.S., Huawei hasn't made any significant breakthroughs in that market."
Huawei hired Morgan Stanley in its attempts to purchase a U.S. asset, the people said. The Chinese company was also assisted by law firms such as Sullivan & Cromwell LLP and Skadden, Arps, Slate, Meagher & Flom LLP, according to the people.
Bill Black, a Huawei spokesman, declined to comment, as did Morgan Stanley spokeswoman Mary Claire Delaney. Tama McWhinney, a Motorola spokeswoman, and Harald Stavenas, a spokesman for Skadden, also declined to comment. Sullivan & Cromwell and 2Wire weren't immediately available to comment.
Regulatory Hurdles
Huawei, the largest phone-equipment maker in China, was founded more than two decades ago by Ren, a former official of the People Liberation's Army, and that connection raised concerns for U.S. lawmakers during the attempted purchase of 3Com by Huawei and co-bidder Bain Capital LLC.
Nokia Siemens Networks beat out Huawei in agreeing to buy the Motorola unit for $1.2 billion on July 19. To help close the gap on the Huawei offer, which was about 10 percent higher than Nokia Siemens's bid, Nokia Siemens let Motorola keep an additional $150 million in accounts receivable, cash and some other assets, one of the people familiar said. Motorola was also allowed to retain most of the patents for its wireless network infrastructure business.
Government Review
Then on July 26, Pace Plc, a U.K. maker of television set-top boxes, announced plans to buy San Jose, California-based 2Wire for $475 million. Huawei failed to win with its higher offer on concern a transaction would be slowed by the U.S. government review process, one person familiar with the deal said.
The Committee on Foreign Investment in the United States, an interagency committee of the U.S. government known as CFIUS, reviews the national security implications of U.S. companies or operations acquired by foreign companies.
Other Chinese technology companies have cleared U.S. probes. The government approved China's Lenovo Group Ltd.'s $1.75 billion purchase of International Business Machines Corp.'s personal-computer unit in 2005 after months of debate.
Huawei, which competes with Nokia Siemens and Ericsson AB, the world's largest maker of wireless networks, also previously considered buying some Nortel Networks Corp. assets out of bankruptcy, according to a person close to the situation.
Lawsuits that allege Huawei stole intellectual property and the company's inexperience in closing a larger U.S. purchase have also contributed to sellers' concern, the people said.
Lawsuits
Motorola is suing Huawei over the alleged theft of trade secrets and demanded the return of all proprietary information and damages, according to a lawsuit filed on July 16 in federal court in Chicago. Cisco Systems Inc. agreed to settle a lawsuit with Huawei in 2004 after Cisco alleged that Huawei copied some parts of its data-traffic routers and switches.
The United Arab Emirates, home to Middle East business hub Dubai, said this week it may suspend Research In Motion Ltd.'s BlackBerry e-mail services in October because of concern the devices could be used in crimes. The move comes days after an official in India said that country may ban BlackBerry e-mail use and reports that Saudi Arabia could take similar steps.
Before it's here, it's on the Bloomberg Terminal.
LEARN MORE