Harman Said Near Deal for Washington Post's Newsweek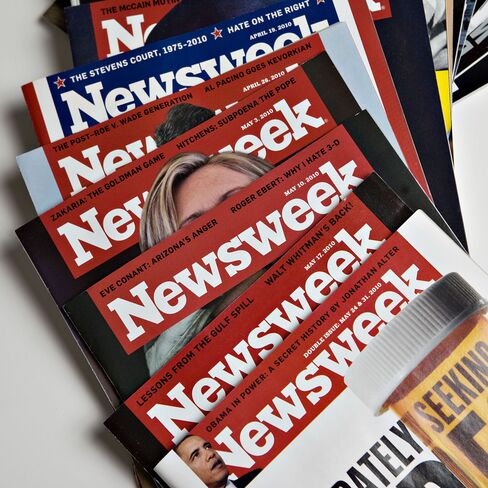 Sidney Harman, the founder of Harman International Industries Inc., is near a deal to buy the money-losing Newsweek magazine from Washington Post Co., three people familiar with the matter said.
Harman, 91, was chosen over bids from Fred Drasner, a former executive at U.S. News & World Report and The New York Daily News, and investment firm Avenue Capital Group, said the people, who declined to be identified because the sale isn't public yet. It may be announced as soon as today, one person said.
Drasner said in an interview he has been told Post Co. is near a deal with Harman.
"I wish him the best of luck," Drasner said. "I'm pleased somebody is going to devote this amount of resources to preserve serious journalism."
Post Co. said in May it was considering selling the weekly news magazine it has owned since 1961. The circulation of general interest newsmagazines, including Newsweek and Time Warner Inc.'s Time, has plunged as more readers seek their news from the Web, where stories are updated more frequently.
Donald Graham, chairman of the Post Co., and Tom Kuhn, managing director at investment bank Allen & Co., which was hired by Post Co. to manage the sale, couldn't immediately be reached for comment.
Two of the people said they didn't know the price Harman is paying for Newsweek. Harman agreed to keep most of the magazine's more than 300 employees on board once the sale is complete, the people said. The Post Co. agreed to cover the severance costs for any Newsweek employees the buyer didn't keep, making Harman's bid more valuable, the people said.
Operating Losses
Newsweek posted losses from 2007 to 2009 and its Washington-based owner predicted in May this year will be unprofitable, too. Newsweek redesigned the magazine last year and told advertisers it anticipated fewer guaranteed readers.
Post Co. rose $13.40, or 3.2 percent, to $433.89 at 4:04 p.m. in New York Stock Exchange composite trading. The stock has lost 1.3 percent this year.
Harman, who resides in California, is chairman emeritus of Harman International, the Stamford, Connecticut-based maker of audio equipment including the Harman Kardon, Infinity and JBL brands. He is married to U.S. Representative Jane Harman, who represents a Southern California district that includes Los Angeles-area cities Rancho Palos Verdes, Torrance and Venice.
Since 2007, Newsweek has lost $44 million on an operating basis, according to documents sent to prospective buyers. Print advertising revenue plunged 39 percent to $70.3 million last year from $115.5 million in 2008, the documents show.
Before it's here, it's on the Bloomberg Terminal.
LEARN MORE