BNP Paribas Profit Rises 31% as Loan Provisions Fall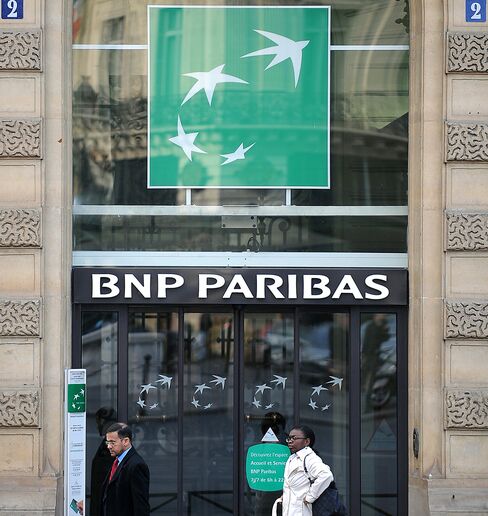 BNP Paribas SA, France's biggest bank, said second-quarter profit rose 31 percent as bad-loan provisions dropped to the lowest level since before Lehman Brothers Holdings Inc.'s 2008 bankruptcy.
BNP Paribas climbed 5.3 percent in Paris trading after saying net income rose to 2.11 billion euros ($2.76 billion), topping the 1.61 billion-euro estimate of analysts surveyed by Bloomberg.
Profits at BNP Paribas's branch networks in France, Belgium and the U.S. rose, more than offsetting a drop in corporate- and investment-banking earnings. BNP Paribas, like competitors Deutsche Bank AG and Goldman Sachs Group Inc., had a drop in trading revenue in the quarter as concerns about swollen budget deficits dragged down the bonds of Greece, Spain and Portugal and roiled stock markets.
"It wasn't a great quarter for investment banking, but the other businesses are improving," said Simon Maughan, a London- based analyst at MF Global Securities Ltd., who rates the stock "buy." "Their diversified model shows its strength."
BNP Paribas's purchase of Fortis operations during the depths of the financial crisis helped buoy profit. The bank's overall provisions from doubtful loans fell 54 percent to 1.08 billion euros from a year earlier, the lowest since the second quarter of 2008.
Loan Losses Decline
BNP Paribas' doubtful-loan provisions overall "should continue to slowly decline over the next few quarters," Chief Executive Officer Baudouin Prot said in a Bloomberg Television interview. "I have no reason to believe that this trend should reverse anytime soon. It's a positive for BNP Paribas and it's a positive for the economy overall."
At the corporate and investment bank, revenue dropped 30 percent from a year earlier as sales from advisory and capital markets declined 50 percent. Fixed-income revenues were affected by "the considerable contraction in primary markets, the widening credit spreads and the sharp rise in volatility," the bank said.
European banks rallied last week as all but seven of 91 European Union lenders passed stress tests, and as regulators said they would soften rules proposed for the industry. French banks are among the biggest beneficiaries of the changes in proposed rules on capital and liquidity announced July 26 by the Basel Committee on Banking Supervision, analysts said.
Stress Tests, Basel
BNP Paribas rose 2.78 euros to 55.49 euros in Paris today, valuing the company at 66.5 billion euros. That follows a 5.8 percent gain last week. Societe Generale, France's No. 2 bank by market value, climbed 16 percent last week and Credit Agricole SA, the third-largest bank in France, jumped 12 percent. Societe Generale and Credit Agricole are also based in Paris.
The stress tests showed that BNP Paribas has more than 20 billion euros of excess capital under the "worst case scenario," the company said. Its total net exposure to Greece, Spain, Portugal, Ireland and Italy amounted to 34 billion euros at the end of March, compared with 17.9 billion euros at Credit Agricole and 10.6 billion euros at Societe Generale, the French banking regulator said on July 23.
Investment Bank, Retail
Pretax profit at BNP Paribas's corporate- and investment- banking division fell 7.3 percent to 1.28 billion euros, beating the 1.19 billion-euro estimate of analysts. The second-quarter advisory- capital-markets revenue of 1.53 billion euros "is a level from which we can hope to do better, especially in the equities business," Prot told reporters today in Paris.
BNP Paribas' equity and advisory business, whose revenue declined 66 percent to 268 million euros, remained profitable in the second quarter as the bank had hedging costs as part of a "rather conservative" risk management policy, Prot said.
"This quarter, for the first time since the second quarter 2007, provision write-backs exceeded new provisions," BNP Paribas said. The unit's loan book "saw no new significant doubtful loans."
BNP Paribas's French branch network had second-quarter pretax earnings of 479 million euros, up from 414 million euros a year earlier, the bank said. The consumer-banking unit in Belgium and Luxembourg had a 156 million-euro pretax profit, compared with a 26 million-euro loss last year.
BancWest Profit
BancWest, BNP Paribas's U.S. branch network, had a 153 million-euro pretax profit, compared with a 62 million-euro loss last year. BNP Paribas is seeking "a growth drive in the United States, taking advantage of the group's new size with large clients and consolidating BancWest's return to profit," it said.
Pretax profit at BNP Paribas's investment-solutions unit, which includes asset management, private banking and insurance, rose 32 percent to 473 million euros, the bank said. The asset-management unit had 8.9 billion euros of outflows in the quarter because of "customers' greater aversion to risk" as equity markets fell and credit spreads widened, BNP Paribas said.
Pretax earnings from branch networks in "Europe-Mediterranean" countries including Poland and Turkey was 20 million euros in the second quarter, compared with a 39 million-euro loss last year.
Following the Fortis purchase, BNP Paribas has 640 branches in Turkey and 240 in Poland. BNP Paribas in Poland has almost 2 percent of consumer-banking market share and plans to increase that to 4 percent over the "medium term," excluding the effects of acquisitions, Chief Operating Officer Jean-Laurent Bonnafe told analysts on a call.
"BNP Paribas in its new dimension has no need for acquisitions," Prot told reporters today. BNP Paribas will maintain "discipline" on possible takeovers, Prot said, without mentioning any specific acquisition plan.
Pretax profit at the Italian consumer-banking network, BNL, fell 21 percent to 100 million euros, hurt by higher bad-loan provisions from loans to small- and medium-sized companies, the bank said. BNL's provisions "should stay at this level for at least one or two quarters," Bonnafe said.
Before it's here, it's on the Bloomberg Terminal.
LEARN MORE