Black Keys Swing Central Park, Chicago Festival Boasts Pavement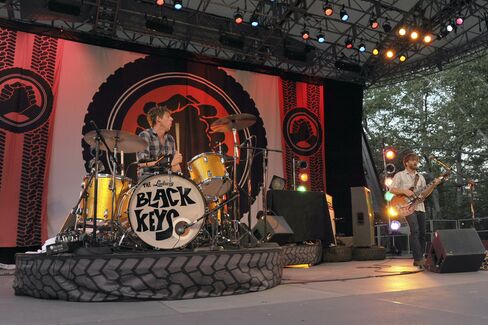 Aug. 2 (Bloomberg) -- The Black Keys, two ordinary-looking dudes from Akron, Ohio, treated a sold-out crowd in Central Park to bluesy rock last week as part of New York City's free SummerStage concerts.
Singer-guitarist Dan Auerbach and drummer Patrick Carney opened with "Thickfreakness," the title track from their second album. A few songs later they went into "The Breaks" from their 2002 debut.
Auerbach said they "recorded this when we were kids... We still sort of are kids."
Formed in 2001, the Black Keys has released six albums, keeping fans and critics pleased. The latest, "Brothers," finds the pair wading into the mainstream with a May 18 debut at No. 3 on the Billboard charts.
How does a duo do it, soundwise? "The Breaks" was typical. Dirty distorted guitar chomped through the song, with Auerbach alternating single chords and held notes -- reminiscent of Neil Young's Crazy Horse incarnations. Over this came his soft and smooth vocals and Kearney's rippling drum work.
With any two-piece, there are limitations, so keyboardist Leon Michels and bassist Nick Movshon came on for some material. After a timid start, the sound filled out with "Everlasting Light," which had Dan stretching to falsetto and felt like a great take on T-Rex. "Next Girl" and "Howlin' for You" also showed that four was the magic number to play these live.
The Black Keys will continue to tour the U.S. through October hitting the Lollapalooza and Austin City Limits festivals before heading to Europe for the conclusion of their tour.
Pavement Returns
Chicago's Union Park played host to the fifth Pitchfork Music Festival, July 16-18, with headliners including Modest Mouse, LCD Soundsystem and Pavement. The sellout drew 18,000 each day to an event with a grass-roots vibe, scant corporate sponsorship and an intimacy at all three stages.
Many of the acts have New York area dates in the near future. Sweden's Robyn, a pop dance performer who warmed up the Friday crowd with catchy songs from her latest release, "Body Talk Pt. 1," will be at Webster Hall Aug. 4-5.
Rock veterans Modest Mouse closed Friday and got the crowd shouting along with "Tiny Cities Made of Ashes." The understated rodent plays at Williamsburg Waterfront Sept. 14.
On Saturday, Chicago's Smith Westerns put together one of the day's most surprising sets. Offering material from the self-titled debut album, the band managed to be both refined and crass while its psychedelic garage-rock sound combined foggy vocals and dripping guitar effects that fit right with the humid weather. The Smith Westerns perform tonight at Bowery Ballroom.
Poor Panda Bear
The other side of the coin was the letdown of Panda Bear's Saturday set. As one third of the band Animal Collective, Noah Lennox -- Panda Bear's real name - released in 2007 one of the decade's best albums with "Person Pitch."
His 40-minute set, however, ignored that material and focused almost solely on the coming release "Tomboy." The crowd seemed lost. Panda Bear performs Sept. 11 at Governors Island.
As Saturday's closer, LCD Soundsystem transformed Union Park into a full-on party. During "All My Friends," glow sticks flew overhead and smiles abounded. Everyone left soaked with happy sweat. LCD Soundsystem is rumored to be playing New York soon.
California's Local Natives on Sunday showcased flawless harmonies and infectious material, from their powerful cover of the Talking Heads' "Warning Sign" to several songs from debut album "Gorilla Manor." The band performs Aug. 7 at Governors Island.
'Cut Your Hair'
Indie-rock pioneers Pavement closed out the weekend in grand style. The band opened with "Cut Your Hair" and struck a chord with countless attendees estranged from their barbers and stylists. Emotions were high for a beloved group just back from more than a decade's break.
The music wasn't flawless, but perfection isn't what you come to see in Pavement. It's the essence of tunes like "Range Life," "Stereo," "Shady Lane," and "Spit on a Stranger" that exemplified the diversity in sound and impact on bands today.
Pavement performs Sept. 21-24 at Central Park SummerStage and Sept. 19 at the Williamsburg Waterfront.
Here's a selection of New York-area shows in August. Please note that opening bands aren't always listed. Shows marked (SO) are sold out, although online services such as Craigslist often have tickets:


Aug. 2
Wavves/The Smith Westerns/Total Slacker at Bowery Ballroom
Aug. 3
Dead Weather/Harlem at Prospect Park Bandshell
Aug. 4
Arcade Fire/Spoon/Owen Pallett at Madison Square Garden (SO)
Hot Chip/Hercules and Love Affair at Central Park SummerStage
Aug. 5
Arcade Fire/Spoon/Owen Pallett at Madison Square Garden (SO)
Metric/Joan as Police Woman/Holly Miranda at Prospect Park
Bandshell (Free)
Aug. 6
Yacht at South Street Seaport (Free)
Aug. 7
Local Natives/We Barbarians/Young Man at Governors Island
Aug. 8
Cut Copy/Memory Tapes/Restless People/Glasser at Williamsburg
Waterfront (Free)
Aug. 9
Empire of the Sun at Terminal 5 (SO)
Aug. 10
Acrylics/Sebastian Blanck at Cake Shop
Aug. 11
Memoryhouse/Twin Sister/Oberhofer at Mercury Lounge
Wild Beasts/Lone Wolf/The Kissaway Trail at Highline Ballroom
Aug. 12
Deerhunter/Real Estate at Pier 54 (Free)
Grizzly Bear/The Walkmen/Gang Gang Dance at Governors Island
Aug. 13
Deer Tick at Webster Hall
Aug. 14
Neon Indian/Nite Jewel/Prefuse 73/DOM at Governors Island (Free)
Aug. 15
!!!/Lee Fields and the Expressions/The Strange Boys/Future
Islands at Williamsburg Waterfront (Free)
Aug. 16
Clinic at Bell House
Aug. 17
Phish at Jones Beach (SO)
Sean Bones/Twin Shadow/New Numbers at Mercury Lounge
Aug. 18
Phish at Jones Beach (SO)
Aug. 19
Titus Andronicus/Free Energy at Maxwell's
Aug. 20
Black Joe Lewis and the Honeybears/Hacienda at Maxwell's
O'Death/Jonny Corndawg at the Rock Shop
Aug. 21
Hacienda at Mercury Lounge
Aug. 22
Chromeo at Williamsburg Waterfront (Free)
Aug. 24
Tom Petty and the Heartbreakers/My Morning Jacket at IZOD Center
Aug. 25
Tennis/Ducktails/Family Portrait at Cake Shop
Aug. 26
Autolux at Bowery Ballroom
Aug. 27
DJ/rupture/Tanlines at Whitney Museum (Free)
Aug. 28
Rock the Bells at Governors Island
Aug. 29
Delorean/Dominique Young Unique at Williamsburg Waterfront
(Free)
Aug. 30
Black Mountain at Knitting Factory
Aug. 31
Light Pollution at the Rock Shop

(Jaime Widder works in sales for Bloomberg News. Any opinions expressed are his own.)
To contact the writer on this story: Jaime Widder in New York at jwidder@bloomberg.net;
To contact the editor responsible for this story: Manuela Hoelterhoff in New York at mhoelterhoff@bloomberg.net.