Michelin Chefs Cook Up Charity Dinner; Urban Turban on the Move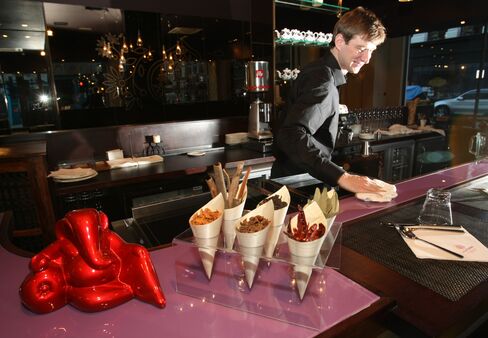 Chef Vineet Bhatia is searching for a new location for Urban Turban following the closure of the West London eatery on July 28 after 2-1/2 years in business.
"There was no lunch trade in that location and the evenings got quieter after the economy slowed down," Bhatia said in an interview. "I'm putting all the fittings into storage and we'll open again when we find a good location."
Bhatia is still hoping to turn the concept into a chain of eateries serving Mumbai street food, possibly in the Middle East. Those plans were well advanced until Dubai's economic woes and Bhatia, who holds a Michelin star for his London restaurant Rasoi Vineet Bhatia, said he's back in discussions.
Chefs Pierre Koffmann, Angela Hartnett, Mark Hix and Herbert Berger will each cook a course at a charity dinner at 1 Lombard Street on Oct. 9. Action Against Hunger's fourth annual Fine Wine Auction and Dinner will feature a Champagne Taittinger reception and the chance to bid for treats such as a weekend in Copenhagen for dinner at Noma, which this year won the World's Best Restaurant award. For tickets at 200 pounds ($312) a pop, call Heidi Drummond on +44-20-8293-6133.
Tom Aikens has quietly opened the Somerset House outpost of his Chelsea brasserie, Tom's Kitchen. "It's one of the best locations that you could have for a restaurant in London," the chef said in an interview. Once known for his hot temper, Aikens appeared mellow. "I'm still as enthused and still as passionate as I always have been but I would definitely say that I don't lose my temper over an overcooked piece of meat as I used to. I just say, 'OK, just put another one on,' whereas before I'd have been shouting, screaming, going mad: Waaaaaaah."
The Rare Tea Co. marks the 70th anniversary of the Battle of Britain next month with a tea in honor of the Royal Air Force pilots and crew who risked -- or gave -- their lives. The special tea will go on sale in Sainsbury stores. Rare Tea's founder, Henrietta Lovell, is celebrating with a celebrity Blitz party in a disused Tube station under the Strand. Security means the event is limited to 60 guests, so I can't invite you.
Umu has a new executive chef as of today. Yoshinori Ishii trained for nine years at Kyoto Kitcho (now the holder of three Michelin stars) in Japan, where he headed the sashimi section. More recently, he worked at Morimoto in New York. He replaces Ichiro Kubota, who is returning to Japan. The top-priced Kaiseki menu is 135 pounds.
Nobu is hosting a series of culinary classes at Newlyns Farm Shop and Cookery School, outside London. There will be a Champagne reception and tuition by a sushi master, followed by a five-course meal with sake, served by a geisha. Each night ends with a firework display. The dates are Sept. 10 through 12, with tickets at 250 pounds. To book, call +44-1256-704128 or click http://bit.ly/9VfYJ8.
Anise, the bar next to Cinnamon Kitchen, is offering City offices their own pop-up parties, complete with Indian-inspired cocktails and snacks. You can pitch for a free celebration by e-mailing events@cinnamon-kitchen.com with a 60-word explanation of why you deserve it.
Claridge's will mark National Chocolate Week (Oct. 11-17) by inviting the chocolatier William Curley to the hotel to create his mousses and pastries, which will become part of the afternoon tea service. He'll host 2-1/2 hour master classes on Oct. 15 and 17. For tickets (costing 100 pounds) and information, call +44-20-7409-6307. Claridge's Traditional Afternoon Tea is priced at 35 pounds a person.
Goodman fans watch out: The new City branch of the Steak House, on Old Jewry, is almost ready. While the current plan is to open on Aug. 16, don't be amazed if it opens sooner.
Waitrose has introduced a Spanish cheese in the shape of a woman's breast. Tetilla is a classic semi-soft variety made from pasteurized cow's milk. It's mild and buttery, with a hint of salt, the store says. Tetilla is Galician for small breast.
(Richard Vines is the chief food critic for Muse, the arts and leisure section of Bloomberg News. Opinions expressed are his own.)
Before it's here, it's on the Bloomberg Terminal.
LEARN MORE