House Bill Targets Insurers Holding Soldiers' Money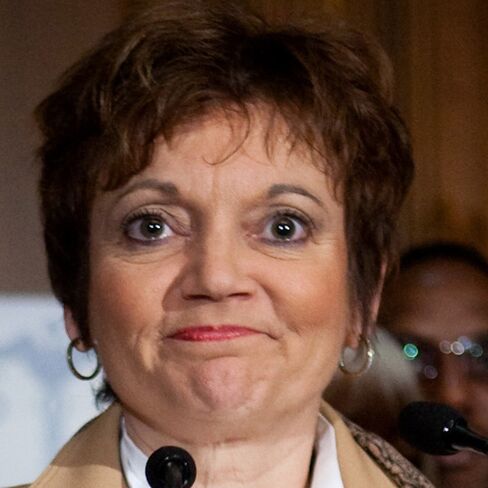 Aug. 2 (Bloomberg) -- Representative Debbie Halvorson wants Congress to set new rules for life insurance companies that profit from accounts that hold death benefits from policies of dead U.S. soldiers and veterans.
The first-term Illinois Democrat introduced legislation on July 30 that would require companies such as Prudential Financial Inc. to tell beneficiaries how their money will be invested and how much the insurer stands to make from holding the funds.
Her legislation follows the start of a probe by the U.S. Department of Veterans Affairs into what has become a common industry practice. Officials at the Pentagon and the White House have said they'll support that investigation.
Bloomberg Markets magazine reported on July 28 that life insurance companies keep money in their own accounts, instead of paying a lump sum directly to survivors when a policy holder dies. The insurers pay uncompetitive interest rates and offer misleading guarantees about the safety of accounts that aren't federally insured.
"Hearing about this, I was just outraged," Halvorson said in a telephone interview yesterday. "It's corporate greed."
Her bill requires the Veterans Affairs Department to enforce the new rules and says the agency should make an annual report to Congress to ensure that insurance companies "are being responsive to military families."
Prudential, the second-largest U.S. life insurer, is the sole provider of life insurance coverage to 6 million U.S. military personnel and veterans.
Financial Counseling
Prudential spokesman Bob DeFillippo said the Newark, New Jersey-based company is "working with the VA to address concerns raised about the program."
While saying it is "premature to comment on this legislation," DeFillippo said "I must stress that we already provide financial counseling through a third party at no cost to the beneficiaries."
U.S. Senators Barbara Boxer, Democrat of California, Richard Burr, Republican of North Carolina and eight colleagues urged Veterans Affairs Secretary Eric Shinseki to take action to stop insurance companies from profiting off benefits owed to the families of deceased service members.
"It is outrageous that insurance companies appear to be taking advantage of grieving families simply in order to make a profit, and it is an affront to the memory of their loved ones," the senators wrote.
Senate Legislation
Senator Charles Schumer, who was among those who signed the letter, said today that he is drafting legislation that would require the VA and Office of Personnel Management to mandate that any life insurance company providing policies to military families must offer lump sum payments of death benefits.
"The last thing that family members and loved ones of our soldiers should be worried about is whether the funds they expect to collect from a life insurance policy will be there when they need them," said Schumer, Democrat of New York. "It's deeply troubling that insurance companies would promote these accounts as if they were run-of-the-mill checking accounts, yet the insurance companies profit from the interest and provide no FDIC guarantee that the money itself is insured."
Losing Loved One
Halvorson is the step-mother of an Army Special Forces soldier who was injured in Afghanistan in 2008, before she came to Congress.
"I know what it's like to get a call in the middle of the night," she said. "The grief that comes with losing a loved one is hard enough."
Halvorson, a member of the House Veterans Affairs Committee, said that after reading about the insurers' practices she asked panel Chairman Bob Filner, a California Democrat, if she could offer the legislation. Filner agreed and is a co-sponsor of the bill.
The Illinois representative, 52, said she thinks the committee will hold hearings after Congress returns in September. Halvorson said she hasn't talked to congressional leaders about when the bill may be considered for a vote on the House floor.
The Veterans Affairs Department on July 28 said it is investigating the practice, and Defense Secretary Robert Gates said the following day that the Pentagon will help the agency complete its probe.
"I will be very interested in the outcome of the VA investigation," Gates told a Pentagon press briefing.
New York Investigation
New York Attorney General Andrew Cuomo on July 29 announced an investigation of the practice, which has allowed more than 100 carriers to retain and earn investment income on $28 billion owed to life insurance beneficiaries. Cuomo's office has subpoenaed at least eight insurers, including Prudential and New York-based MetLife Inc., the biggest U.S. life insurer. The New York State Insurance Department also plans to review the legality of the practice.
MetLife doesn't expect its earnings to be "materially affected" by the investigation, the insurer said today in regulatory filing tied to an issuance of stock. MetLife, which is raising funds to buy a non-U.S. insurance unit from American International Group Inc., said it believes the retained asset accounts are lawful and their terms are adequately disclosed.
Families are often told that a relative's death benefit is being placed in a secure, interest-bearing account, and they are given what the company calls a "checkbook" to spend the money when they want, Bloomberg Markets reported.
Retained-Asset Accounts
Insurers place the so-called retained-asset accounts in their own general corporate accounts and keep the difference between the interest rates they pay out and their investment income from bonds and other investments. The money in these accounts isn't guaranteed by the Federal Deposit Insurance Corp., and the "checks" amount to IOUs from the companies.
Under Halvorson's bill, companies would be required to tell survivors how much interest the company plans to pay on these accounts and how much the insurers expect to earn, to keep companies from "trying to deceive the public," Halvorson said.
An insurer, for example, would have to tell beneficiaries that "you're only going to make 1 percent, and we're going to make 5 percent," she said.
Halvorson said these families "would never allow" the insurance companies to keep their money if they knew how much insurers made from the funds.
"Our survivors should not suffer any longer," she said.
To contact the reporters on this story: Patrick O'Connor in Washington at poconnor14@bloomberg.net; David Evans in Los Angeles at davidevans@bloomberg.net
To contact the editor responsible for this story: Mark Silva at msilva34@bloomberg.net