Wheat Jumps Near 14-Month High as Russia Drought Dims Harvest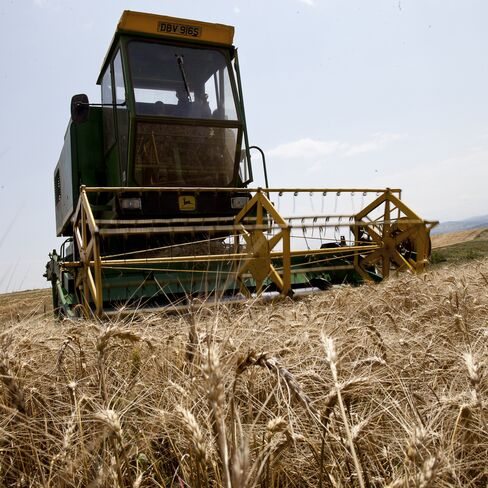 Wheat rose to the highest price in almost 14 months, capping the biggest monthly gain since 1973, as drought in exporting countries including Russia threatened to reduce supplies.
Global inventories will fall to 192 million metric tons by June 30, 2011, down 2.5 percent from a year earlier, the London- based International Grains Council said yesterday. Russia's harvest will drop 19 percent to 50 million tons this year, the IGC said. Drought has damaged 32 percent of Russia's planted area, the government said.
"With the news that's coming out of Russia, stocks are tightening up all around," said Jason Britt, the president of Central States Commodities Inc. in Kansas City, Missouri. "Any decreases in the crop will come to center stage."
Wheat futures for September delivery rose 34 cents, or 5.4 percent, to close at $6.615 a bushel at 1:15 p.m. on the Chicago Board of Trade, after touching $6.63, the highest level for a most-active contract since June 3, 2009. Prices gained 11 percent this week and 38 percent this month as prospects dimmed for crops. The monthly increase is the biggest since August 1973.
Canada, the largest exporter after the U.S., will produce 15.6 million tons of spring wheat, down 17 percent, and 2.9 million tons of durum varieties, down from 5.5 million tons a year earlier, the Canadian Wheat Board said in a report today. Excessive rainfall during the past three months curbed seeding and damaged plants, the board said.
"Canada had record rainfall in the spring that prevented acres from being planted," said Louise Gartner, the owner of Spectrum Commodities in Beavercreek, Ohio. "The rains persisted and kept on and on. The wet areas weren't able to recover quickly enough to get off to a decent start."
Speculator Holdings
Speculative investors as of July 20 held net-long positions in wheat for the first time since June 2009, according to the most recent Commodity Futures Trading Commission report. The CFTC will update its position report today and may show an even bigger net-long position, Britt said.
"When you've got momentum like this and you're above the moving averages, until something trips this up, you suspect the specs are going to build into bigger long positions," Britt said.
Wheat is the fourth-biggest U.S. crop, valued at $10.6 billion in 2009, behind corn, soybeans and hay, government data show.
Before it's here, it's on the Bloomberg Terminal.
LEARN MORE