Most U.S. Stocks Rise as Consumer Confidence Overshadows GDP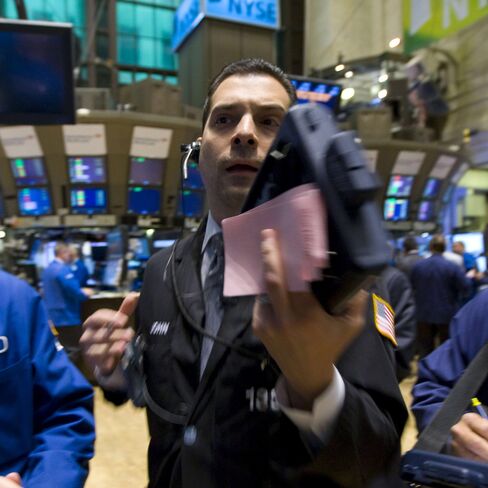 Most U.S. stocks rose, extending the biggest monthly gain in a year for the Standard & Poor's 500 Index, as higher-than-estimated consumer confidence and business activity tempered concern the economic rebound is slowing.
MetLife Inc. climbed 4.6 percent as the biggest U.S. life insurer topped income projections. McAfee Inc. had the biggest gain in the S&P 500, rising 9.4 percent, after the maker of security software reported second-quarter profit that beat analysts' estimates. Merck & Co. lost 1.7 percent, the second- most in the Dow Jones Industrial Average, after the drugmaker's revenue missed the average analyst estimate.
About five stocks advanced for every four that declined on U.S. exchanges. The S&P 500 rose less than 0.1 percent to 1,101.60 at 4 p.m. New York time, erasing a drop of as much as 1.2 percent. The Dow fell 1.22 points, or less than 0.1 percent, to 10,465.94.
"There are some bright spots," said Paul Zemsky, the New York-based head of asset allocation for ING Investment Management, which oversees $550 billion. "The top-line GDP number was disappointing. On the other hand, corporate earnings are pretty good and companies feel good about it. They're building new plants and investing in equipment. We expect to see gradual healing of the economy. That's just fine for stocks."
The S&P 500 climbed 6.9 percent in July after more than 77 percent of companies in the index exceeded the average analyst profit estimate since July 12, data compiled by Bloomberg show. Earnings will rise 35 percent for the entire measure this year, the most since 1988, analyst forecasts show. Following the 2001 recession, income growth never surpassed 20 percent.
Economic Growth
U.S. stocks fell earlier today after a report showed growth in the U.S. economy slowed to a 2.4 percent annual rate in the second quarter, less than the 2.6 percent median forecast in a Bloomberg survey of economists, reflecting a larger trade deficit and cooler consumer spending.
"The memories of a bear market linger for a very long time," Dennis Gartman, an economist and the editor of the Suffolk, Virginia-based Gartman Letter, said today in a Bloomberg radio interview. "We still have 9 percent-plus unemployment. I have my doubts whether consumer spending is going to pick up here at all."
Stocks trimmed losses after the Thomson Reuters/University of Michigan final index of consumer sentiment showed a decline to 67.8 in July from 76 a month earlier. The index was forecast to drop to 67 from the previous month, according to a Bloomberg News survey. Separately, the Institute for Supply Management-Chicago Inc. said today its business barometer rose to 62.3 this month, more than the median forecast of economists surveyed.
MetLife
MetLife rose 4.6 percent to $42.06. The biggest U.S. life insurer posted second-quarter profit of $1.56 billion compared with a loss of $1.4 billion a year earlier as revenue improved and the company booked an investment gain on derivatives.
McAfee rose 9.4 percent to $33.10. The second biggest maker of security software reported second-quarter profit that topped analysts' estimates and said it agreed to buy Tencube, a provider of the WaveSecure mobile security service.
Expedia Inc. climbed 7.6 percent to $22.68. The biggest Internet travel agency reported second-quarter profit excluding some items of 44 cents a share, topping the average analyst estimate by 5.3 percent, according to Bloomberg data.
"Remember last year, the green shoots?" said Bob Decker, who helps oversee C$4.2 billion ($4.07 billion) as a money manager at Aurion Capital Management in Toronto. "The argument was 'It's getting less bad.' Now we've got an argument that's the opposite: It's getting less good. These could be the best earnings we see for the short term for the next six to nine months."
Merck
Merck fell 1.7 percent to $34.46 after second-quarter revenue and sales of its diabetes treatment Januvia missed analysts' estimates.
MEMC Electronic Materials Inc. declined 15 percent to $9.56. The maker of silicon wafers for solar modules and semiconductors reported second-quarter profit excluding some items of 2 cents a share, trailing the average analyst estimate by 77 percent, according to Bloomberg data.
Genworth Financial Inc., the mortgage guarantor and life insurer, slumped 14 percent to $13.58. Revenue in the second quarter totaled $2.4 billion, compared with $2.48 billion in the year-earlier period. Net investment losses widened to $76 million from $59 million. New York Attorney General Andrew Cuomo subpoenaed Genworth as the state widens a life-insurance fraud probe, said a person briefed on the demands.
"The recovery is slower than people thought, and that's likely to continue," said James Dunigan, chief investment officer at PNC Wealth Management in Philadelphia, which oversees $99 billion. "Consumers are still struggling. That will take a while. The odds of a significant rebound in stocks in the second half of 2010 are reduced."
Before it's here, it's on the Bloomberg Terminal.
LEARN MORE