Japan Industrial Production Unexpectedly Drops 1.5%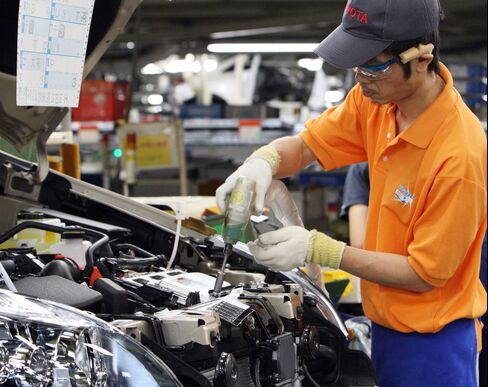 Japan's industrial production fell unexpectedly in June and the unemployment rate climbed to a seven-month high, signaling the nation's export-led recovery is losing momentum.
Factory output dropped 1.5 percent from May, when it gained 0.1 percent, the Trade Ministry said in Tokyo today. The median estimate of 26 economists surveyed by Bloomberg News was for a 0.2 percent increase. The jobless rate rose to 5.3 percent, the highest level since November, the statistics bureau said.
"Production will slow because exports are losing steam," Hiroaki Muto, a senior economist at Sumitomo Mitsui Asset Management Co. in Tokyo, said before the report. "Japan will probably go into an economic lull next year, although it may avoid a double-dip recession."
The planned expiry of government incentives to purchase cars may weigh on production just as slower growth in China and the U.S. prompts companies to cut back. Exports, which contributed the most to first-quarter growth, rose at the slowest pace this year in June, a report showed this week.
Economic Minister Satoshi Arai and Trade Minister Masayuki Naoshima last week said the government hasn't decided whether to extend incentives to buy energy-efficient vehicles, which are set to end in September. Separate measures to stimulate purchases of electronics are scheduled to expire in December.
Automakers Scale Back
Automakers are already preparing to scale back in anticipation of an end to the stimulus.
Nissan said this week that it plans to cut production in Japan by about 20 percent in October from September's planned level. Toyota Motor Corp. will also pare output by 20 percent in October, the Yomiuri newspaper reported on July 21. Honda Motor Co. will cut domestic production by 3.5 percent in October from the September level, it said yesterday.
The moderation of production is partly because of technical reasons related to seasonal adjustments, said Sumitomo Mitsui's Muto. A sharp rebound last year following the global financial crisis is being considered as a seasonal upward bias under the current method, weighing on this year's figures, Muto said.
The manufacturing slowdown will cool economic growth rather than derail it, analysts say. Japan's expansion slowed to an annual 1.9 percent pace in the second quarter from the first quarter's 5 percent, according to the median estimate of economists surveyed by Bloomberg News.
Corporate profits continue to recover, with Canon Inc., Toshiba Corp., Sony Corp. and Elpida Memory Inc. among companies that reported better quarterly earnings this week. Sony raised its full-year net income forecast by 20 percent to 60 billion yen ($690 million) yesterday after TV sales picked up.
Bank of Japan board member Hidetoshi Kamezaki this week repeated the central bank's view that the economy is likely to continue to recover gradually.