RadioShack Profit Rises 9% on Sales of Mobile Phones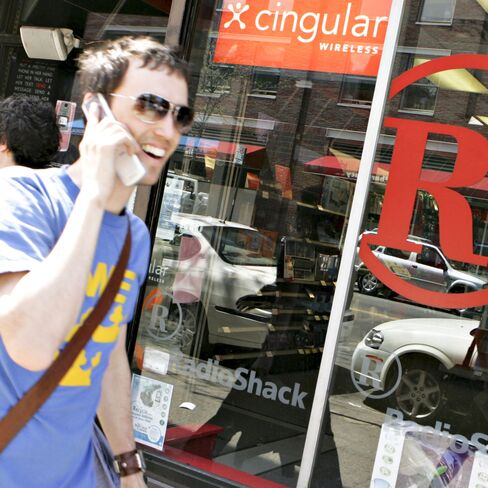 RadioShack Corp., the consumer-electronics retailer, said second-quarter profit increased almost 9 percent, spurred by demand for mobile phones.
Net income advanced to $53 million, or 41 cents a share, from $48.8 million, or 39 cents, a year earlier, Fort Worth, Texas-based RadioShack said today in a statement. The earnings per share were in line with the average of 16 analyst estimates in a Bloomberg survey.
RadioShack, led by Chairman and Chief Executive Officer Julian Day, spent more on marketing and boosted inventories of mobile devices. U.S. stores' wireless sales including Sprint Nextel, T-Mobile and AT&T phones climbed 61 percent, blunting declines for digital converter boxes, netbooks, cameras and batteries.
Sales rose 4.7 percent to $1.01 billion, slightly less than the average analysts' projection of $1.02 billion. RadioShack climbed 61 cents, or 3 percent, to $20.80 at 4:02 p.m. in New York Stock Exchange composite trading. The shares have advanced 6.7 percent this year.
The company plans to expand a test selling wireless devices in kiosks at Target Corp., the second-largest U.S. discount retailer. Starting Aug. 15, it plans to set up Bullseye Mobile kiosks in most Target stores by mid-2011. The Minneapolis-based company operated 1,740 stores as of May 1.
Added Inventory
Inventory increased 12 percent to $646.2 million in the quarter, while selling, general and administrative expenses totaled $364.5 million, 8.6 percent higher than a year earlier. The company cut its full-year forecast for capital expenditures to $90 million to $110 million from as much as $120 million.
Three private equity firms have backed away from pursuing RadioShack, three people with knowledge of the plans said last week. TPG Capital plans to drop out of bidding for the retailer, a person briefed on the talks said at the time. Blackstone Group LP, which had weighed a joint offer with TPG, is not likely to pursue RadioShack on its own, said another person.
Bain Capital LLC, which had separately expressed interest, also has backed off, one person said last week. All three people asked not to be identified because the bidding process is private.
Before it's here, it's on the Bloomberg Terminal.
LEARN MORE