PartyGaming to Control Bwin in $1.76 Billion Deal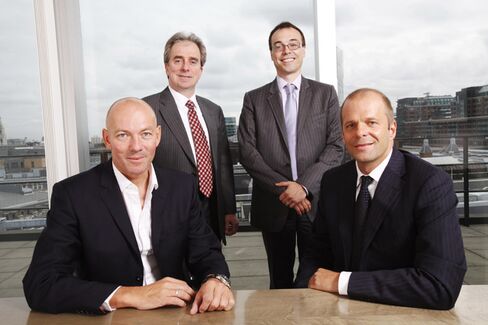 PartyGaming Plc plans to acquire Bwin Interactive Entertainment AG in a reverse takeover valued at about 1.13 billion pounds ($1.76 billion) to create the world's biggest publicly traded online gambling company.
The merged company, which had reported net gaming sales of 682 million euros, will be 51.6 percent owned by Vienna- based Bwin, with PartyGaming of Gibraltar holding the rest, the companies said in a statement today. The new company would be listed in London and have leading positions in online poker, sports betting, casino and games such as bingo, they said.
"From an industrial point of view this is both an offensive and a defensive move," said Gianmarco Bonacina, an analyst with Equita SIM SpA in Milan. "In Europe, Bwin and PartyGaming are losing market share in poker versus Pokerstars and Fulltilt, so the combination will protect them. In the U.S., the move is offensive. They want to attack that market and are in a better position if they combine."
The transaction reflects pressure faced by gaming companies as competition intensifies with the opening of markets in Europe and the U.S. Governments are starting to allow online gambling companies outside their borders to offer services in domestic markets and bring currently illegal acts under the umbrella of taxation and regulation.
PartyGaming shares rose 20 percent, the most since December 2008, to close at 309.5 pence at 4:30 p.m. in London. Bwin rose 18 percent, the most since March 2000, to 42 euros at 5:30 p.m. in Vienna.
Market Opening
Online gambling in "offshore" markets, in which some companies may have customers in countries with official bans, expanded more than 10-fold between 2003 and 2010 to about 6.5 billion euros, according to figures from H2 Gambling Capital, a Manchester, England-based consulting firm.
The U.S., Canada, Denmark, France, Italy, Ireland and Spain are among countries revising online gambling rules.
"We will immediately be a leader in these markets as they open up," PartyGaming Chief Executive Officer Jim Ryan told reporters on a conference call today.
Under the terms of the transaction, Bwin shareholders will get 12.23 PartyGaming shares for each of their shares. Based on PartyGaming's closing share price of 257 pence yesterday, the transaction is valued at 1.13 billion pounds.
Although the deal gives Bwin shareholders a majority stake in the combined company, it involves the transfer of all the Austrian company's assets and liabilities to PartyGaming. The companies will form a joint stock company in Gibraltar in what will be a reverse takeover of Bwin by PartyGaming.
In Favor
The boards of the two companies intend to unanimously ask shareholders to vote in favor of the deal, the statement said.
"It's a mega-merger," said Warwick Bartlett, chief executive officer of Isle of Man-based Global Betting and Gaming Consultants. "Both companies will probably be able to get better economies of scale in marketing, and marketing is one of the biggest costs for online gambling companies."
Bwin and PartyGaming will hold shareholder meetings in the first quarter of 2011 and expect the merger to be completed shortly after that. The merged company is likely to have a new name and will seek readmission to the London market, Ryan said.
The merger has the support of 28.5 percent of PartyGaming's share capital and 14.4 percent of Bwin's. Hannes Androsch, chairman of Bwin's supervisory board and its biggest shareholder, said he favors the deal. He owns less than 10 percent of Bwin and will get under 5 percent of the new company.
Profit Enhancing
Ryan and Norbert Teufelberger, Bwin's co-CEO, would be co-CEOs of the new company, while Manfred Bodner will be a non-executive director.
The merger will be "significantly" earnings-enhancing from the first year following completion and account for about 55 million euros in annual savings, the companies said.
The deal is subject to approval by at least 75 percent of the shareholders of the two companies and regulatory and antitrust clearances.
Global online gross gaming yields outside the U.S. grew to
13.9 billion euros last year from 3.4 billion euros in 2003, the companies said. It is set to reach about 20 billion euros in 2012, they said.
Before it's here, it's on the Bloomberg Terminal.
LEARN MORE