Kellogg Lowers 2010 Profit Forecast on Cereal Recall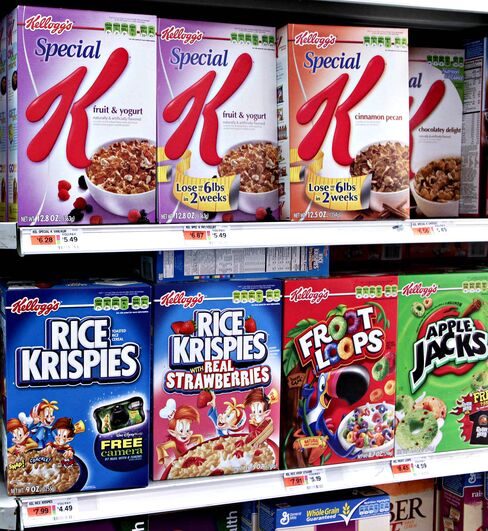 Kellogg Co., the largest U.S. maker of breakfast cereal, reduced its profit forecast for the year after recalling cereals such as Froot Loops and Apple Jacks last month.
The shares fell the most since November 2008 after Kellogg said today that full-year per-share profit will climb as much as 10 percent, compared with a previous top range of 13 percent. The cereal recall probably will lower earnings by 12 cents this year.
Kellogg, led by Chief Executive Officer David Mackay, recalled 28 million boxes of cereal last month. The four recalled brands represent about 16 percent of Kellogg's U.S. cereal sales, according to Sanford C. Bernstein & Co. analyst Alexia Howard. Kellogg also faces escalating competition from Ralcorp Holdings Inc., which has cut prices on its Post cereal, and General Mills Inc.
"The size of recall is not all that surprising - more disappointing is the underlying weakness in business trends that led to the miss," said Walter Todd, co-chief investment officer at Greenwood Capital in Greenwood, South Carolina, which has $825 million under management including Kellogg shares. "I don't think management has done a great job of managing expectations. Investors like me don't like surprises."
Battle Creek, Michigan-based Kellogg's results have trailed analysts' projections in two of the past three quarters, after beating them for seven consecutive periods. Kellogg dropped $3.54, or 6.9 percent, to $47.98 by 4 p.m. in New York Stock Exchange composite trading. The stock has declined 9.8 percent this year.
Trailing Estimates
Kellogg's net income fell 15 percent to $302 million, or 79 cents a share, in the quarter ended July 3, the company said. Analysts anticipated 94 cents, the average of projections compiled by Bloomberg. A year earlier, profit was $354 million, or 92 cents.
Total revenue declined 5.2 percent to $3.06 billion. That compared with $3.29 billion average of estimates compiled by Bloomberg.
North American sales at Kellogg, the maker of Pop-Tarts and Keebler Club crackers, fell about 5 percent to $2.06 billion last quarter. That included a 13 percent drop in cereal sales and a 9 percent decline in frozen foods, where Eggo sales slumped because of a supply disruption. North America accounts for about two-thirds of Kellogg's business.
The second half of the year probably will show improvement as Kellogg reinvests in its business and trends improve, Mackay, 54, said in a telephone interview. The CEO has boosted marketing spending and invested in emerging markets to attract customers. Advertising spending rose 4 percent last quarter, according to Chief Financial Officer Ron Dissinger.
New Cereals
"There is reason to be optimistic that the soft pricing environment in cereal will normalize in the next quarter," Matt Arnold, an analyst at Edward Jones & Co. in St. Louis, said in a telephone interview. "A lot is riding on their innovation. If they lost their touch there, that would be a significant risk to their market share." He recommends buying the shares.
Mackay declined to share details of Kellogg's 2011 lineup of new cereals and snacks, which the company will reveal to retailers in September. Kellogg will launch more products in the first half of 2011 than it did this year, he said. According to Bernstein's Howard, Kellogg's percentage of sales from new products declined to 12 percent in 2009 from 15 percent in 2008.
General Mills chief operating officer Ian Friendly told investors earlier this month that Chocolate Cheerios, which debuted in January, may be the company's biggest product launch in a decade.
Before it's here, it's on the Bloomberg Terminal.
LEARN MORE