Brasserie's Grills Bring Old Bombay to London: Richard Vines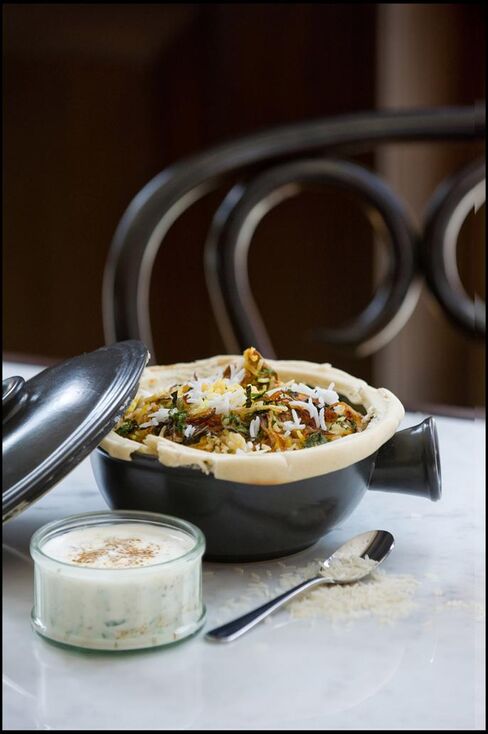 Dishoom! It's the sound of a speeding bullet or a well-placed blow in a Bollywood movie. It's also the name of a venue styled as London's first Bombay cafe.
Stylish it is. From the broad sweep of checkerboard tiles, oak panels and Carrara marble-topped details, through the lighting cords hanging across the ceiling, to details such as the shelf lined with bottles of Thums Up cola, the look is consistent and persuasive.
(If you're unfamiliar with Thums Up, owned by Coca-Cola India, it is known for its "confident, mature and uniquely masculine attitude," according to its Web page. "The brand clearly seeks to separate the men from the boys." That's presumably in contrast to Campa-Cola, popular in the 1980s.)
The menu of filled rolls, small plates and larger dishes is inspired by the food stalls and 20th-century cafes of the city now known as Mumbai, where colleagues and lovers alike might enjoy a glass of tea, snacks and iced desserts along with lively conversation. The eateries were founded by Iranian immigrants.
After three visits to Dishoom, my recommendation would be to go for a variety of small plates and a couple of grills. There are unusual options for London, such as Chili Cheese Toast with spring onions and green chilis (2.90 pounds/$4.50); Bombay Sausages (spicy chipolatas in a tangy sauce); and above all Pau Bhaji: mashed vegetables on hot buttered bread. (The vegetables are traditionally in chunks rather than minced, but who cares?)
The Black House Daal is rich and spicy; the Dishoom Calamari is too sweet.
Spicy Snack
Some of the grills, such as chicken tikka, are familiar but none the worse for that, and there are spicy lamb chops or dill salmon tikka if you feel like a change. There are also biryanis and two daily curries, but they are less distinctive and Dishoom is better for snacks than full meals.
If you examine what's on offer, you can spot similar food showing up in different parts of the menu. Paneer (cheese) and mushroom comes in a roti roll and as a grill; dill salmon tikka is both a grill and a salad; pomegranate and chili are in a drink and a dessert.
The menu is less than the sum of its parts. But the parts are good, including kulfi frozen desserts on a stick and Gola Ice, which is shaved ice served in a tumbler with fruity syrup.
Bhatia's Memories
I went with the chef Vineet Bhatia, who smiled repeatedly as he spotted elements of the design and the food that reminded him of his childhood. (Rasoi Vineet Bhatia was the first restaurant I reviewed for Bloomberg and I am a fan.) In particular, he talked me through the making of the Roomali Roti, unleavened bread as thin as a handkerchief that is spun in the air before cooking.
He was about to leave for Mumbai to oversee his restaurant Ziya at the Oberoi and got chatting with Karen Anand, the Indian food writer and broadcaster, who is an adviser to Dishoom. She spoke of the amount of care that has gone into a venue that may develop into a chain, and the attention to detail is evident.
The service is friendly and efficient, and the food comes quickly, thanks to the clever construction of the menu, which focuses on dishes that can be delivered without delay.
There's no booking, and I've already seen customers turned away. The basement dining area can't be opened yet before work completes on the site on Upper St. Martin's Lane, which also accommodates Jamie's Italian and Cantina Laredo, a Mexican restaurant. I wouldn't sit in the basement anyway. I prefer to look at the open kitchen or at the street life outside.
Order a Bollybellini -- a rose, litchi and raspberry Bellini -- sit back and watch the West End crowds. It's relaxing but don't get too comfortable. Dishoom occupies expensive real estate and the all-day menu is just one pointer to the fact that it needs to be very busy to thrive in this location.
Dishoom, 12 Upper St. Martin's Lane, London, WC2H 9FB. Tel. +344-20-7490-9320 or click on http://www.dishoom.com/.
The Bloomberg Questions
Cost? About 15-20 pounds for food.
Sound level? About 70 decibels and rising, i.e. noisy.
Inside tip? The booths are worth waiting for.
Special feature? A taste of old Bombay.
Will I be back? Yes.
Date place? Yes.
Rating? **
What the Stars Mean
**** Incomparable food, service, ambience
***  First-class of its kind.
**   Good, reliable.
*    Fair.
0    (no stars) Poor.
(Richard Vines is the chief food critic for Muse, the arts and leisure section of Bloomberg News. Opinions expressed are his own.)
Before it's here, it's on the Bloomberg Terminal.
LEARN MORE