Orders for Durable Goods in U.S. Probably Rebounded in June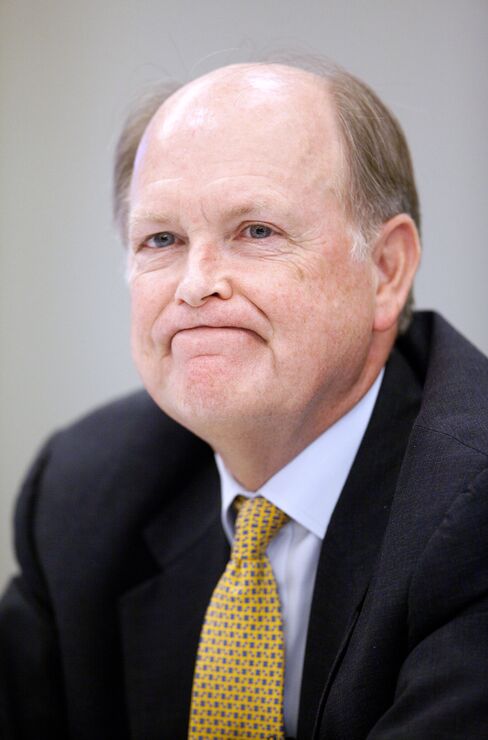 July 28 (Bloomberg) -- Orders for durable goods probably increased in June for the sixth time in the past seven months, showing business spending is supporting the U.S. recovery, economists said before a report today.
Bookings for goods meant to last at least three years rose 1 percent after dropping 0.6 percent in May, according to the median of 76 projections in a Bloomberg News survey. Excluding transportation gear, orders may have grown 0.4 percent.
Eaton Corp. is among manufacturers benefitting from a pickup in demand as companies in the U.S. and abroad update equipment. The gains will compensate in part for a slowdown in consumer spending that is causing the world's largest economy to cool heading into the second half of the year.
"Business spending, particularly for capital equipment, is holding up," said Ken Mayland, president of ClearView Economics LLC in Pepper Pike, Ohio. "Ordering is strong as companies ramp up and resupply."
The Commerce Department's report is due at 8:30 a.m. in Washington. Survey estimates ranged from a drop of 1 percent to an increase of 4 percent. Projections for bookings excluding transportation ranged from a decline of 1.5 percent to a 1 percent gain.
Eaton, the Cleveland-based maker of engine valves and transmissions, last week boosted its profit projections for 2010 on rising demand for truck parts and hydraulic systems.
'Better' Year
"This year is shaping up to be better than we had forecast," Chief Executive Officer Sandy Cutler said in a July 21 statement.
Federal Reserve Bank of Philadelphia President Charles Plosser said July 26 that there is fundamental strength in the economy. The Fed will release at 2 p.m. today its Beige Book survey of business in each of the central bank's 12 regions.
"I think there is underlying strength there that is still there," Plosser said in an interview with Bloomberg Television in Washington.
Manufacturing shares are outperforming the broader market. The Standard & Poor's Supercomposite Machinery Index, which includes Eaton and Moline, Illinois-based Deere & Co. is up 14 percent so far this year. The broader S&P 500 Index is down 0.1 percent.
A jump in aircraft orders may have boosted durable-goods bookings. Boeing Co., the world's second-biggest commercial-plane maker, said it received 49 orders last month, compared with 5 in May. Industry data may not correlate with the government statistics on a month-to-month basis.
Exports Jump
Growing demand from overseas is also helping American factories. Exports climbed 21 percent in the 12 months ended May, the biggest year-over-year gain since comparable records began in 1992, according to Commerce Department data.
A cheaper dollar is restoring the competitiveness of American products abroad, contributing to higher sales. After gaining 17 cents against the euro from mid April to early June on mounting concern over the European debt crisis, the dollar has retreated about 11 cents since June 7 on growing signs the continent is weathering the turmoil.
Recent reports showed Europe's service and manufacturing industries unexpectedly accelerated in July, German business confidence surged to a three-year high and the British economy grew in the second quarter at the fastest pace in four years.
A Commerce Department report in two days may show the U.S. economy grew at a 2.5 percent annual pace from April through June compared with a 2.7 percent rate in the first three months of the year, according to the median estimate of analysts surveyed. Consumer spending rose 2.4 percent after a 3 percent first-quarter gain, the survey showed.
             Bloomberg Survey

===========================================
                          Durables Durables
                            Orders Ex-Trans
                              MOM%     MOM%
===========================================

Date of Release              07/28    07/28
Observation Period            June     June
-------------------------------------------
Median                        1.0%     0.4%
Average                       1.0%     0.2%
High Forecast                 4.0%     1.0%
Low Forecast                 -1.0%    -1.5%
Number of Participants          76       44
Previous                     -0.6%     1.6%
-------------------------------------------
4CAST Ltd.                   -0.5%    -1.5%
Action Economics              1.0%     0.6%
Aletti Gestielle SGR          1.0%     ---
Ameriprise Financial Inc      1.2%    -0.3%
Banesto                       0.7%     ---
Bank of Tokyo- Mitsubishi     0.4%     ---
Barclays Capital              1.5%     0.8%
Bayerische Landesbank         1.0%     0.8%
BBVA                          0.9%     0.3%
BMO Capital Markets           1.0%     0.2%
BNP Paribas                   4.0%     ---
BofA Merrill Lynch Research   1.0%     0.5%
Briefing.com                  1.0%     0.5%
Capital Economics             0.0%     0.0%
CIBC World Markets            1.0%     0.7%
Citi                          1.6%    -0.5%
ClearView Economics           1.0%     ---
Commerzbank AG                0.5%     ---
Credit Agricole CIB           0.6%     0.4%
Credit Suisse                 0.5%    -0.5%
Daiwa Securities America      1.0%     ---
DekaBank                      1.0%     ---
Desjardins Group              2.0%     ---
Deutsche Bank Securities      1.0%     0.0%
Deutsche Postbank AG          0.8%     0.5%
DZ Bank                       1.0%     0.3%
Exane                         1.0%     0.5%
First Trust Advisors          1.0%     0.7%
Fortis                        1.1%     ---
FTN Financial                 1.0%     0.5%
Goldman, Sachs & Co.          0.0%     ---
Helaba                        0.7%     ---
High Frequency Economics      2.0%     ---
HSBC Markets                  1.0%    -1.2%
Hugh Johnson Advisors         1.0%     ---
Ibersecurities                0.6%     ---
IDEAglobal                    0.7%     0.8%
IHS Global Insight           -0.8%     ---
Informa Global Markets        1.0%     ---
ING Financial Markets         1.0%     0.1%
Intesa-SanPaulo               0.5%     0.3%
J.P. Morgan Chase             1.7%    -0.2%
Janney Montgomery Scott       3.2%     0.7%
Jefferies & Co.               0.5%     ---
Landesbank Berlin             2.8%     0.8%
Landesbank BW                 0.5%     ---
MF Global                    -1.0%    -1.0%
MFC Global Investment         1.2%     0.4%
Mizuho Securities             0.4%     0.2%
Moody's Economy.com           1.2%     0.2%
Morgan Keegan & Co.          -0.5%     ---
Morgan Stanley & Co.          1.2%     ---
Natixis                       0.4%     0.2%
Nomura Securities Intl.       3.0%     1.0%
Pierpont Securities LLC       0.4%     ---
PineBridge Investments        2.5%     0.2%
PNC Bank                      1.0%     ---
Raiffeisen Zentralbank        0.3%     0.0%
Raymond James                 2.0%     0.4%
RBC Capital Markets           2.3%     0.5%
Ried, Thunberg & Co.          1.5%     ---
Scotia Capital                1.0%     0.5%
Societe Generale              1.0%     0.0%
Standard Chartered            0.5%     0.1%
Stone & McCarthy Research     0.7%     ---
TD Securities                 0.5%     0.5%
Thomson Reuters/IFR           2.9%     1.0%
Tullett Prebon                0.8%     ---
UBS                           1.0%     0.0%
UniCredit Research            0.5%     ---
University of Maryland        0.9%     ---
Wells Fargo & Co.             1.2%     0.8%
WestLB AG                     0.6%     ---
Westpac Banking Co.           1.0%     ---
Woodley Park Research         0.4%     ---
Wrightson Associates          1.5%     ---
===========================================

To contact the reporter on this story: Timothy R. Homan in Washington at thoman1@bloomberg.net
To contact the editor responsible for this story: Brendan Murray at brmurray@bloomberg.net or