Alex Rodriguez Objects to Rangers Bankruptcy Plan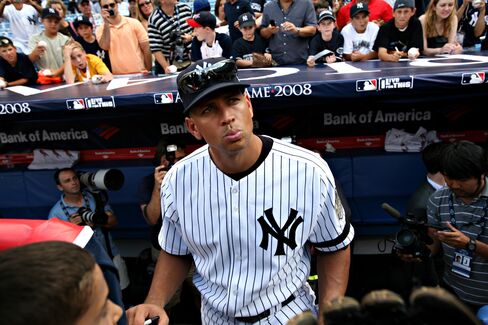 July 28 (Bloomberg) -- Alex Rodriguez, third baseman for the New York Yankees, objected to the bankruptcy plan of his former baseball team, the Texas Rangers, which owes him $24.9 million in deferred compensation.
The plan doesn't make clear whether Rodriguez's contract will be assumed by the buyer of the baseball team "with all of his rights remaining intact," his lawyer said in a filing today in U.S. Bankruptcy Court in Fort Worth, Texas.
The objection to the Rangers' bankruptcy plan was one of several filed today. Besides Rodriguez, the team's lenders, Major League Baseball, the Major League Baseball Players Association, and the U.S. government's bankruptcy watchdog filed objections about the plan.
The objections come as the Rangers are scheduled to go up for auction next week. A group led by attorney Chuck Greenberg and Hall of Fame pitcher Nolan Ryan has an agreement to buy the team subject to higher bids. Initial bids are due on Aug. 3.
Mark Semer, a spokesman for the Rangers, declined to comment about the objections.
The lenders, led by JPMorgan Chase & Co., oppose the Greenberg-Ryan deal and the auction process, which they say will chill bidding and doesn't give interested buyers enough time to put together their best bids.
The lenders repeated those arguments in their court filing and objected to what they said were illegal liability releases in the plan.
'Unwavering Rush'
"The Greenberg group's unwavering rush to a confirmation hearing -- like a shopper who grabs a mistakenly underpriced item and runs to the cash register before someone realizes the error -- makes it practically impossible to hold a fair auction of the Texas Rangers," the lenders said.
In his objection, Rodriguez said he hasn't received assurance from the Rangers or those bidding for the team that he will be paid on his former contract with the team. Rodriguez, who is one home run away from hitting his milestone 600th home run, was traded to the Yankees from Texas in 2004.
The committee of unsecured creditors said in an objection that it also hasn't received assurance that the successful bidder for the team will have the financial ability to satisfy the club's obligations. The new owner will assume about $204 million in liabilities, including player contracts and deferred compensation agreements, according to the filing.
The case is In re Texas Rangers Baseball Partners, 10-43400, U.S. Bankruptcy Court, Northern District of Texas (Fort Worth).
To contact the reporter on this story: David McLaughlin in New York at dmclaughlin9@bloomberg.net.
To contact the editor responsible for this story: David E. Rovella at drovella@bloomberg.net.