Thai Corporate Profits to Help Stocks, Aberdeen Says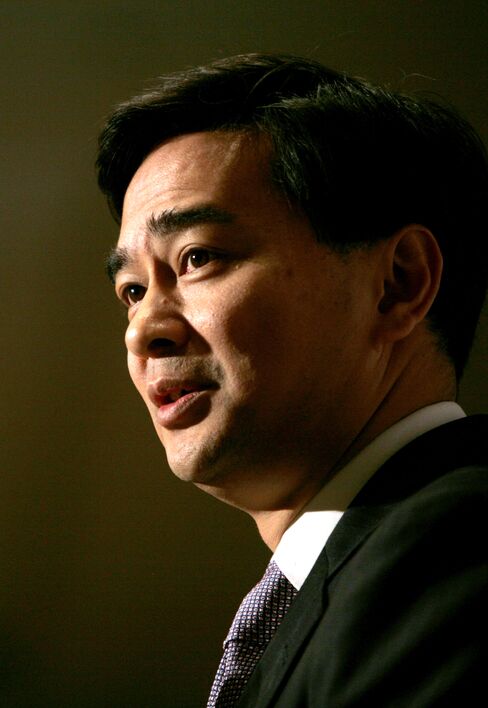 Thailand's earnings growth may help stocks withstand a renewal of political turmoil after a bomb attack in the capital over the weekend, said Aberdeen Asset Management Plc, which runs the best-performing Thai equity fund.
Bangkok Bank Pcl and Kasikornbank Pcl, the nation's biggest and third-largest lenders, this month posted earnings that beat analyst forecasts, while Siam Cement Pcl said June 30 the start up of a new $1.2 billion petrochemical plant will help it maintain profit growth this year.
"Company earnings have been good," Hugh Young, Singapore- based managing director of Aberdeen Asset Management Asia, which oversees $25 billion in the region and has been running a dedicated Thai fund for more than two decades, said in an interview in Singapore. "We ignore the noise and look into the underlying businesses and sit with them."
The benchmark SET Index climbed 1.6 percent to 853.68 at the close in Bangkok, the biggest advance in Asia today. The increase extended this year's gain to 16 percent, the most among the region's 10 biggest stock markets after Indonesia, according to data compiled by Bloomberg.
The baht has risen 3.4 percent in 2010, the third-best performer among Asia's 10 most actively traded currencies, while local-currency bonds advanced 5.5 percent this year, the second-best among 10 local-currency debt indexes compiled by HSBC Holdings Plc.
Earnings of companies on the SET are forecast to rise 52 percent next year, according to data compiled by Bloomberg. They slumped 24 percent in 2009, the data showed.
Explosion
Thai Prime Minister Abhisit Vejjajiva yesterday tightened security in Bangkok, a city already under emergency rule, after a bomb killed one person hours after polls closed in the first by-election since anti-government protests. The blast occurred late July 25 at a bus stop outside a supermarket in a district occupied by demonstrators for 47 days in April and May. Ten people were injured, the Bangkok Emergency Medical Service said.
The explosion marked the first violence since May 19, when a military assault to end the protests sparked rioting and arson attacks in the capital. At least 89 people were killed as demonstrators urged Abhisit to step down.
Some companies may be more affected by the latest attack, including those in the tourism-related industries, Young said. The SET has climbed 12 percent since he said April 15 there's "upside" in Thai stocks amid the protests, while the MSCI Asia Pacific Index lost 7.7 percent.
Thai Airways
Thai Airways International Pcl, the nation's biggest airline, may record a narrower loss from operations in the second quarter, compared with the same period last year, President Piyasvasti Amranand said on July 21, while Tourism Minister Chumpol Silapa-Archa said July 6 that visitors are returning after arrivals fell 12 percent in May.
Thailand's financial markets were closed yesterday for a holiday. The baht is also expected to be shielded from the latest explosion, according to Penn Nee Chow, an economist at United Overseas Bank Ltd., Singapore's second-biggest lender.
"There might be some nervousness, but generally the fundamentals of Thailand are still strong given that the Bank of Thailand recently upgraded its economic forecast," said Chow, who expects the currency to rise 1 percent to 31.90 by the end of the year from yesterday's close. "I don't think there will be much impact on the Thai baht."
Economic Growth
Since the protests ended May 19, Thailand's SET Index has rallied 12 percent, and the baht climbed 0.5 percent.
The central bank said July 23 it expects the economy to expand the most in at least seven years in 2010 as an export rebound limited the impact from deadly political protests. Gross domestic product may expand 6.5 percent to 7.5 percent, compared with an April forecast for growth of 4.3 percent to 5.8 percent.
Exports climbed to a record $18.04 billion in June, helped by the end of the riots and a recovery in the global economy. Automakers Ford Motor Co., General Motors Co. and Mitsubishi Motors Corp. all announced plans to build factories in Thailand in the past month.
"Tourism companies have understandably been badly affected, but manufacturing companies have been okay," Young said. "We're very comfortable with the long-term prospects of individual companies and we're fully invested."
Before it's here, it's on the Bloomberg Terminal.
LEARN MORE