Singapore Air CEO May Step Down After Doubling Stock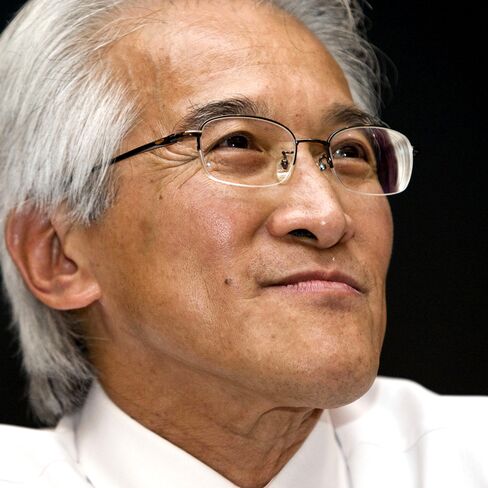 Singapore Airlines Ltd. Chief Executive Officer Chew Choon Seng, who took a pay cut while maintaining the carrier's wine budget during the recession, samples economy-class meals every month to make sure they meet his standards.
That attention to detail has helped the airline's shares double during Chew's seven years as CEO, even as he grappled with a global recession, SARS, swine flu, record jet-fuel prices and rising competition from budget airlines. Chew, 64, signaled yesterday he will step down as head of the world's second-largest carrier by market value when his contract ends in December.
"What he has done is impressive: he has navigated through crises, with the profit record still intact," said Christopher Wong, a fund manager at Aberdeen Asset Management, which oversees $45 billion of assets, including Singapore Air shares. "Chew is well regarded, good at his job, a person who has grown within the organization and you can't find fault with him."
Singapore Air's board has looked at "several" candidates to replace Chew, from both within and outside the company, and is on schedule to name a successor, Chairman Stephen Lee said yesterday, without elaboration.
"I should move on," Chew said in an interview yesterday after a shareholders meeting in Singapore. "I will hang up my spurs first before I decide what to do next."
Cost Cuts
Chew took over from Cheong Choong Kong in June 2003 when the deadly SARS virus emptied planes. He cut capacity and labor costs to help the carrier cope with the slump. He took similar steps last year after business travel plunged amid the global recession, helping the carrier avoid its first annual loss in two decades.
The airline earlier this week reported its third straight quarterly profit as the global economic rebound revived travel demand. The carrier may post a profit of S$1.3 billion ($955 million) in the year ending in March, according to the average of 23 analyst estimates compiled by Bloomberg, rebounding from S$216 million last year.
Chew led Singapore Air to a record S$2.13 billion profit in the year ended in March 2007. In October that year, he introduced the Airbus SAS A380 superjumbo, making Singapore Air the first carrier to fly the world's biggest passenger jet.
"Everyone agrees that he's done an excellent job," said Rohan Suppiah, a Kim Eng Securities Co. analyst in Singapore.
Mechanical Engineer
A veteran of almost four decades at the airline, Chew is a mechanical engineer with a Master's of Science degree from London's Imperial College. He received a compensation of between S$2.5 million and S$2.75 million in the year ended in March. The airline said in June last year, Chew's pay would be reduced by 20 percent as it reduced capacity.
The airline gained 2.9 percent to S$15.46, the highest level in three months, in Singapore. Of the 23 analysts rating the company, 19 recommend investors 'buy' the stock, three say 'hold' and one 'sell.'
During Chew's tenure, shares of Cathay Pacific Airways Ltd. have also doubled. British Airways Plc gained about 60 percent in the period, AMR Corp., parent of American Airlines, rose about 15 percent.
To compete with the at least 10 budget airlines that have started in Asia-Pacific in the past decade, Chew bought new planes such as the Airbus A380 and ordered Boeing Co. 787s. He also backed Tiger Airways Holdings Ltd., a budget carrier part-owned by Singapore Air, which started flights in 2004.
Difficult Times
Chew sold Singapore Aircraft Leasing Co. to Bank of China Ltd. in December 2006 and last year spun off Singapore Airport Terminal Services Ltd. to focus more on flying operations.
"Chew has done a good job running SIA despite the difficult times and growing competition in the region," said Jay Ryu, a Hong Kong-based analyst at Mirae Asset Securities Co.
He was unsuccessful in a bid to buy a stake in China Eastern Airlines Corp. to gain a foothold in the world's most populous country after minority shareholders rejected the deal in January 2008. The offer was made in partnership with Singapore Air's largest shareholder Temasek Holdings Pte.
Singapore Air, which gets 40 percent of revenue from premium classes, has a five-star rating from Skytrax, which surveys airline passengers. In the 2010 World Airline Awards, the ratings company ranked the carrier as the world's second-best behind Asiana Airlines Inc. Singapore Air bagged the No. 1 slot for best cabin staff, and the No. 2 slot for both business class and first class.
That's the benchmark Chew's successor will need to match, said P. James, president of the Air Line Pilots Association of Singapore, who has been with the carrier since 1986.
"He has taken the airline through very difficult times and managed to rally all the staff together," James said. "I hope we can find someone of the same or better caliber. It's a pair of very big shoes for whoever is going to fill them."
Before it's here, it's on the Bloomberg Terminal.
LEARN MORE