BP Spill Costs Rile Gulf Towns Shut Out of $20 Billion Fund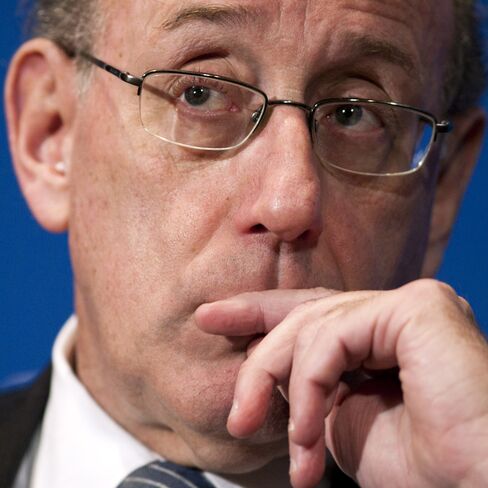 Steve Theriot says he would like to seek compensation from Kenneth Feinberg and the $20 billion claims fund he oversees for victims of BP Plc's oil spill.
If Theriot were a Gulf shrimper, a fisherman or a beach hotel owner, he could. As president of Jefferson Parish, a community in coastal Louisiana, Theriot has to get payment from BP, which he says so far has given him "the runaround."
"We're exposed to losing revenues, and we're subsidizing the cleanup apparatus," Theriot said in an interview. Local services soon may be impaired by a budget crunch, he said.
The parish, with a budget of about $550 million, is spending $1.5 million to $2 million in overtime for sheriff's deputies and public-safety employees in towns such as Grand Isle and Lafitte to deal with out-of-town workers descending on the region in response to the spill, Theriot said.
BP has paid $245 million in grants to Louisiana, Mississippi, Alabama and Florida for cleanup costs or to promote tourism, company spokesman Mark Proegler said in an e-mailed statement. Jefferson Parish has received $1 million, less than its extra spending.
Local officials along the Gulf Coast say the money is insufficient and the reimbursement process is cumbersome, leaving budgets pinched. The spill may cost the Gulf region about $1.2 billion in economic growth by year-end even if the flow is stopped permanently next month, Moody's Analytics said on July 19.
'Cash-Flow Issue'
Officials in Orange Beach, Alabama, are awaiting word on $1.7 million in claims, the bulk of it due to revenues lost as sales and lodging taxes fall, said Clara Myers, the town's finance director. The town has received almost $129,000 from BP to pay for administrative expenses, she said.
"It's a significant cash-flow issue for us," said Kenneth Grimes, city administrator.
BP will pay all "legitimate" claims, Proegler, who is based in New Orleans, said. In several cases, the company has sought information from local officials about their requests, he said.
Feinberg and the claims facility he will run will handle all private claims. He said July 15 in a meeting with Louisiana officials that he has pressed to be given responsibility for public claims as well.
Theriot says Feinberg, a Washington lawyer who ran the fund set up after the Sept. 11 terrorist attacks, should handle government claims because of his experience in similar cases.
Out of frustration, officials from Dauphin Island, Alabama, to Naples, Florida, are turning to lobbyists for help.
Beach 'Assembly Line'
These communities are "getting lost in the process," said Matt Ward, a lobbyist at the Ferguson Group in Washington, which is trying to organize a coalition of 50 Florida local governments to press for more aid.
Marlowe & Co., also based in Washington, helped create the Northwest Florida Tourist Development Council Coalition, which includes Walton, Escambia, Santa Rosa, Okaloosa, Bay, Gulf and Franklin counties.
"Your beaches are your assembly line," lobbyist Howard Marlowe told tourism officials in Florida last month.
Marlowe said his firm wasn't charging to lobby for the spill coalition. Ward of the Ferguson Group said the firm was seeking to raise money from a non-profit organization to administer the Gulf spill group.
Rodney Grimm, a lobbyist at Springfield, Virginia-based Monterey Consulting Associates who represents Dauphin Island, said the town on June 8 filed a claim to fill a projected $850,000 budget gap.
The community of 1,600 residents had budgeted revenue of more than $1.4 million before the spill. Now receipts are projected to be less than $615,000. BP has resisted paying because the claim is based on estimated losses, Grimm said.
BP Praised
In Mississippi, Biloxi Mayor A.J. Holloway credits BP for doing "what they said they were going to do."
Biloxi has received money to purchase boat trailers and four-wheel-drive trucks and to hire an engineer to help mitigate the effects of the spill.
Eventually, the economic damage might exceed BP's reserves, Holloway said. "How long can BP sustain giving the money out that they've given?" Holloway said in an interview.
Farther east in Florida, Dawn Moliterno, director of the Beaches of South Walton County, a tourism board, said the community is waiting to recover $2 million it spent protecting its white-sand beaches and coastal dune lakes.
The county withdrew an additional $3 million from a reserve fund used after hurricanes to cover its spill response, she said. The county's annual budget is about $100 million.
Southwest Airlines Routes
Walton received $2.7 million from BP to advertise in nearby Florida cities and outside the state in towns on routes flown by Southwest Airlines Co. to showcase the county's beaches, Moliterno said.
BP officials have pledged to pay more attention to local claims this month, after setting up the infrastructure to handle private claims, she said.
As of July 26 the county had yet to be reimbursed for its expenses, said Michael Willis, a lobbyist at Marlowe & Co. working with Walton officials. BP's Proegler said the company was trying to set up a face-to-face meeting to discuss the county's claim.
Before it's here, it's on the Bloomberg Terminal.
LEARN MORE