Japan's Stocks Rise After Europe's Stress Tests End, Yen Falls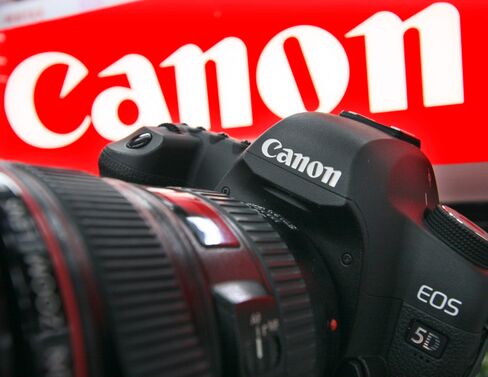 July 26 (Bloomberg) -- Japanese stocks rose as the results of stress tests among European banks eased concern the region's recovery will stall and as the yen weakened.
Canon Inc., a camera maker that gets about 80 percent of its revenue outside Japan, jumped 2.5 percent. Inpex Corp. surged 4.9 percent after Deutsche Bank AG reiterated its buy rating on Japan's largest energy explorer. Panasonic Electric Works Co. leapt 4.4 percent as the manufacturer of building materials and light equipment boosted its profit forecast.
The Nikkei 225 Stock Average rose 0.8 percent to 9,503.66 at the 3 p.m. close in Tokyo after gaining as much as 1.4 percent. The broader Topix index gained 0.6 percent to 845.88 with about three stocks advancing for each that fell. The shares pared gains after Nomura Holdings Inc. cut its Japanese stock allocation to "neutral" from "overweight."
"Anxieties over the results of the stress test had weighed on the market," said Junichi Misawa, head of equity investment at Tokyo-based STB Asset Management Co., which oversees about $14 billion. "Shares are rising after banks holdings were disclosed, including the amount of sovereign debt."
Futures on the Standard & Poor's 500 Index gained 0.1 percent today. In New York, the S&P 500 Index advanced 0.8 percent to 1,102.66 on July 23 after speculation that a bio-technology firm, Genzyme Corp., may be bought spurred optimism that acquisitions are accelerating and General Electric Co. boosted its dividend.
Stress Test
The Topix has declined 6.8 percent in 2010, compared with a 1.1 percent drop by the S&P 500 and a 0.8 percent gain by the Stoxx Europe 600 Index. Stocks in the Japanese benchmark are valued at 16.4 times estimated earnings, compared with 13.4 times for the S&P and 11.9 times for the Stoxx.
European regulators found that seven banks need to raise a combined 3.5 billion euros ($4.5 billion) of capital. Germany's Hypo Real Estate Holding AG, Agricultural Bank of Greece SA and five Spanish savings banks didn't have adequate reserves to maintain a tier 1 capital ratio of at least 6 percent in the event of a recession and sovereign-debt crisis, lenders and regulators said on July 23.
The banks that failed the stress tests are in "close contact" with national authorities over how they will raise capital, said the Committee of European Banking Supervisors, which ran the assessments of 91 lenders.
Exporters Advance
Before the results were published, analysts at Goldman Sachs Group Inc. estimated that lenders would need to raise 38 billion euros and Barclays Capital said they would require as much as 85 billion euros.
"European banks will have to raise less capital than some people expected, so that's positive for investors," said Tomochika Kitaoka, a senior strategist at Mizuho Securities Co. in Tokyo.
Companies that rely on overseas sales advanced as the yen depreciated. Canon jumped 2.5 percent to 3,530 yen, the biggest contributor to the Topix's gain. Fanuc Ltd., a maker of industrial robots which earns about 80 percent of its revenue outside Japan, climbed 1.7 percent to 10,490 yen. Hitachi Ltd., an electronics and industrial group which derives 40 percent of its revenue abroad, advanced 1.2 percent to 344 yen.
The yen depreciated to 87.67 to the dollar, compared with 86.93 at the close of stock trading in Tokyo yesterday. Against the euro, Japan's currency slid to 113.48 from 111.98. The weaker yen boosts the value of sales generated overseas in local terms for Japanese companies.
Inpex Jumps
Mining companies including Inpex gained the most among the Topix's 33 industry groups. Japan's largest energy explorer soared 4.9 percent to 430,000 yen after Deutsche Bank reaffirmed its "buy" rating on the stock, saying a $6.6 billion equity-financing plan is a long-term positive. Japan Petroleum Exploration Co., the nation's second-biggest oil driller, advanced 1.7 percent to 3,520 yen.
Panasonic Electric leapt 4.4 percent to 952 yen, the third-biggest gain in the Nikkei. The manufacturer of building materials and light equipment boosted its full-year net income forecast 53 percent to 23 billion yen ($263 million), citing recovery in its electronic materials and automation control businesses.
"Companies will likely post higher profit for the first quarter and that should support the stock market," STB's Misawa said. "Shares look very cheap in terms of valuations."
Softbank, Eisai Gain
Softbank Corp., the exclusive provider of Apple Inc.'s iPhone in Japan, climbed 0.9 percent to 2,538 yen. The company probably had a record operating profit of about 190 billion yen for April-June, an 80 percent increase from the same quarter a year earlier, the Nikkei newspaper reported. The mobile phone service provider's biggest quarterly profit had been 136 billion yen for the October-December period of 2009, the report said.
Eisai Co. surged 3.9 percent to 2,887 yen, the sharpest increase since May 2009. The drugmaker and Pfizer Inc. won U.S. regulatory approval to sell a higher-dose version of Aricept that the companies say will help counter a possible sales drop.
Nomura, Japan's largest brokerage, lowered its recommendation on Japanese stocks to "neutral" from "overweight." The yen's appreciation will hinder exports and earnings momentum for Japanese companies will likely slow, according to report by Nomura analysts including Ian Scott.
To contact the reporter for this story: Akiko Ikeda in Tokyo at iakiko@bloomberg.net.
To contact the editor responsible for this story: Darren Boey at dboey@bloomberg.net.