India's 'Best Restaurant' Offers Veggie Sushi, Chatty Waiters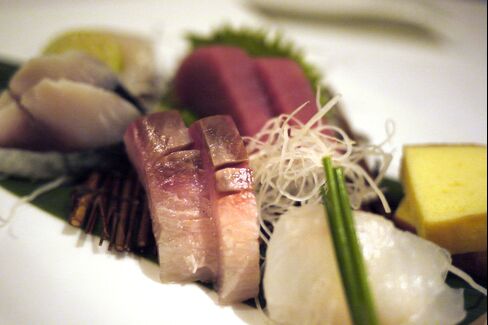 A bright red lacquer staircase and a glass-walled lift lead to Wasabi by Morimoto in the Taj Mahal Palace & Tower, less than two years after the hotel was damaged in terror attacks that left 166 dead across Mumbai.
Window tables in the mezzanine-level restaurant look out to the Gateway of India and the Arabian Sea. There's a sushi counter and teppanyaki kitchen bar for those tired of the view, and a 12-seater banquet setting in a corner enclave.
The decor is contemporary, with an installation by London- based artist Petr Weigl, while an over-sized, origami-styled hammered-metal light cover provides a traditional trimming.
Wasabi reopened in December, 13 months after the terror attacks. It was the subcontinent's only venue in this year's World's Best Restaurants awards, moving up 16 slots to 54 from last year, when it operated in a makeshift spot on the roof.
The restaurant has plenty of fish-free sushi and meatless dishes because about half of Mumbai's 16 million population is vegetarian, says Taj group head chef Hemant Oberoi, who devised the menu along with the restaurant's namesake Masaharu Morimoto, the Japanese cook who rose to prominence at Nobu in New York and to fame in the television show "Iron Chef."
At 7:30 p.m. on a recent week night, few of the city's masses were to be seen at Wasabi, among India's priciest eateries. Still, my companions and I had trouble conversing above the background music and a long discussion about wine that two waiters had right behind us. It was almost annoying.
As the food began arriving at our table, other guests were being seated at theirs. By the time we left, around 10:30 p.m., the place was respectably busy.
Wine Woe
The food and wine menus are extensive. The New Zealand Sauvignon Blanc I'd selected wasn't available. After this stumbling start, I chose a Cape Mentelle Sauvignon Blanc Semillon from Western Australia's Margaret River for 3,500 rupees ($74). It worked well with the food we'd ordered.
The 525 rupee price tag on the steamed edamame deterred us from nibbling this snack. We opted instead for a platter of sashimi at 2,300 rupees, and the waiter came by with a large piece of fresh wasabi and grated it on to our plates.
The generous selection of fish was served on grated Japanese white radish with shiso leaves -- Japanese basil --and included fatty tuna, although it lacked scallops. It was so fresh and tender we were able to slice the pieces with our chopsticks.
As a trendy threesome took position at an adjacent table and began peeling the pricey soy beans, we tucked into another shared dish of freshly made tofu, or yose dofu, at 1,050 rupees. It was warm and creamy, and I'd go back just for that. Two of us mixed in a little fresh wasabi and soy, although it would also have been good with just a dusting of salt.
Black Cod
The oyster foie gras at 1,550 rupees and the braised black cod for 1,600 rupees were notable. The oysters and liver were served with a caramelized teriyaki sauce and a piquant yama-momo, or Japanese bayberry, while the braised black cod sat in a ginger, teriyaki-tasting reduction.
The oddly named newspaper beggar's purse (1,375 rupees) was the evening's biggest disappointment. The attractive crepe pouch decorated with edible silver foil encased a combination of caviar, asparagus, salmon and mushrooms. Still, the batter was too thick and the citrus-based sauce overpowered the contents.
Wasabi's desserts, mostly priced at 545 rupees, delivered a decent finale, with a tart wasabi sorbet, and a rich tofu cheese cake. The shiro kuru is a palate zinger that's close to perfection. Meaning black and white in Japanese, it's ice cream made with ground black and white sesame seeds served in scoops. There's no trace of seeds, just a pungent sesame flavor in a smooth and buttery texture.
Wasabi whets the taste buds with the fresh ingredients creatively prepared while maintaining Japanese culinary traditions. The setting's trendy and snazzy, at one of India's best known addresses. Still, the waiters' chatter along with some dining ho-hums, prompts me to give Wasabi just three stars and wonder if it's really India's best restaurant.
Wasabi by Morimoto, 1st Floor Taj Palace, Apollo Bunder, Mumbai, 400 001, India. Tel. +91-22-6665-3366 or click on http://tinyurl.com/ll638
The Bloomberg Questions
Cost? 1,000 rupees to 4,500+ rupees.
Sound level? Moderate, once the patrons begin arriving.
Inside tip? Take a window seat.
Special feature? Fresh tofu, oyster foie gras, vegetarian sashimi.
Will I be back? Yes.
Date place? Yes.
Rating? ***
What the Stars Mean
**** Incomparable food, service, ambience
***  First-class of its kind
**   Good, reliable
*    Fair
0 (no stars) Poor.
(Margo Towie is an editor at Bloomberg News. Opinions expressed are her own.)
Before it's here, it's on the Bloomberg Terminal.
LEARN MORE