GM Said to Sell Chevrolet Volt for About $40,000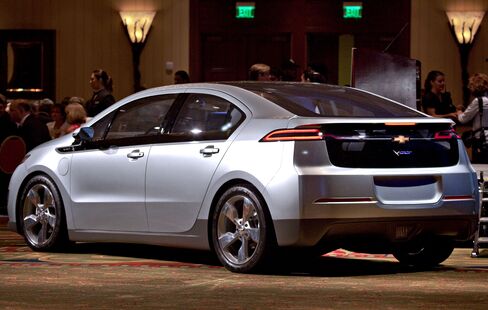 General Motors Co., the largest U.S. automaker, plans to sell its Chevrolet Volt electric car for about $40,000, said a person familiar with the plans.
Pricing and ordering details for the car will be announced tomorrow at 12 p.m. New York time by Joel Ewanick, vice president of U.S. marketing, at a news conference in San Jose, California, GM said today on its website.
At just over $40,000, the Volt will sell for a premium over Nissan Motor Co.'s Leaf all-electric car, which is scheduled to go on sale in November for $32,780. GM is making the pitch that the Volt's longer driving range on a single charge and tank of gasoline will make it a better buy for most drivers than Nissan's Leaf, said Jim Hall, principal of 2953 Analytics Inc.
"It's a duel of being ultragreen versus having better driving range," said Hall, whose consulting firm is based in Birmingham, Michigan. "A hard-core green consumer will be willing to live with the Leaf's range. For others, the Volt wins because there are many buyers worried about range."
Dave Darovitz, a GM spokesman, declined to comment.
The Volt can travel 340 miles on a tank of fuel, with the first 40 in electric drive before a gasoline engine starts to recharge the battery. The Leaf uses no fuel and can travel about 100 miles on a charge.
GM wouldn't give specific pricing for the car. Retired GM Vice Chairman Bob Lutz told talk show host David Letterman in May 2009 that the company was targeting a $40,000 sale price.
Sales Markets
The Volt will initially be sold this year in parts of Texas, New York, California and Washington, D.C. Next year, GM will build 10,000 of the cars.
The company has said the Volt will get 230 mpg. The official rating may be different than that figure, Tom Stephens, Detroit-based GM's vice chairman of global product operations, said earlier this month.
Nissan Chief Executive Officer Carlos Ghosn has said he plans to sell 500,000 electric cars annually worldwide by 2012. Both cars will be eligible for U.S. government subsidies of $7,500.
Before it's here, it's on the Bloomberg Terminal.
LEARN MORE