South Korea's Economy Grows Faster-Than-Expected 1.5%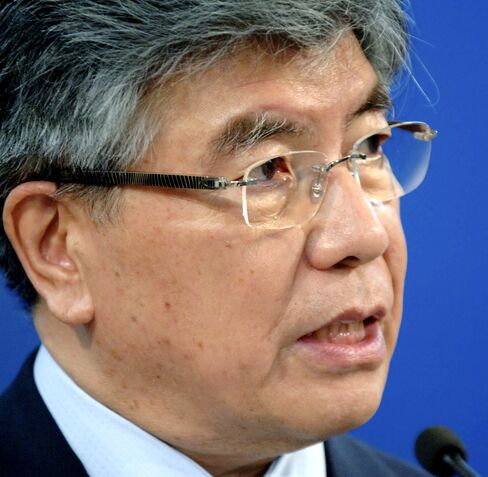 South Korea's economy grew faster than expected in the second quarter, bolstering the case for a further increase in interest rates as Asia weathers global risks.
Gross domestic product increased 1.5 percent from the previous three months, when it gained 2.1 percent, the central bank said in Seoul today. That was more than the 1.3 percent median forecast in a Bloomberg News survey of seven economists. From a year earlier, GDP rose 7.2 percent.
The growth figures raise the risk of the Bank of Korea boosting rates twice more by year-end, Barclays Capital analysts said today as they increased their 2010 GDP growth projections. The central bank in July joined counterparts from Thailand to Taiwan and Malaysia in raising rates, and India is forecast to boost borrowing costs tomorrow for the second time this month as Asia leads the global recovery and grapples with price pressures.
"The Bank of Korea will be able to raise rates up to 3 percent without much worry about economic growth," said Lee Sung Kwon, an economist at Shinan Investment Corp. in Seoul. "It's only a matter of when" the bank will raise the 2.25 percent benchmark rate, he said. "The economy will continue to grow, though at a slower pace, given robust exports and rising domestic demand."
The won traded at 1,196.30 per dollar as of 12:27 p.m. in Seoul, little changed from the close on July 23, according to data compiled by Bloomberg. The currency has dropped 7.8 percent in the past three months, Asia's worst performance. The benchmark Kospi stock index advanced 0.3 percent to 1,763.01.
Inflation Pressure
South Korea's $929 billion economy approached "its potential output level" and may face inflation pressure, Central Bank Governor Kim Choong Soo said on July 9 after raising the benchmark rate to 2.25 percent from a record-low 2 percent, the first increase since the financial crisis.
"As our economy has shown stronger-than-expected recovery, it may have already entered a phase of expansion," Kim Myung Kee, an official at the Bank of Korea, told reporters today. "Robust exports are now spilling into domestic demand."
South Korean GDP will expand 6.1 percent in 2010, higher than a previous forecast of 5.7 percent, Barclays Capital analysts including Wai Ho Leong, said in an e-mailed report after the growth data were released.
The country's export-driven economy will grow 5.9 percent this year, more than the 5.2 percent predicted in April, the central bank said on July 12. The Finance Ministry said on June 24 that the nation needs to normalize fiscal and monetary policies.
Consumer Prices
The central bank forecast this month that consumer prices will rise by 2.8 percent this year, compared with the previous estimate of 2.6 percent, and 3.4 percent in 2011. The bank is targeting inflation of between 2 percent and 4 percent on average through 2012.
Goods exports climbed 7.1 percent in the second quarter compared with the previous three months, when they rose 3.7 percent, today's report showed. Private consumption increased 0.8 percent from the first quarter and government spending gained 0.1 percent. Facility investment rose 8.1 percent.
Quarterly growth in the manufacturing sector accelerated to 5.1 percent in the three months to June, compared with 4.2 percent in the first quarter, "driven by strong exports of cars, chips and machinery," the Bank of Korea said in a statement accompanying the release of the GDP figures.
Won Drop
Companies from Samsung Electronics Co. to Hynix Semiconductor Inc. reported record earnings in the second quarter, as a drop in the won enhanced the nation's export competitiveness. The sustained expansion is adding to evidence that Asia's fourth-largest economy is weathering risks to the global recovery from Europe's debt crisis and elevated U.S. unemployment.
The second quarter economic growth numbers should "support sentiment toward the won" and back further interest rate increases, said Brian Jackson, a Hong Kong-based emerging- markets strategist at Royal Bank of Canada, who expects another 50 basis points increase in borrowing costs this year.
Annual sales growth at South Korea's department stores accelerated in June to 11.3 percent, the highest in four months. Overseas shipments jumped 32.4 percent from a year earlier, an eighth straight monthly increase. Exports account for about half of the nation's GDP.
Samsung, Asia's biggest maker of semiconductors, flat screens and mobile phones, this month reported record earnings for the second quarter, as a recovery in demand for computer-memory chips drove up prices.
Record Profit
Hynix, the world's second-largest computer-memory chipmaker, reported record operating profit for the same quarter as sales beat analysts' estimates, buoyed by demand for personal computers.
Goods exports will rise 26.4 percent this year, the Bank of Korea said in its July 12 report, more than an 18.6 percent gain estimated in April. Private consumption will probably increase 3.9 percent this year, and corporate investment on facilities will advance 20.9 percent, the central bank said.
The administration of South Korean President Lee Myung Bak, who suffered an unexpected reversal at local elections on June 2, had pressed the central bank ahead of the polls to hold down rates in a bid to support growth.
Asian policy makers continue to grapple with the implications of Europe's debt crisis, subdued U.S. growth and a slowdown in the Chinese economy as they mull further rate increases.
Temporary Slowdown
Finance Minister Yoon Jeung Hyun said July 13 that the U.S. and China may see a temporary slowdown as government stimulus is withdrawn and growth relies more on the private sector.
South Korean growth is likely to slow further over the rest of the year, but from a "fairly strong starting point," Jackson said.
The Federal Reserve last month cut its forecasts for economic growth this year and next in the U.S., where the jobless rate has been 9.5 percent or higher since August.
Europe stress-tested its 91 largest banks this month to restore confidence following the region's sovereign-debt crisis. China's economic expansion eased to 10.3 percent in the second quarter from 11.9 percent in January-March, the country's statistics bureau said this month.