Toys 'R' Us Extends Credit Line to $1.8 Billion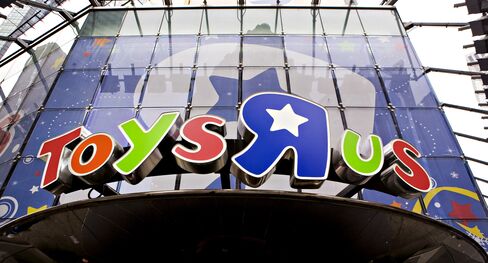 Toys "R" Us Inc., the retailer acquired by KKR & Co., Bain Capital Partners LLC and Vornado Realty Trust in 2005 for $7.5 billion, has extended the maturity and lowered the interest margin on its revolver, according to a statement released by Business Wire.
The company increased the borrowing capacity under its credit facility to $1.85 billion from $1.63 billion, and will initially pay an interest rate 2.75 percentage points more than the London interbank offered rate, according to the statement. Libor is the rate banks charge to lend to each other.
The refinancing will help improve the Wayne, New Jersey- based company's credit profile since the 2005 leveraged buyout added debt to its balance sheet. As of May 1, the company had long-term debt of $4.9 billion.
The maturity of the new credit line will be pushed out to August 2015 versus May 2012 maturity under the existing facility. Bank of America Corp., Wells Fargo, and JPMorgan Chase arranged the financing.
The financing will be secured by the company's receivables and inventory.
Kathleen Waugh, a Toys "R" Us spokeswoman, declined to comment beyond the statement.
In May, Toys "R" Us announced it is seeking to raise as much as $800 million in an initial public offering.
The company's existing credit line is part of a $2.12 billion loan that was arranged by Bank of America in July 2005. Toys "R" Us also has an $804 million term loan of which $798 million is outstanding, according to data compiled by Bloomberg. The interest on the loan is 4.25 percentage points more than Libor Bloomberg data show.
Moody's Investors Service put the retailer's B2 rating on review for possible upgrade after Toys "R" Us said it would use the proceeds to retire debt.