Kerry Says Democrats May Take Broad Climate Bill After Election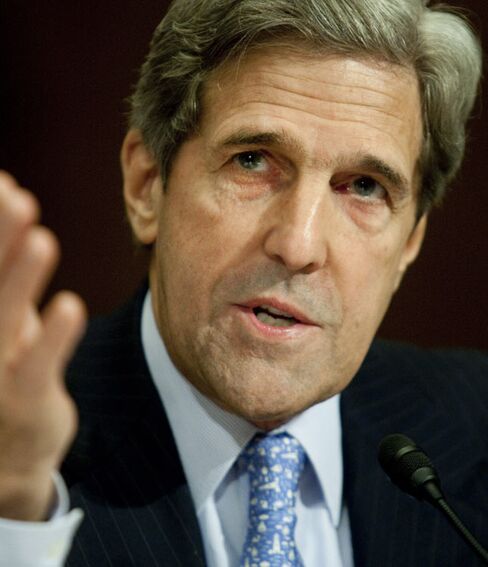 U.S. Senator John Kerry said Democrats may take up his comprehensive climate-change bill in a lame-duck session after the November elections, while calling on President Barack Obama to escalate his advocacy for the measure.
Senate Majority Leader Harry Reid yesterday introduced a more limited energy bill that doesn't include a cap on greenhouse gas emissions, citing the lack of support for a broader bill.
The bigger measure "is not dead," Kerry, a Massachusetts Democrat, said in an interview on Bloomberg Television's "Political Capital With Al Hunt" airing this weekend. "If it is after the election, it may well be that some members are free and liberated and feeling that they can take a risk or do something."
Kerry, who co-authored the Senate climate measure with Senator Joe Lieberman, a Connecticut independent, urged Obama to lobby for the bill in private meetings with undecided senators and at public events.
"People have to know it really counts," said Kerry, 66.
On the war in Afghanistan, Kerry, the chairman of the Senate Foreign Relations Committee, said President Hamid Karzai's government must make more progress toward building a stable government.
"I am disappointed that not enough of the reform agenda has been implemented in Afghanistan," said Kerry, who has close relations with Karzai and has been more supportive of the Afghan leader than some other U.S. officials. "And there is too much corruption within the government itself at various levels."
Afghan Troops
Last year, Kerry won praise from Obama for helping prod Karzai to break a presidential election impasse. He said the U.S. also needs to increase the number of Afghan fighters participating in military operations and do a better job of establishing civilian structures to take over government functions in Afghanistan.
The current policy, Kerry said, isn't "fine-tuned enough."
On climate legislation, Kerry said Democrats have "well over 50" votes for a cap-and-trade program that requires power plants to buy and sell carbon-dioxide pollution rights. At least five Democrats from rural and Rust Belt states say they won't support the plan and no Republican supports the bill, which will need 60 votes to pass the Senate.
"There is basically sort of a political shutdown going on here in Washington," Kerry said.
Scaled-Back Legislation
The scaled-back legislation introduced by Reid mandates new offshore oil and gas drilling regulations, energy-efficiency programs and incentives for natural-gas-fueled vehicles. The bill will also increase the $75 million liability cap for companies that cause oil spills.
Legislation passed by the Senate Environment and Public Works Committee in June would eliminate the cap entirely, while Republican proposals would double the current cap to $150 million or expose a company to damages equal to the last four quarters of its profits.
Kerry said the Senate is more likely to raise the cap than eliminate it entirely.
"We ought to find out what the political market here and the Senate will bear and get to a realistic figure," he said.
In his foreign-affairs role, Kerry is shepherding Senate ratification of Obama's treaty with Russia to further cut each nation's nuclear arsenal, an agreement that has drawn opposition from Republicans.
The senator said he would help Republicans get some of the assurances they're looking for from the administration, such as pledges on adequately maintaining the country's existing stockpile.
"I believe we will pass it this year," Kerry said.
Before it's here, it's on the Bloomberg Terminal.
LEARN MORE