Jolie Pricks Spider, Dons Elvira Wig; Russian Spy Secrets: Film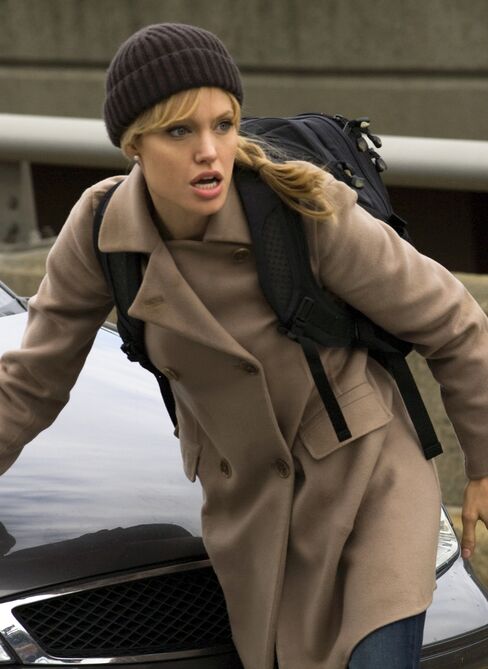 In "Salt," Angelina Jolie wears an outlandish black wig she might have borrowed from Elvira, kicks the tar out of brawny security men, leaps onto moving trucks and sticks a needle into a spider.
Ostensibly about Russian spies planning to unleash a crippling attack on the U.S., Phillip Noyce's supercharged, nonsensical thriller showcases the world's most famous actress in another turn as an action star.
Jolie played an assassin in "Mr. & Mrs. Smith" and "Wanted" and a female Indiana Jones in the "Tomb Raider" movies. Here she's a combination of Bruce Lee, Jason Bourne and James Bond in a part Tom Cruise was originally supposed to play. Cruise backed out and the role was rewritten for Jolie -- maybe the most notable sex change since tennis player Richard Raskind became Renee Richards.
The movie is timely, coming out two weeks after a highly publicized spy swap between the U.S. and Russia. But timing, as we know, isn't everything.
Jolie plays Evelyn Salt, a married CIA officer accused by a Russian defector of being a Russian spy. She flees from her CIA colleagues, including her boss (Liev Schreiber) and her main pursuer (Chiwetel Ejiofor), and spends the rest of the movie trying to prove her innocence. But her actions, many of which result in dead bodies, cast doubt on her motives.
'Day X'
While it's fun watching a sex goddess turn into a killing machine, the plot -- a network of Russian spies entrenched in the U.S. for decades suddenly surfaces for a "Day X" assault on the country -- is riddled with holes.
For instance, why does the defector point his finger at Salt? And why doesn't Russia launch an all-out attack on the U.S., along with the internal sabotage? Even after all the twists and turns, the answers aren't completely clear.
Another glaring flaw: Anyone with half a brain will figure out who the major bad guy is long before his secret is revealed.
"Who is Salt?" the film's poster asks. A better question would be, "What the heck is going on here?"
"Salt," from Columbia Pictures, is playing across the U.S. Rating: **
'Farewell'
"Farewell," based on the true story of a KGB colonel who gave top secrets to a French businessman working in Russia in the early 1980s, is a much better spy picture.
This riveting drama features intelligent, sympathetic lead characters and masterful storytelling by French director Christian Carion.
The KGB officer, disillusioned with the Communist system under Leonid Brezhnev, hands over documents that include the names of dozens of Soviet spies in the U.S. and other Western countries. Ronald Reagan, who was president at the time, called it "one of the most important espionage cases of the 20th century."
Carion slowly builds the suspense as Grigoriev (Emir Kusturica) feeds highly sensitive information to Pierre (Guillaume Canet), an unassuming Frenchman acting as a middleman in the spy game.
At first Grigoriev treats Pierre with disdain, viewing him an "amateur" who's in over his head. But Grigoriev, a cultured man who fancies French poetry and Champagne, comes to trust the Frenchman who is putting his wife and children at risk by merely meeting with the turncoat.
Reagan Imitation
When Grigoriev clandestinely photographs top-secret documents in his boss's office and Pierre is stopped at the Finnish border while trying to escape Russia with his family, the tension is palpable. Carion lets the scenes play out in real time, eschewing the kind of rapid-fire editing that spoils similar moments in other movies.
Kusturica and Canet, both accomplished directors as well as actors, underscore the human connection between their characters rather than the political one. Fred Ward does a passable Reagan imitation, while Willem Dafoe plays a cynical CIA agent.
I won't tell you what happened to Pierre and Grigoriev. Secrets, after all, are what the film is all about.
"Farewell," from NeoClassics Films, is playing in New York and Los Angeles. Rating: ***1/2
What the Stars Mean:

****          Excellent
***           Good
**            Average
*             Poor
(No stars)    Worthless
(Rick Warner is the movie critic for Muse, the arts and leisure section of Bloomberg News. The opinions expressed are his own.)