Baby Eater, T-Rex Star in $250 Million 'Walking With Dinosaurs'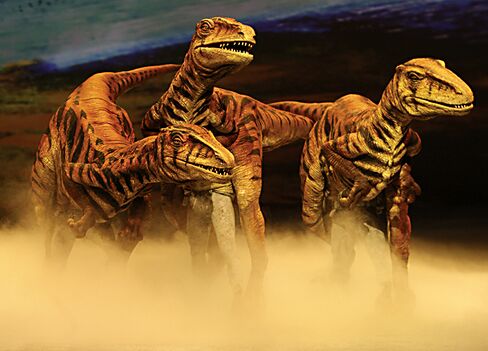 Backstage at New York's Madison Square Garden, Nellie Beavers, associate tour manager for "Walking with Dinosaurs," stood by an animatronic long-necked brachiosaurus in an area crammed with dino facsimiles.
Touching was OK. Climbing aboard was not, she said.
"You have no idea how many reporters want to ride the dinosaur," she said.
According to Pollstar magazine, "Walking with Dinosaurs" is the ninth-highest-grossing tour on the planet this year -- behind Taylor Swift, ahead of Eric Clapton -- with sales of about $40 million. The show has grossed about $250 million since 2007.
The lowdown: Most of these fellas look legit. Scarily real.
The show won't remind anyone of Shakespeare in the Park, which is fine given that the audience included a constituency in diapers at a performance Wednesday afternoon. Based on a 1999 BBC documentary, it covers 245 million years of history -- including the Earth's Triassic, Jurassic and Cretaceous periods -- in a little over 90 minutes, with a 20-minute intermission.
Jack Stone, who resembles the cabaret singer Michael Feinstein, albeit more rugged, played the ringmaster/paleontologist Wednesday afternoon. (He shares the role with Lucas Worth.) His commentary begins with dinosaurs popping up about 230 million years ago. Eggs hatch onstage, with what looked to be a small dinosaur doll emerging.
It's immediately eaten by a liliensternus.
Dino Actor
The liliensternus walks on two legs, portrayed by a buoyant actor/dancer in a dino suit. The stars of the spectacle are of the mechanical variety, so expressive they could've been liberated from the American Museum of Natural History and clomped down Central Park West. Each weighs more than a ton, with internal hydraulic mechanisms and powered by truck batteries.
So-called voodoo puppeteers, sitting on a platform in section 232 of the Garden, manipulate them. One puppeteer moves the body with a series of handles and toggles; another blinks the eyes, controls the mouth, and with a keyboard selects the sounds they emit (roar, whine, etc.).
The story is a series of vignettes, with a carnivore threatening an herbivore in act one, and herbivores threatening a carnivore in act two. Also in act two, a dino makes No. 2 on the floor of the garden. The poop is a crowd pleaser, as is a 42-foot long Tyrannosaurus rex protecting the next generation.
Purpose Fulfilled
"It's a decent story," said Ed May, a puppeteer. "It fulfills its purpose. The draw of the show is the dinosaurs."
Underneath each robotic dino is a human in a tee-shaped chassis, driving it around, as legs thump on both sides. The chassis creates a challenge to suspension of disbelief, as the dinos look like they're moving with the aid of a go-kart.
No matter. Asked to name her favorite dinosaur in the show, Virginia Lander, 5, of Orange County, New York, said: "All of them."
Tickets remain for all performances, of which there are three on both today and Sunday. Next stop on the U.S. tour is Chicago, on July 28. The tour will likely wrap up in September in Los Angeles.
(Philip Boroff and Laura Speyer write for Muse, the arts and leisure section of Bloomberg News. The opinions expressed are their own.)