Alarms Were Disabled on Transocean's Rig, Worker Says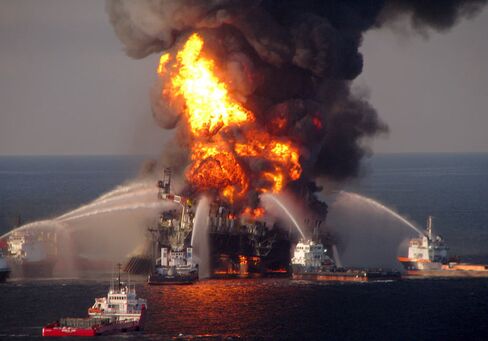 Certain alarms on Transocean Ltd.'s Deepwater Horizon drilling rig had been disabled for a year before it exploded and sank in the Gulf of Mexico, causing the biggest U.S. oil spill in history, a rig worker said.
The sound and visual alarms would've warned all crew members of a fire or a large amount of explosive gas and were connected to an emergency air-vent shutdown system, Mike Williams, chief electronics technician for Geneva-based Transocean, said at a U.S. Coast Guard and Interior Department joint investigation hearing today in Kenner, Louisiana.
Transocean responded in an e-mailed statement that alarms on the rig were in good condition and were not bypassed. The general alarm system on the Deepwater Horizon rig was "intentional and conforms to accepted maritime practices," according to the statement.
The rig had "hundreds of individual fire and gas alarms, all of which were tested, in good condition, not bypassed and monitored from the bridge," the Transocean statement said.
Williams said supervisors told him when he discovered the issue that "they didn't want people woken up at 3 a.m. to false alarms." A computer system would've still detected high levels of gas or a fire, Williams said.
More Hearings Set
The panel is investigating what caused the rig, which was leased to BP Plc, to explode on April 20 about 40 miles (64 kilometers) off the coast of Louisiana. The incident killed 11 workers. Today is the final day of a third round of hearings, which began in May. Another week of hearings has been scheduled in Houston next month.
Rig operators were assigned to monitor the computer system and announced the fire over a public-address system on the day of the blast, Ned Kohnke, Transocean's attorney, said at the hearing today.
"Several witnesses have testified of having heard 'fire, fire, fire' over the PA system and alarms," Kohnke said during an interview on the sidelines of the hearing.
Williams, who has filed a lawsuit against Transocean and BP, said he never heard a general alarm. After being slammed across a control room by a fire door that came off during the initial explosion, Williams said he reported to a secondary emergency station on the bridge.
"I couldn't breathe, I couldn't see," Williams said today. He eventually jumped off the burning rig after helping other injured workers on lifeboats. He was rescued by a person in a small boat, who helped him cut loose another raft of workers that was tethered to the rig.
Other Alarms Sounded
Other alarms on the rig were triggered before the vessel caught fire, said Williams, a former Marine who was responsible for maintaining the fire and gas systems on the Deepwater Horizon. The rig was behind schedule for repairs, he said.
Transocean fell $1.41, or 3 percent, to $45.26 at 4:14 p.m. in New York Stock Exchange composite trading. The company has lost half its value since the explosion aboard the rig.
BP fell 1.4 pence to 398.6 pence in London trading and is down 39 percent since April 20. The company's American depositary receipts, which are equal to six ordinary BP shares, rose 63 cents, or 1.7 percent, to $36.86 in New York.