Pig's Trotters Are Back as Pierre Koffmann Opens New Eatery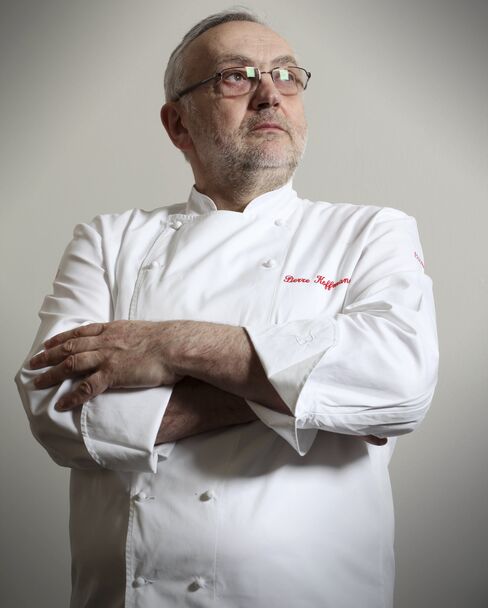 It's 3 p.m. on Saturday and Koffmann's is starting to empty. A few diners nurse their coffees and, in the open kitchen, cleaning is under way.
Pierre Koffmann, 61, the shy chef who came out of semi-retirement to open this London restaurant last week, is nowhere to be seen. Throughout lunch, you could spot him standing, checking each plate before it went out.
He hasn't gone for a rest. He's out the back, putting the filling into his most famous dish: pig's trotter with sweetbreads & morels. It shows up as far away as Melbourne, where the Station Hotel in Footscray serves Braised Pig's Trotter "Pierre Koffmann."
The French chef looks relaxed as he picks up each piggy foot, adds the filling with a spoon and then rolls the meat tightly in silver foil, like a Christmas cracker. He has a kitchen full of young cooks, and here he is doing the work. How does it feel to be back at the stove, seven years after he closed La Tante Claire, where he won three Michelin stars?
"I enjoy it," he says with a smile. "It's more like a cookery school. It's a completely different approach from before. All these young chefs know nothing now. You have to show them how to make a stock, a bouquet garni, how to cook French beans.
Kitchen Tensions
"They were frightened 20 to 30 years ago. It's more relaxed now but I'm also more relaxed. I wasn't relaxed then, so there were more tensions in the kitchen. It was like an army and I was a general and I was going into battle and they had to follow at any cost." In those days, the youngsters included Marco Pierre White and Gordon Ramsay.
I've known Koffmann for more than two years and I've never seen him look so happy, although his face often lights up when he talks about food. In case you think he's gone soft, he parted company with head chef Tim Payne before the restaurant even opened, and one reason he's having to work so hard is that his successor, Clive Dixon of the Hinds Head, doesn't arrive until Aug. 9.
"I want a chef who enjoys cooking," Koffmann tells me. "Every morning when you go into the kitchen, it's best: the noise, the smell, looking at the beautiful fish, so fresh, so beautiful you want to give them a kiss. You go to a lot of parties but I have two parties a day: lunch and dinner."
The menu at Koffmann's features classics such as the pig's trotter (27 pounds or $41) and pistachio souffle with pistachio ice cream (12 pounds). Dishes include a pot of snails and girolles on mashed potato with garlic and herb foam; and roasted rabbit with Dijon mustard. Helping out front of house is Koffmann's partner, Claire Harrison, a potato supplier who is largely responsible for the quality of the French fries, which come wrapped in French newspapers.
'Hard Worker'
I invited chef Bruno Loubet, 48, for lunch and he was impressed with what Koffmann has achieved almost 30 years after Loubet worked for him at La Tante Claire.
"I like Pierre," says Loubet, who recently opened his own London restaurant, Bistrot Bruno Loubet. "He never takes himself too seriously. He's just a hard worker and not a showy person: In this restaurant, even more so. The food comes on a plate with a few ingredients perfectly put together: just simple and honest. When you have no frills, you have to be very good.
"Pierre is now doing what he likes to do. The flavors have always been strong. It's not for the delicate palate. It's like your grandmother cooking beautiful food, only much more professionally, or something you do for your friends. It's cooked with love. He's cooking for friends and he wants you to enjoy it. What an amazing statement for all the young people."
Losing Kilos
Koffmann, who returned to the stove with a pop-up restaurant at Selfridges last year, says his food was always simple -- meat and two vegetables -- and he cooks for pleasure rather than to make a statement.
"I'm happy," he says. "I'm in my element. Here, I'm the boss. It was hell at Selfridges. I lost 12 kilos (26 pounds) in the first month. Here, I've lost only three. I come in at 8 a.m. and when I go home it's almost midnight, seven days a week.
"You and I are like old Camembert," Koffmann says. "The only thing that can make us attractive is the packaging. Sometimes you think, 'I'm going to be the only one to live forever,' but you're not and you have to try to enjoy it all.
"People will only remember me for the pig's trotters. It will be on my tombstone, but I feel I've done so much more."
Koffmann's, The Berkeley, Wilton Place, London, SW1X 7RL. Information: http://www.the-berkeley.co.uk/koffmanns.aspx or +44-20-7235-1010.
(Richard Vines is the chief food critic for Muse, the arts and leisure section of Bloomberg News. Opinions expressed are his own.)
Before it's here, it's on the Bloomberg Terminal.
LEARN MORE