Airlines May Get 1% of Fuel From Biofuels By 2015, Boeing Says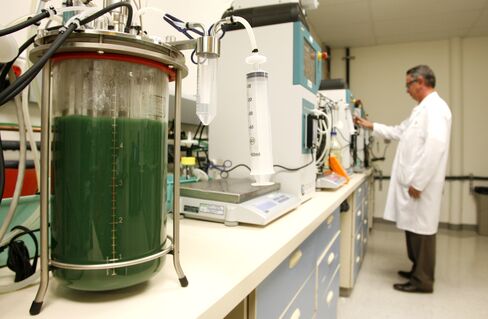 Commercial airlines may derive 1 percent of their fuel by 2015 from biofuels made of plants including algae, Boeing Co.'s environment chief said.
Carriers including British Airways Plc and Continental Airlines Inc. are testing the carbon-cutting alternative fuels as the global air industry accelerates efforts to slash greenhouse-gases blamed for global warming.
Boeing has worked with airlines from the U.S. to Japan to test jet fuels made from plants such as jatropha and camelina. That's because moving more toward cleaner fuels is in the industry's best interest, said Billy Glover, managing director of environmental strategy at Boeing's commercial airplanes unit.
"We need to get to 1 percent to get that foundation and then the trajectory will be significantly steeper," Glover said in a telephone interview in London. "We're aiming for a 1 percent penetration around the middle of this decade, and we think that's quite achievable."
Airlines are striving to reduce emissions that the United Nations says account for at least 3 percent of the global-warming gas pollution. The environment group Greenpeace estimates output of the gases from carriers will double by 2050. To help curb pollution, the 27-nation European Union will bring airlines into its carbon cap-and trade system in 2012.
No carriers use biofuels for regularly scheduled flights though airlines have tested biofuels in flight since 2008. That was when Virgin Atlantic Airways Ltd., controlled by the U.K. billionaire Richard Branson, tested a jumbo jet partly powered by fuel from babassu nuts and coconut oil.
Since then, airlines including Air New Zealand Ltd., Continental and Japan Airlines Corp. have tested biofuels sourced from various crops in their planes.
Biofuel Production
The key now is to scale up production of the biofuels, said James Rekoske, vice president and general manager of renewable energy and chemicals at Honeywell International Inc.'s UOP unit, which licenses refining technology.
"They're actually not made in major quantities at this point," Rekoske said in an interview this week at the Farnborough Air Show south of London. "We have the largest facility in the world and we've produced biofuels at about 200,000 gallons this year, which is really a very small quantity compared to what the airlines would need."
Boeing's forecast of 1 percent of fuels coming from biofuels by the middle of the decade is for the global air industry, and the company is working with the Sustainable Aviation Fuel Users Group, an alliance of 19 airlines that aim to be first-movers, Glover said. UOP's Rekoske said 1 percent is more likely to be reached at regional levels, with Europe and the U.S. Northwest as potential candidates.
Plant Construction
Plants are being planned. Washington-based Solena Group Inc. intends to build a waste-to-biofuels plant in east London. The $300 million plant will create 1,200 jobs, and British Airways will buy all of the plant's 16 million gallons of biofuel annually for up to 10 years, Solena Chief Executive Officer Robert Do and BA's environment chief Jonathon Counsell said July 19 in interviews.
Solazyme Inc. could produce hundreds of thousands of gallons of fuel per year with its existing test technology, Chief Executive Officer Jonathan Wolfson said in an interview at Farnborough.
Solazyme, based in San Francisco, aims to build by 2013 a plant to make 50 million to 120 million gallons at a cost of more than $100 million. A site has yet to be chosen, he said.
The company at present is focusing on the U.S. military as a customer for biofuels for aircraft though it's also worked with Chevron Corp., Wolfson said. Price-wise, the fuels are nearly competitive with oil, he said.
"We're very close to the economics we need to be," Wolfson said. "The target is $60-80 per barrel of oil equivalent."
Crude oil for September delivery today traded at $77.06 a barrel in electronic trading on the New York Mercantile Exchange at 10 a.m. London time.