AmEx Posts Higher Profit on Consumer Card Spending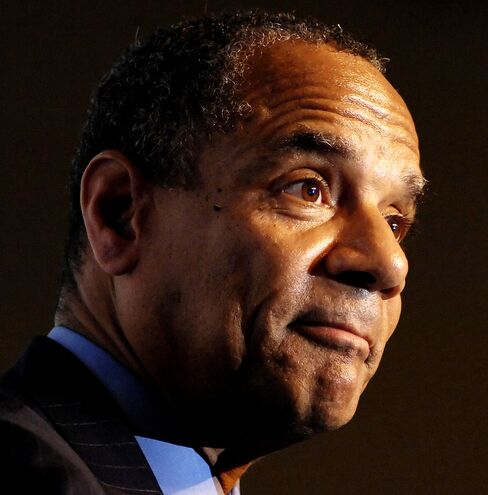 American Express Co., the biggest credit-card issuer by purchases, said second-quarter profit tripled as consumers spent more and fewer borrowers defaulted.
Net income from continuing operations climbed to $1.02 billion, or 84 cents a diluted share, from $342 million, or 9 cents, in the same period a year earlier, New York-based AmEx said today in a statement. The average estimate of analysts surveyed by Bloomberg was 77 cents.
AmEx, led by Chief Executive Officer Kenneth I. Chenault, has posted the industry's lowest write-off rates and some of the fastest earnings growth as the recession eased. Net revenue climbed 13 percent during the quarter to $6.86 billion. The company targets affluent consumers who have led the spending rebound.
"Improved credit indicators continued the year-long trend that began last spring," Chenault, 59, said in the statement. "Our net income and billed business are back at, or near, their pre-recession levels."
Total card spending rose 16 percent to $175.3 billion. Individuals spent an average of $3,288, an increase of 21 percent from a year earlier, when AmEx had fewer cards outstanding. AmEx set aside $652 million for future loan losses, 59 percent less than the year-ago quarter, and released $506 million from loss reserves.
Overdue Payments
In June, AmEx had the lowest delinquency rate among the six biggest U.S. credit-card issuers. Loans at least 30 days overdue, a leading indicator for write-offs, fell to 2.7 percent. Declining late payments may allow lenders to buttress profit by reducing reserves for future loan losses.
AmEx, 2009's top performer in the Dow Jones Industrial Average, rose $2.04, or 5 percent, to $43.19 as of 4 p.m. in New York Stock Exchange composite trading. Results were released after the market closed, and the shares slid 1.6 percent at 4:37 p.m. in extended New York trading.
That's better than Visa Inc. and MasterCard Inc., the world's biggest payment networks, which came under pressure this year as Congress put caps on debit-card "swipe" fees charged to merchants. AmEx is insulated from the legislation backed by U.S. Senator Richard Durbin, the Illinois Democrat and majority whip, because the company doesn't issue signature debit cards or process debit transactions.
"American Express is largely unscathed by Durbin," Citigroup Inc. analyst Donald Fandetti said in a July 20 research note.